EE, VM O2, and Vodafone prepare to launch inter‑operator Rich Communications Service.
Trio aim to lure marketers with 17 million customer base.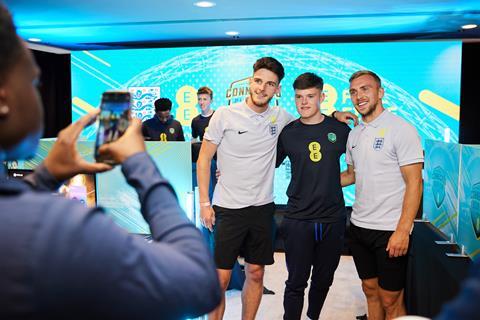 EE, Virgin Media O2 (VM O2), and Vodafone UK are working together to drive up adoption of Rich Communications Services Business Messaging (RCS/RBM) in the UK market, collaborating to launch an RCS Chatbot Directory.
The Directory draws together RCS services and tools onto a single platform for consumers, with participation from "most" UK mobile network operators. It acts as a communications platform‑as-a‑service offering, and aims to enable consumers to "discover" brands and associated content via the platform.
EE and VM O2 will go live before the end of 2022, following Vodafone UK's launch earlier in 2022, according to BT's Product Manager for RCS & Future Messaging Catherine Maguire.
Collaboration at the centre
Speaking at RCS World in July 2022, Maguire said that collaboration with peers on the Directory will enable operators to "push content to our customers, and utilise some 17 million customers that we have access to over RBM". She was keen to underscore the Directory's potential reach, with roughly 85% of the UK market covered by the three operators.
The operators are partnered with US RBM content and advertising specialist Direqt in developing and managing the Directory. Direqt Co‑Founder and Chief Executive Nick Martin said that the collaborative nature of the platform is key to its success. "What you guys have done so well… is working together in this group so that the operators have a unified strategy and a unified approach. That is much better for the end consumer, and it's much better for brands".
Success not guaranteed
Despite the talk of potential reach and conversion rates in trials, much of the RCS World panel was spent attempting to disprove negative perceptions of RCS technology as a commercial proposition. Maguire said the collaborative effort reflects operators' desire to "do what we can to make RCS a success in the UK market".
She claimed the three operators have started to see some progress towards that goal. 25% of smartphones in the UK are RBM‑enabled, equalling 17 million users in the country. Pre‑pandemic, penetration was at just 8%. "We're hoping to see that grow, and that is part of the work we are doing in our RCS collaboration group", Maguire said.
In a panel with representatives from Cisco Systems, Direqt, and VM O2, discussions centred on the need to change the perception of RBM. Maguire said the Directory aims to combat "some PR issues with the inbox as it is". Before the collaboration began, she said that brands were telling her "we've moved to other channels". With the Directory, she thinks "this will excite customers more, when they go into their inbox and find out that there is a lot more content in there".
EE has rolled out twelve campaigns to its customers using RBM. One, used as an example by Maguire at the event, reached 300,000 customers over email and SMS. 5% of that group was RBM‑enabled, which accounted for 20% of the campaign's sales. She noted that BT Consumer was willing to roll out the technology because of the "bottom‑line results". Work on campaigns for Christmas 2022 is currently underway at Consumer, she added.
RCS through the ages
At BT, Maguire highlighted an ongoing partnership with personalised video specialist Idomoo. Idomoo technology is used to create tailored billing messages for consumers. It is a longstanding collaboration, first flagged in 2015 (BTwatch, #263), but is now being leveraged in conjunction with RBM to deliver rich communications to EE customers. Maguire reported a 20% uplift in sales through the use‑case, although it is not clear how this was calculated. BT's other RCS partners include cloud communications platform provider Infobip, which flagged a deal with BT Enterprise in mid‑2022 to provide engagement solutions to Enterprise customers in finance, logistics, and public sectors (BTwatch, #332 and #335). EE also tied with Google to become the first operator to launch Google's RCS Smart Messaging portfolio (BTwatch, #318).
Telefónica Group has dabbled in RCS technology for more than a decade, and was, alongside Deutsche Telekom and Vodafone, among the founding members of the GSM Association‑backed RCS alliance operating under the joyn brand. The Group quietly stepped away from the initiative in 2016, but continued to partner with Google's Jibe RCS proposition in Latin America into 2019 (Telefónicawatch, #64, #105, and #138).
Vodafone has been quiet on RCS developments since its participation in joyn. In late‑2019, however, the Group looked to be ramping up business‑to-consumer RCS activity and launched campaigns in South Africa in partnership with Out There Media. It is also tied with Infobip on enterprise use‑cases (Vodafonewatch, #142, #163, and #181).