Arnaud de Puyfontaine wants strategy alignment with "common vision".
Local reports claim Spanish Prime Minister Pedro Sánchez "does not look favourably" on potential Vivendi involvement with Telefónica.
Atresmedia also in the frame as part of convoluted acquisition scene in Spain.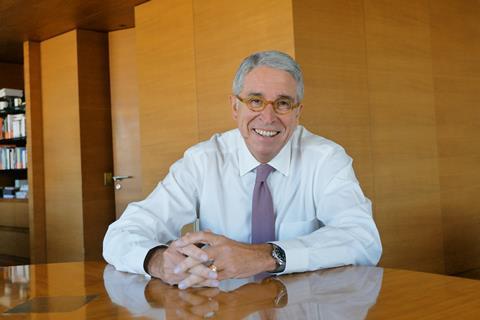 Vivendi Chief Executive Arnaud de Puyfontaine said he wants to see collaboration between part-owned operations across its portfolio, pointing specifically to Telefónica and Prisa as an example of where "synergies" exist.
The French media giant has a 9.9% stake in Prisa, alongside a small, 1% stake in Telefónica, which it acquired last year (Telefónicawatch, #156).
Speaking on Vivendi's annual results call, de Puyfontaine explained that he wants to avoid said synergies being limited to fully owned operations, stating that, as part of the companies' respective digital transformations, "we want to be able to push forward the competitive advantage based to the common vision and align the strategies that we want to implement". In the context of Telefónica's 9.4% holding in Prisa, de Puyfontaine said this becomes all the more relevant.
Spanish government continues to monitor foreign investment
The comments come amid a long-running backdrop of acquisitional talk regarding Telefónica's pay-TV platform Movistar Plus+, for which the operator is said to be searching for a strategic partner (Telefónicawatch, #161).
However, the Spanish government's current stance on foreign investment complicates an already convoluted situation, with a 'state protection' — introduced amid the uncertainly of the pandemic in 2020 — subjecting major acquisitions and investments to international clearance. As it stands, the policy will stay in place until the end of 2022 (Telefónicawatch, #160).
The governmental factor becomes especially relevant in Vivendi's case. According to local reports, Spanish Prime Minister Pedro Sánchez "does not look favourably" on the idea of the French company buying into one of Telefónica's most important assets. Sources 'familiar with the situation' told CE NoticiasFinancieras the coalition government is reluctant for a TV offering with millions of subscribers to be lost to a foreign business.
Vivendi's hopes are unlikely to be aided by its ongoing attempts to increase its stake in Prisa to 29.99% — a move that is still subject to approval and believed to be several weeks away from a decision.
The CE NoticiasFinancieras report said talks have already begun between the government and Telefónica to understand the telco's intentions. It went as far as to suggest that Sánchez believes Movistar Plus+ simply "cannot fall into Vivendi's hands".
Door number two
Other recent media reports indicate the process may develop into a potentially politically tasty head-to-head between Vivendi and Spain's Atresmedia Corporación.
La Información reported that Planeta-controlled Atresmedia — already Telefónica's co-parent in Spanish-language original content joint venture Buendía Estudios (Telefónicawatch, #143–#144 and passim) — has "burst" into the contest and could challenge Vivendi.
Citing "knowledgeable sources", the newspaper said Atresmedia is studying how its participation in Telefónica's pay-TV assets would be structured and how shares would be distributed.
It also noted that an Atresmedia–Telefónica tie-up would keep "within Spanish borders the management of what is today the largest pay television platform in the country". This could be significant, considering ongoing Spanish government sensitivity over foreign takeovers of certain domestic assets.
Meanwhile, Vivendi's interest in Movistar Plus+ came to light with a report in El Independiente in February, which suggests it is exploring either the purchase of a direct stake in the business or indirect participation through Spanish media company Prisa.
The French group — and Telecom Italia's largest shareholder — has indicated it is seeking to build up a strategic partnership with the operator that bridges media and telecoms.
It is also said to be looking to raise its influence in Spanish-language markets and to regard Prisa as a vehicle to realise these ambitions in Spain's television sector.
At the same time, Prisa has been the subject of an ongoing politicised shareholder battle for control, and there are suggestions that its management is ill-disposed to such a move as it continues to implement a new strategic plan and organisational structure for its business (Telefónicawatch, #150).