New joint venture Buendía Estudios is to be 50% owned by each partner.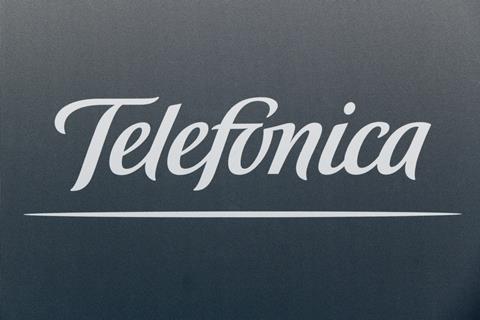 Telefónica Group completed the creation of a new audio-visual content joint venture with the Planeta-controlled Atresmedia Corporación, which aims to significantly boost the operator's Spanish-language original content offering in Spain, Latin America, and US Hispanic markets.
Telefónica said the European Commission (EC) had approved formation of the production house, which is to be called Buendía Estudios and 50%-owned by each partner.
The joint venture will focus on the creation of new content in Spanish, and the promotion of Spanish and Latin American talent on the worldwide stage. It will produce original series and films for distribution on Telefónica's pay-TV service Movistar+, Atresmedia, and third-party operators.
According to Spanish newspaper El Confidencial, Ignacio Corrales, Chief Executive of Atresmedia Studios, will take the helm of the new JV. The paper said the Board of Directors will be made up of six members: three from each shareholder. Telefónica's representatives will be: Emilio Gayo, Chief Executive of Telefónica España; Sergio Osle, President of Movistar+; and Eduardo Navarro, Chief Strategy & Corporate Affairs Officer at Telefónica.
The deal was first announced in September 2019, but Atresmedia and Telefónica appeared to experience some difficulty in pushing it through. Their original target had been to complete the deal by December 2019 (Telefónicawatch, #138 and #141). Telefónicawatch previously reported that discussions had focused on negotiations regarding the inclusion of a "right of first refusal" clause in the shareholders' agreement, giving each party licence to independently produce content if the other did not wish to proceed with the project.
In the May 2020 submission to the Commission, the two parties were said to have conceded that the proposed combination of Telefónica Audiovisual Digital and Atresmedia Studios would control more than 30% of the commissioned content production and broadcasting sectors in Spain (Telefónicawatch, #143).
In its notification of the filing, the EC Directorate-General for Competition said the proposed transaction "could fall within the scope" of the European Union's merger regulation, although it reserved judgement until the provisional deadline of 17 June 2020. It seems that the Commission saw no reason to pursue any further investigation of the matter.
Variety reported that the two content producers invested about €1.45bn (£1.3bn) in programming in 2019, citing IHS Markit estimates.
Building muscle for continued co-opetition
The creation of Buendía Estudios has been seen as a joint effort to support a challenge to the likes of Amazon, Disney, HBO, and Netflix with local content delivered on Telefonica pay-TV platforms across its footprint.
However, Variety noted that third party buyers of its content will "inevitably include the global streaming platforms". This was confirmed by Telefónica, which said that as well as Movistar+ and Atresmedia, partners for the new venture will include Amazon, Netflix, Warner-HBO, TNT, HBO Max-, Orange Spain, and Spanish regional channels.
Telefónica has been increasingly using original local content to set its service apart from the streaming giants. For example, it has launched original series in Colombia and Peru, and has plans to produce further content in Argentina, Chile, and Mexico (Telefónicawatch, #133-#135, #142, and passim). Telefónica España has a strategy to debut twelve Spanish-language projects a year through the Movistar+ service, and has also produced its first original film, Mientras dure la Guerra (While at War), by the Spanish film director Alejandro Amenábar.
Nevertheless, the Group is ready and willing to collaborate with the global players, having most recently agreed distribution agreements for Disney+ (Telefónicawatch, #141). In 2018, the Group also made a considerable hullabaloo about its alliance with Netflix (Telefónicawatch, #127).