Group rounding up new posse of open transport suppliers under the TIP flag.
TIP spreading disaggregation wings to core network solutions.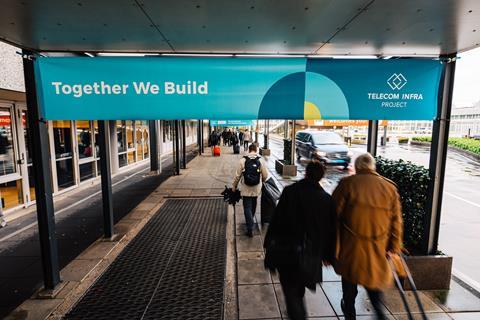 Telecom Infra Project's (TIP) Open Optical & Packet Transport (OOPT) working group, in which Telefónica is an active participant, announced further progress in unbundling what it calls "monolithic packet‑optical network technologies".
Following on from commercial availability of previous OOPT products Cassini, Galileo, and Voyager (Telefónicawatch, #130), OOPT declared that Phoenix — billed as a high‑capacity, disaggregated, and open optical transponder — is now generally available.
Phoenix is the outcome of a project that is said to have kicked off in June 2019. The system was first flagged publicly at late‑2019's TIP Summit, when introduced under the name "Apollo". The offering is described as an open white‑box L0/L1 transponder that operators can deploy on top of, or together with, their existing line systems to increase capacity of optical networks. It is based on disaggregated hardware and software components with 400G line interfaces. Earlier in 2020, TIP indicated Edgecore Networks and Wistron had agreed to develop the hardware for Phoenix.
Vendor selection set to start shortly
Telefónica and fellow OOPT backers Deutsche Telekom, NTT Communications, Telia Company, and Vodafone Group now plan to issue requests for information (RFI) to investigate general industry readiness to produce Phoenix‑based products. The RFI is scheduled to be sent out during April 2020, and results are expected to be announced in June 2020. Further out, the aim is to be ready for lab and field trials in the October 2020–December 2020 quarter, and commercial deployments in the first half of 2021.
Víctor López Álvarez, Technology Expert at Telefónica and Co‑chair of OOPT, said in a TIP blog that Phoenix is based on an efficient design for metro, core, and data centre interconnection applications, and is "especially well suited for service providers… and content providers".
Speaking on an OOPT webinar, Anders Lindgren, Network Architect Expert at Telia, described Phoenix as a "pure optical transponder/muxponder for long-distance and… high-capacity [transport]" compared with the packet optical boxes created with the Cassini, Galileo, and Voyager projects. Low footprint and power consumption, zero-touch provisioning, and pay-as-you-grow capabilities were among key facets highlighted by Lindgren.
OOPT on a roll, with Telefónica again prominent
TIP highlighted progress in other OOPT focus areas (or "sub-groups"), including:
Disaggregated Cell Site Gateways (DCSG). DCSG's first specifications were published in 2018 and Telefónica, Telecom Italia (TIM), and Vodafone announced RFI results for the project at Mobile World Congress 2019. Following the RFI process, DCSG's chosen hardware suppliers comprise Alpha Networks, Delta Networks, and Edgecore (with reference models based on Broadcom Qumran chipsets). Software players are ADVA Optical Networking, IP Fusion, and Volta Networks. Telefónica is "continuing to advance its DCSG deployment", said TIP. This is a presumed reference to an announcement at 2019's TIP Summit that the Group was preparing a "large-scale" commercial deployment of DCSG in Germany and Ecuador, alongside Edgecore and Infinera. This follows on from "phase-one" testing of DCSG hardware and software solutions by Telefónica, TIM, and Vodafone in 2019. Some other (unspecified) operators were said to be "moving to live network trial projects" during 2020.
A recently launched OOPT sub‑group called Disaggregated Open Routers, which will "define, build, and deploy disaggregated IP/MPLS routers". Vodafone and Japanese operator KDDI are lead backers of the project. Vendors including ADVA, Delta, Exaware, Infinera, Ufispace, and Volta Networks are now said to be supporting the initiative.
Disaggregated Optical Systems — the sub-group in which Phoenix sits. Regarding other products within the family, OOPT reported new developments around Cassini, a disaggregated and modular packet/optical transponder, with IP Infusion and the Open Networking Foundation announcing software support for Cassini deployments. TIP said Edgecore has developed a Cassini‑based transponder and the product has been tested by Telefónica Peru.
The CANDI, or "converged architecture for network disaggregation and integration" sub-group, launched in 2018, with Telefónica and NTT leading (Telefónicawatch, #130). Óscar González de Dios, Technology & Planning Expert, Transport & IP Networks at Telefónica, described the project as aiming to provide a layer of "glue" between other OOPT sub-groups, in order to bring together end-to-end architecture for OOPT use-cases, demonstrations, and tests. It debuted its first proof-of-concept (PoC) in October 2019 (Telefónicawatch, #138) and a second PoC is planned for June 2020.
Thinking outside the box
The open and disaggregated systems advanced by TIP, like Phoenix, are undoubtedly a 'hot' part of the industry. Many now argue that their time is coming, considering the pervading supply chain dysfunction and mounting financial pressures operators are currently experiencing, as well as their potential to revolutionise creation and delivery of communications services.
However, while major Telefónica operating businesses are beginning tentative trial deployments of more open systems, and encouraging ongoing lab collaboration apparently built on TIP breakthroughs (Telefónicawatch, #139, 140, and passim), there remain significant barriers to the mass-scale deployment of these systems within operator networks.
While participating operators are evidently focused on pushing TIP solutions along the path to technical readiness, it is clear that they also come with a dramatically different supply picture and release rhythm, and require a considerable refresh of skill sets and mindset in engineering, procurement, and other areas of the business. The last TIP Summit was dominated by talk of how to make TIP solutions "real", with automation and (telco-customised) continuous integration/continuous delivery to the fore. The overriding message was that, with the move to open technologies, telcos will need to open up culturally and operationally, too.
For suppliers, a complex 're‑coupling' of operators and their infrastructure partners is being envisaged. Speaking at the TIP Summit, Thomas Muller, Global Practice Head of Emerging Services Industrial & Engineering Services at Wipro, noted that the "challenge is when you move from maybe 50 pieces of a puzzle to potentially thousands of pieces, the complexity is going exponentially up". Past experience and skills are "not necessarily transferable", he added.
Biswajit Rath, Chief Operating Officer & Global Head of Network Services at Tech Mahindra, went into a new, multi-layered vision of how operators (and their system integrator sherpas) may end up managing a disaggregated supply chain, encompassing (but not limited to): a collaborative or "e‑bonding" framework governing all product vendors, "from design to delivery"; a new contractual model to synchronise components; and an economic model to "drive the behaviour" of partners, including a "collaboration fund" providing success fees to suppliers and incentivising them to deliver their pieces of work.
TIP now looking to prise open core
Extending beyond work on "open" radio access and transport solutions, TIP flagged the creation of a new Open Core Network working group.
The initiative, preparations for which were first flagged by TIP in February 2020, does not count Telefónica among its main backers. Its support team features Amdocs, BT Group, Facebook, FreedomFi (an enterprise private networks startup), Mirantis, Rakuten Mobile, Telenor, Vodafone, and Wavelabs. It has pledged to develop an "open, cloud-native, and converged core that is a collection of microservices implementing various core network functions", and is aiming to be ready for lab trials of a 5G use-case by December 2020.