Telefónica joined Restarting Together COVID-19 recovery programme, absent from ETSI's E4P scheme, and one of 53 large companies to take a Bank of England emergency loan.
TIWS test LEO satellite; ElevenPaths gets AWS security certification.
Announcements across Telefónica's core markets include ongoing 5G/China drama in the UK; Brazilian network-sharing deal hits regulatory roughspot.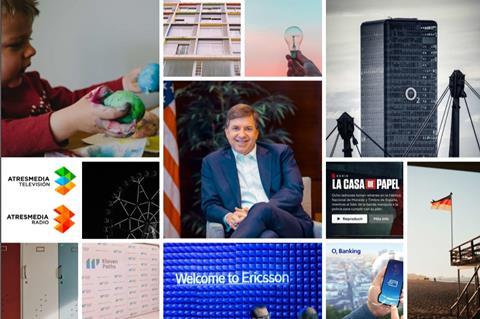 Group
Coronavirus response
Telefónica Group was conspicuously absent from a new industry specifications group established by the European Telecommunications Standards Institute, intended to facilitate interoperability of proximity tracing apps used across Europe and help slow the spread of COVID‑19. Regional peers BT Group, Deutsche Telekom, Orange, and Vodafone Group have signed up to the Europe for Privacy-Preserving Pandemic Protection (E4P) scheme, which aims to produce a first set of standards supporting cross‑border use of tracing apps by the end of summer 2020. Telefónica has been generally quiet on the subject of tracing apps, although it is supporting a service developed by CARTO, a mapping software startup in which Open Future has previously invested, and which works with Telefónica's LUCA unit (Telefónicawatch, #113 and #121). The CARTO app is focused on users volunteering information about potential symptoms of the virus, and creating visual and interactive data for authorities that can be used to show where clusters of infection are developing. This differs from the contact tracing approach being adopted in many countries, where Bluetooth Low Energy technology is used to record instances where people might have come into contact with an infected person, and then notify them of the risk of infection. Read the full story.
Telefónica joined a consortium of large businesses to launch Restarting Together, a COVID‑19 recovery programme aimed at kick-starting the economy by supporting startups and small‑ and medium‑size enterprises. The initiative will promote projects that support community engagement and a "more resilient society", while also stimulating the economy. A call for proposals from companies was opened on 2 June 2020 and nine shortlisted ideas will be presented at a digital Pitchday in September 2020. Other members of the scheme are: Airbus BizLab, BASF, BID Lab, Boston Consulting Group, CEMEX, Citi, Endeavor, IE, IESE Business School, Microsoft for Startups, and South Summit. The winners are promised development, promotion, and implementation support, with additional investment and acceleration resource also on the table. Miguel Arias, Telefónica Director of Global Entrepreneurship, represents the Group as a partner on the initiative.
Finance
Telefónica was included in a list of 53 large companies that received low‑cost emergency loans from the Bank of England under its Covid Corporate Financing Facility (CCFF). According to the list, which was published by The Guardian newspaper among others, £200m (€220m) was received by Group holding company Telefónica Europe B.V. from the CCFF pot, presumably destined for Telefónica UK (O2 UK). News that money was being lent to some foreign-owned companies was predictably pounced upon by some elements of the British press. The Financial Times also noted that Telefónica is planning to pay a dividend this year (Telefónicawatch, #143), perhaps suggesting that the operator was not in a position to require emergency relief. The Bank's CCFF guidelines say that businesses making a "material contribution to the UK economy" are able to benefit from the facility, including those with foreign-incorporated parents. In May 2020, Mark Evans, Chief Executive of O2 UK, indicated that the operator had not made use of the government's furlough scheme and said all UK staff remained on "full pay".
Suppliers
Telefónica was flagged as one of the first organisations to deploy Nuance Gatekeeper, the updated voice biometrics software from Nuance Communications, which now prioritises elderly users. The system uses artificial intelligence and "deep neural networks" to identify older callers, who are statistically more likely to be the victims of fraud, and offer priority fraud protection services. Telefónica España President Emilio Gayo highlighted the deployment as "critical to protecting our most at‑risk customers while enabling an easier service experience on the phone". Nuance has a long history of partnerships across Telefónica Group. Nuance is also a partner of European peers Deutsche Telekom, TalkTalk, and Vodafone Turkey.
Telefónica Tech
Telefónica Group was among a group of 15 international operators supporting a new Qualcomm testing programme intended to foster an environment for the development of extended reality (XR) applications as a driver of 5G adoption. Qualcomm subsidiary Qualcomm Technologies said the new partnership with the operators, XR kit makers, and smart device manufacturers will result in the launch of a new wave of commercial XR viewers for both business and consumers by mid‑2021. The programme will test performance and compatibility between viewers and 5G smartphones, with the initiative offering separate certification for viewers and devices. Building on Qualcomm's Snapdragon 855 and 865 mobile platforms, certified equipment will facilitate the tethering of a range of new headsets to 5G‑enabled handsets that will act as a type of hub for the wearables. The headgear will apparently be physically tethered to the smartphones with a USB‑C cable. In supporting the programme launch, Telefónica described XR as a "clear use‑case" for 5G, and highlighted its UK 5G launch featuring concert footage with virtual reality (VR) to illustrate the potential of the network. Telefónica's research in the area has seen it toy with a role for 5G and AR in the tourism sector, in the health sphere to support first responders, and in industrial settings across Spain (Telefónicawatch, #131, #135, #140, and #141). Read the full story.
Qualcomm XR Optimized Certification Program launch supporters
Source: Qualcomm Technologies.
Operators
China Mobile
China Telecom
China Unicom
Deutsche Telekom
EE (BT)
KDDI
KT
LG Uplus
NTT DOCOMO
Orange
SK Telecom
SoftBank
Telefónica
Verizon
Vodafone
Viewer makers
3Glasses
iQIYI
Nreal
OPPO
Panasonic
Pico
Shadow Creator
Smart device manufacturers
ASUS
Black Shark
OnePlus
OPPO
Smartisan
Vivo
ZTE
Telefónica International Wholesale Services (TIWS) and satellite operator Telesat completed live in‑orbit testing across a range of applications on Telesat's low‑earth orbit (LEO) Phase 1 satellite. TIWS has been working with Telesat on testing the performance and feasibility of leveraging LEO satellites for high‑end video and data transmission services. The tests were said to have demonstrated that Telesat's LEO could be a viable option for wireless backhaul, providing a "substantial improvement" in performance over geostationary orbit (GEO) links, recording latency of 30–60 milliseconds without any packet loss. Gustavo Arditti, Satellite Business Unit Director at TIWS, said the telco considers satellite cellular backhaul as a way to extend 3G and 4G coverage, especially in Latin America. He added that its use will increase in coming years with the advent of 5G technology and new Internet of Things applications, describing the future opportunities for satellite as "enormous".
Telefónica's use of contact centre technology from IPsoft was highlighted as part of evolution of the software provider's flagship artificial intelligence platform Amelia. Amelia for Customer Care, described as a cloud‑based digital employee or "cognitive agent", has so far been deployed at Telefónica call centres in Peru but appears likely to be eventually deployed in other Group markets. Gonzalo Gomez Cid, Global Contact Centre Director at Telefónica, described the deployment in Peru as a pioneering project for the Group. He said Amelia currently handles 250,000 calls per day and has completely replaced a previous interactive voice response‑based customer service system. "During her interactions, Amelia recognised customer intent correctly on 90% of calls", said Gomez Cid.
Telefónica-backed 5G innovation lab 5TONIC (Telefónicawatch, #133 and #136) is to collaborate with Spanish solution provider Telcaria on European projects. An offshoot from the University Carlos III of Madrid, Telcaria provides software-defined networking and network function virtualisation technologies for 5G environments. Other 5TONIC members include Altran, CommScope, Ericsson, Intel, InterDigital, and UC3M.
Telefónica partnered with Siemens Digital Industries to offer cybersecurity solutions to enterprise customers. A joint statement claimed the agreement will aim to ensure "maximum robustness" for facilities and networks by focusing on operational technology (OT) as well as IT. ElevenPaths, the Telefónica Tech cybersecurity unit, appears to be heading the telco's end of the partnership. The unit has widened its portfolio in recent months, including with the addition of OT specialist Nozomi, and appears set to lead a merged and expanded cybersecurity business within Telefónica Tech (Telefónicawatch, passim and see separate report). ElevenPaths will provide its portfolio of security services and IT expertise, which will be deployed to determine a client's security plan, as well as monitoring and detecting threats in real-time. Siemens will offer consulting services and technology, including network components and display systems. Telefónica España Chief Executive Emilio Gayo said the partnership will be a "starting point for extending cybersecurity services".
MEF, formerly known as Metro Ethernet Forum, highlighted Telefónica International Wholesale Services (TIWS) as one of eight service providers that are "on track" with regard to implementing MEF 3.0 LSO Sonata APIs (application programming interfaces). The new APIs are geared to automate the ordering of MEF 3.0 Carrier Ethernet Access E‑Line services, and adhere to MEF's lifecycle service orchestration (LSO) architecture. MEF said they are expected to be either implemented or "production‑ready" by the group or eight before the end of June 2020. Multiple other providers have apparently informed MEF that they intend to implement the APIs in the second half of 2020. The other seven SPs joining TIWS in the "pioneering group" are AT&T, Bestel, Colt Technology Services, HGC Global Communications, Infonas, PCCW Global, and Sparkle.
ElevenPaths, Telefónica Tech's cybersecurity unit, achieved Amazon Web Services' (AWS) Security Competency status. Telefónica was said to be the first Spanish company to be awarded the recognition. The accreditation demonstrates that ElevenPaths can create solutions on AWS to support customers in multiple areas, including: data protection; identity management; infrastructure security; policy management; security supervision; and vulnerability management. Achievement of Security Competency status was also said to grant ElevenPaths membership of the AWS Partner Network, enabling it to provide specialised consulting services to help enterprises develop, deploy, integrate, and maintain complex security projects on AWS. ElevenPaths said the certification covered its two Cloud Centres of Excellence, in Brazil and Spain, and highlighted that it had trained "dozens" of staff in Spain, Brazil, and other territories in AWS cloud technologies. Like other telcos, Telefónica collaborates with multiple public cloud providers, including AWS, Google Cloud, and Microsoft (Telefónicawatch, #125–#127, #133, #136).
Core Markets
Brazil
Brazil's economic regulator CADE (Administrative Council for Economic Defence) redoubled its support of the TIM Brasil-Telefónica|Vivo network-sharing agreement by rejecting appeals brought against it by rival operator Claro. On 4 June 2020 a CADE tribunal found that no competition issues would arise from the collaboration, and so the merger go‑ahead was maintained. América Móvil‑owned third player Claro Brasil had lodged a formal appeal with CADE to re‑assess the approval, which it claimed would have "anti‑competition effects". The regulator ruled to the contrary, saying the tie‑up "aims to generate cost savings of infrastructure implementation, which is a legitimate purpose from a competitive point of view". The Vivo and TIM pairing signed the agreement in December 2019, and plan to launch a shared 2G network covering 2,700 cities, alongside a 3G/4G network across smaller areas — defined as those with fewer than 30,000 residents (Telefónicawatch, #140).
Smart‑city infrastructure developer High‑Trend International (HTI), founded by former Telefónica Business Solutions' Chief Executive Juan Revilla, earned investment from The Phoenix Fund, enabling further expansion of its smart‑city operation in Brazil. The value of the deal was not disclosed. The news came after Smart Luz, a public‑private partnership of which HTI is a member, won a public tender, worth BRL 1.4bn (€228m) over a 20‑year period, to develop Rio de Janeiro's street lighting infrastructure. Read the full story.
Germany
Mallik Rao, Chief Technology & Information Officer (CTIO) at Telefónica Deutschland, gave an update on how far the operator has shifted on‑premise IT systems to the public cloud. As reported by TelecomTV, Rao said the operator had migrated about 50 of some 200 business support systems (BSS) applications onto public cloud platforms. "We have moved beyond the planning phase — we are basically in execution mode", he said. Rao added that about 80% of BSS apps could run in the public cloud, particularly customer relationship management systems, but added that "data-intensive applications", such as billing, were more problematic. The CTIO reckoned that running BSS apps in the public cloud can reduce total cost of ownership by about 50%.
DAZN, the emerging over‑the‑top (OTT) live sports broadcaster, unveiled a carrier billing relationship with Telefónica Deutschland, giving the operating business's customers the ability to pay for a DAZN subscription through their mobile bill. The content provider currently holds rights to stream matches from Germany's Bundesliga, as well as top‑tier leagues in France, Italy, and Spain, and games from UEFA's major club tournaments. M‑payment specialist BOKU, which has worked on carrier billing with Telefónica for many years (Telefónicawatch, #109 and passim), is the technology partner for the service. Telefónica and DAZN are rivals in Spain, where the financially struggling OTT player has been challenging the operator for in‑demand rights (Telefónicawatch, #143).
Spain
Telefónica España (Movistar) launched direct carrier billing (DCB) for video game developer Epic Games' eponymous store, enabling Movistar subscribers to add charges to their monthly mobile bill. The US‑based video game developer flagged it had begun testing with Movistar in early‑May 2020, and the operator confirmed in mid‑June 2020 that the rollout was live. It marks Epic Games' first DCB deployment "in a many‑phased approach". It does not appear that the Spanish instalment is part of a global exclusivity agreement, and Epic Games noted that it will be "monitoring it and slowly rolling out more DCB support to other countries". The partnership is expected to lead to further co‑marketing.
Telefónica España launched a solution to monitor social distancing at Spanish beaches. The system uses 4G‑eqipped IP cameras that survey beaches and returns an occupancy percentage. The data can be used to determine whether social distancing is being maintained, and comes with Spain due to reopen its borders to foreign tourists from 1 July 2020. Telefónica claimed the system had 99% reliability.
Telefónica España agreed a ten‑year power purchase agreement (PPA) with sustainable energy solutions provider Acciona, for the annual supply of 100 gigawatt-hours of renewable energy. The contract will be supported by Acciona's portfolio of renewable assets in Spain, which will be expanded over the course of the agreement to guarantee Telefónica's energy supply. The electricity supplied to Telefónica will be certified 100%‑renewable by Spanish regulator Comisión Nacional de los Mercados y la Competencia, and the deal gives Telefónica access to Acciona's blockchain-based GREENCHAIN traceability application, which guarantees the renewable origin of the energy in real‑time. Telefónica unveiled five new sustainability targets in December 2019, including using 100% of its electricity from renewable sources across its footprint by 2030 (Telefónicawatch, #140), and has previously flagged the use of long‑term PPAs as an "action area" to achieve its carbon emission reduction goals (Telefónicawatch, #117).
UK
A UK pressure group is mounting a legal challenge against the UK government over the alleged health risks of 5G technology. Action Against 5G has hired top human rights barrister Michael Mansfield to lead the case, and issued a Letter Before Action to the government, in preparation for its application to the High Court for permission to argue the case in full. The group, which had raised more than £86,000 for the case by end‑June 2020, is challenging the government's failure to take into account the "extensive evidence showing radio frequency radiation from masts and wireless devices puts health and life at risk, carry out a full and independent examination of the risks, [or] properly inform the public of the dangers". Trade association Mobile UK dismissed the claims, asserting that "no health risks have been established from exposure to the low‑level radio signals used for mobile communications". The Dutch government is facing similar action from local pressure group Stop5GNL Foundation over its "unethical" nationwide 5G rollout that poses "serious health risks" to the general public.
Communications infrastructure provider Shared Access flagged a deployment of its connectivity system in Newcastle to provide Telefónica UK (O2 UK) customers with a mobile network when driving through the Tyne Tunnel. Shared Access has also implemented its connectivity solution in the tunnels, a set of two vehicular toll tunnels running under the River Tyne in north‑east England that serves 38,000 customers per day, for rivals EE and Vodafone UK. Shared Access is an independent owner and operator of shared wireless communications infrastructure, and leases space on its sites to mobile network operators. It recently partnered with Vodafone Ireland to bring 5G connectivity to Dublin's Aviva Stadium (Vodafonewatch, #185).
Telefónica UK (O2 UK) partnered with train operator London North Eastern Railway (LNER) to boost network coverage along a 45‑mile stretch of the East Coast route between Newcastle and Edinburgh. The improvement in mobile coverage will benefit communities in North Tyneside and Northumberland where limited or no signal currently exists, in addition to passengers using the train line. Northumberland County Council has granted planning permission for the "first of up to twelve masts", with 5G expected to be available within Newcastle Central Station by summer 2021 as part of the project's final phase. The companies worked with rail and telecoms infrastructure provider Railsite Telecom to identify optimum locations to upgrade and build the new 4G and 5G‑ready masts, following nearly a year of testing and planning. Other mobile network operators will be able to participate in the project. Read the full story.
A 5G trial being undertaken by Telefónica UK, Ericsson, and Northumbrian Water (Telefónicawatch, #140) was said to have reduced the time taken to complete maintenance jobs at the utility business by up to a quarter through the use of augmented reality headsets. The devices enable experienced technicians to remotely guide teams in the field, as well as provide annotated instructions and future training material.

Technology startup Klyk joined Telefónica UK's (O2 UK) Direct Partner Network, and will become the operator's exclusive reseller of refurbished communications equipment to small‑ and medium‑size enterprises. O2 UK will provide the outfit with O2 Business services, as well as connectivity.
Hispanoamérica

Region
Telefónica expanded a relationship with media conglomerate WPP Group in Latin America. WPP said its dedicated Team Telefónica unit had won business‑to-consumer, business‑to-business, and digital advertising accounts in Peru, adding to its remit in Argentina, Chile, Colombia, and Mexico. The agency said media buying was not part of the review process that secured it the new business in Peru. WPP noted that it works with Telefónica in most markets, including key territories Brazil, Germany, Spain, and the UK.
Argentina
Telefónica Argentina (Movistar) rival Claro Argentina reportedly filed a complaint claiming that Movistar is contravening mobile number portability regulations. According to news agency Télam, América Móvil-owned Claro Argentina accused Movistar of preventing customers from switching to a different operator, and pointed to rejected portability requests for 27,272 lines as evidence. However, Movistar apparently cited unpaid debts as the reason in almost 80% of those cases. Claro is said to have asked Argentina's telecoms regulator, the Ente Nacional de Comunicaciones, to intervene in the matter.
Colombia
Telefónica Colombia flagged a partnership with China‑based video surveillance specialist Dahua Technology to install thermal-imaging cameras at a temporary field hospital in Corferias, Bogotá. The cameras will be used to check the hospital's approximate 2,000 daily visitors for any abnormally high temperatures. The operator has previously noted its support for the use of thermal imaging technology by the country's health services, working with Huawei Technologies to provide connectivity for monitoring equipment deployed at government laboratories and strategic sites (Telefónicawatch, #143).
Mexico
Broadcaster Televisa is raising competitive pressure in Mexico's mobile telephony market through a mobile virtual network operator (MVNO) deal to use the country's wholesale LTE network Red Compartida. The Izzi Móvil launch will round out the existing Izzi offering into a full quad‑play service, with fixed voice and broadband and pay‑TV services already offered as part of the Izzi portfolio. América Móvil's Telcel mobile arm remains dominant, with 64% of subscriber market share, nearly twice as many subscribers as Telefónica Mexico (22%) and AT&T Mexico (15%) combined. There are around 117 million mobile subscribers in the country. Read the full story.
Peru
Telefónica Peru flagged what appeared to be the end of a collaboration with partner USIL Ventures in a programme at the Telefónica Open Future Hub in Lima. A closing workshop took place in May 2020, marking the end of a tie‑up that began in 2019. USIL Ventures, an incubator and accelerator unit of the Universidad San Ignacio de Loyola, said it had incubated more than ten startups during this period. Startups featuring at the final workshop were: Alquilab, Ayllu, Dapps Blockchain, ID4, and Queestudiar. The aim of the programme was to promote the development of technological projects in areas such as agribusiness, biodiversity, education, and health.
Telefónica Peru (Movistar) faces additional competitive obligations after the country's telecoms regulator proposed new rules for fixed internet access. The Organismo Supervisor de Inversión Privada en Telecomunicaciones' (Supervisory Agency for Private Investment in Telecommunications/Osiptel) plans to include a requirement for Movistar to inform customers at least 30 days in advance when it plans to raise prices, and to send a reminder ten days in advance. It will also prospectively have to terminate services within one business day, and remove equipment and wiring within three business days, when contracts are ended, as well as allowing users to manage service migrations, terminations, and suspensions digitally. Movistar held a 68.9% share of the fixed internet market in September 2019, according to Osiptel, and the regulator has been placing increased scrutiny on practices at the operating business in recent months. Earlier in 2020, Osiptel told the operator to reverse recent price increases and reimburse affected customers (Telefónicawatch, #141). In June 2020, the regulator fined Movistar about PEN 1m (€251,320) for violating mobile and fixed number portability regulations.
Fundación Telefónica, the Group's charitable foundation, is working with Peru's Ministerio de Educación (Ministry of Education/MINEDU) to provide educational and technological resources for primary schools and hospitals in the country, as part of its Educación Digital programme. The deal will benefit 790,000 pupils and form part of the national curriculum, and provide digital skills and teacher training, as well as educational tools, apps, content, and digital learning platforms. The Educación Digital programme was established in partnership with La Caixa Foundation to bring educational and technology resources to schools and hospitals in Latin America.