Executive Chairman hails Q2 FY22 turnover growth across all Group businesses.
Group ups FY22 guidance to reflect growing confidence.
Álvarez-Pallete again extols virtues of "prudent management".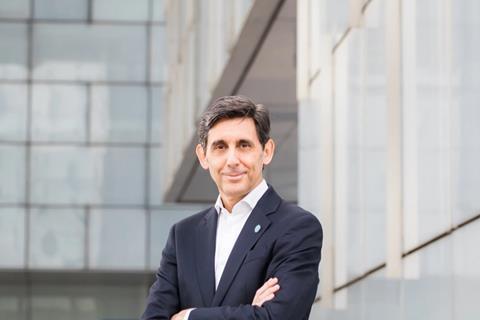 Telefónica Executive Chairman José María Álvarez-Pallete, never one to show too much animation when presenting financial results, appeared to let slip a sliver of enthusiastic satisfaction when summarising Group performance for the half year and quarter ending 30 June 2022 (Q2 FY22).
"All businesses are back to revenue growth [in Q2]", stressed Álvarez-Pallete in his introductory remarks for Q&A with analysts. "We have so far over-delivered [in H1] and feel supremely confident for the full year", he continued. "We currently don't see a deterioration in our operational and financial momentum."
Perhaps aware he was getting a bit carried away, at least by his own standards for sober financial analysis, Álvarez-Pallete later modified his FY22 outlook to "prudently confident" in the Q&A session.
Yet, despite what he called a "tougher than expected macro environment", "over-delivering" was something Álvarez-Pallete repeatedly tried to imprint on the minds of the analyst audience (and others tuning in).
So too was the point about 'all businesses' being back to year-on-year growth during Q2, both on a reported and organic basis. "We are back to reported Group revenue growth for the first time since Q3 2019", he added, ramming home his point that things were on the up. Commercial progress in 5G and FTTP, he said, were growth drivers.
Underlining the supreme — or prudent — full-year optimism, Telefónica Group upped FY22 guidance. From an organic revenue base of €42.5bn (£35.6bn) in FY21 (including 50% of Virgin Media O2), FY22 guidance is now "high end of low single-digit growth", up from initial guidance of "low single-digit growth". H1 FY22 revenue on an organic basis was up 4.2%, year-on-year, to €22.4bn.
Updated FY22 guidance for operating income before depreciation and amortisation, again on an organic basis, is "mid- to- high end of low single-digit growth". Initial guidance here was "low single-digit growth". H1 FY22 OIBDA was up 2.7% year-on-year to €7.5bn.
Mixed messages
Despite Álvarez-Pallete's triumphant observation that 'all' Group businesses showed top-line year-on-year growth in Q2, Telefónica España just scraped through (1.3% rise on a reported basis). Moreover, Spain's hypercompetitive market continues to squeeze OIBDA margins (36.3% versus 38% during Q2 FY21). Rising energy costs were also factor, as was the growing weight of lower margin revenues.
Germany, described by Álvarez-Pallete as "steady", saw both reported revenue and OIBDA up year-on-year (5.8% and 3.4%, respectively), as did VM O2 (1.9% and 7.5%, respectively).
Both the Hispanoamérica division and Brazil showed double-digit growth on the two metrics.
Telefónica Tech also had a strong Q2, with sales growing 64.8% year-on-year, although its contribution to Group turnover is still relatively small (€335m for the quarter).
Dear Prudence, won't you come out to play
In keeping with his fondness for keeping a firm hand on the tiller, Álvarez-Pallete talked matter-of-factly (again) about "proactive debt management" and a "prudent and balanced" approach to managing growth.
Referencing what he called a "strong balance sheet", courtesy of "prudent management", he highlighted that 76% of total debt (€27.8bn as of 22 June 2022) was on fixed rates.
Telefónica has also taken measures to offset energy price hikes through long-term agreements to cover 50% of energy costs in Spain (FY22), with 80% of energy fees hedged in Germany for the same period.
Álvarez-Pallete also seemed happy about a trimming down exposure in Latin America. "Our strategy remains intact regarding Hispam", he said. "We remain committed to modulate our exposure to the region, aiming to increase our return on capital employed, which, by the way, has been happening for the last two years."
Through organisational and infrastructure initiatives at the Hispam unit, Telefónica has reduced capital employed by 33% in the region since 2019.

Ken has been writing about developments in the fixed and mobile markets for over twenty years. He has been a contributor to TelcoTitans since 2015.