As Telefónica looks set to cordon off its Latin American interests to focus on the Big Four, Movistar in Mexico takes a drastic step to cut network costs.
Operating business may be hoping a lighter infrastructure load will support commercial flexibility.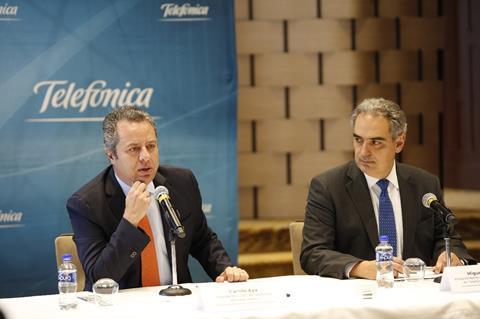 Telefónica signed an eight-year deal with rival AT&T to use its access network infrastructure in Mexico. The agreement will see Telefónica Mexico (Movistar) migrate traffic to AT&T Mexico's 'last‑mile' access network over a three-year period, while continuing to operate as an independent operator by maintaining "substantial" elements of its own network infrastructure and platforms.
Movistar will keep control of its transport network and all platforms across its operations, with management stressing that it will maintain exclusive control over its customer base, operational, and business support functions, including billing and pricing, and financial management, with AT&T having "no visibility or influence".
Movistar will also retain its mobile virtual network operator relationships with operators including Simplii and Virgin Mobile (Telefónicawatch, #82, #107, #109, and passim).
The operating business (OB) expects the deal to provide an annual positive impact on cash flow of €230m from year three, and a reduction in net debt of €500m.
Once the migration is complete, based on current figures, AT&T Mexico's network will carry traffic for more than 38 million customers, including Movistar's 26 million and AT&T's own 12.5 million mobile connections.
Telefónica Mexico's Chief Executive Camilo Aya confirmed that the agreement, which appears to be an unprecedented operating model in the country, is not exclusive. This apparently leaves the OB free to enter into similar deals with other operators in Mexico, such as América Móvil-owned Telcel, while enabling it to continue to use its own access network where it is beneficial.
Telefónica Mexico already has a national roaming agreement in place with Telcel to provide it with access to the latter's 4G network in areas where Telefónica's mobile coverage is unavailable (Telefónicawatch, #112). Movistar was also part of a consortium that won the rights to use fibre-optic cables owned by the Mexican government over a 20‑year term (Telefónicawatch, #2010.06).
There was also speculation that Telefónica Mexico could return swathes of its spectrum to the government. The operating business acquired a 20‑year licence for 40MHz in two frequency duplex 20MHz chunks in the country's controversial 2.5GHz band auction held in August 2018, in a deal thought to entail Telefónica paying MXN 14.7bn (€694m) over the course of the 20‑year period. As well as the high cost, the terms of the licence were considered to be particularly onerous in terms of coverage, with questions raised at the time on the commercial sustainability of the agreement (Telefónicawatch, #129).
Telcel dominates still
In Mexico, AT&T holds 33.6% of the country's available spectrum against Telcel's 30.8%, both substantially ahead of Movistar's 17.4%.
Despite an overhaul of Mexican regulation in 2014, intended to curb Telcel's dominance by opening up the market to more competition and reducing national roaming charges (Telefónicawatch, #89, #92, and passim), the América Móvil subsidiary has roughly twice as many subscribers as Telefónica and AT&T combined.