Hispanoamérica expected to be put on a par with Partners Program operators as Group prepares for sale and encourages local independence.
Latin American billionaires float a majority stake acquisition of local assets, with Telefónica a minority shareholder, but individual OB sales still a prospect.
Morgan Stanley working on Telefónica Tech stake sale as well as Hispanoamérica plans as Group aims to quickly prove to shareholders it means business on transformation.
AT Kearney another consultant gaining work as part of overhaul project, considering the future form of TIWS.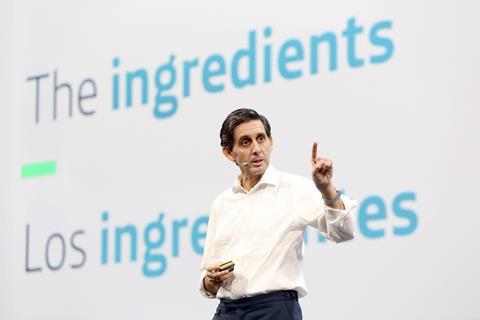 Following the December 2019 unveiling of a new corporate structure for Telefónica Group (Telefónicawatch, #139), speculation and reports of spin‑offs and partial sales of elements of the overhauled business have proliferated.
Consultants and financial advisers are said to be considering the operations and future prospects of aspects of the business amid uncertainty as to how the radical plans of Group Executive Chairman José María Álvarez‑Pallete will work in practice. The most visible activity surrounds the Latin American business, but the proposed ownership changes relating to the new Telefónica Hispanoamérica could have knock‑on effects across other new divisions.
Chairman tours region after shock announcement
Sources within Telefónica's Latin America business have indicated that the plan to ring‑fence Hispanoamérica were met with disquiet locally, with a feeling that the region is being abandoned to enable 5G investment elsewhere, as well as facing uncertainty that any sell‑off could be executed based on tumultuous political conditions in several markets, and generally left with a lack of clarity on the ongoing short‑term objectives the local operating businesses (OBs). The apparent use of a Group press release to disseminate the news about the region was also received unfavourably.
Perhaps at least in part to try and address these concerns, Álvarez‑Pallete visited the major Hispanoamérica operating businesses in December 2019. He was accompanied by Laura Abasolo, the Group's Chief Financial Officer to whom Alfonso Gómez (the new Hispanoamérica Chief Executive) is reporting. During the tour, the Group leadership sought to explain the thinking behind the new structure and vision for the division's future.
"We have to recognise that the model that has allowed us to get here successfully is running out. And, once again, we want to be forerunners, looking for new formulas to grow, offering the best service to our customers and managing resources in the most efficient way possible. It's impossible to guess the future, but the best way to predict it is to create it. "

— Álvarez‑Pallete, on restructuring.
According to reports, it was stressed that the principal goal of the change is to attract new investors and identify potential for synergies with other local market players. The steps taken in Mexico to share network resources with AT&T were highlighted as an example of the type of change the Group is seeking, as was the developing alliance with TIM in Brazil (see separate report).
"We have to find ways to strengthen the operations we have in Latin America. And for that, to reinforce them, all options are open. It's time to change, to reinvent ourselves, to look for what the new formula is to be cost-effectively exposed to those markets. "

— Álvarez‑Pallete, on Hispanoamérica division creation.
Hispanoamérica to be kept at arm's length ahead of any monetisation
To instigate the change demanded by management, Telefónica Group has appointed Morgan Stanley to consider the options for the future of the Hispanoamérica division. It appears that the financial institution will not only be analysing the potential for a sale or spin‑off, but also examining the way the Group works its internal relationship with the region.
The Morgan Stanley review will apparently see relationships between the individual OBs and the centralised corporate and operational units of the Group examined and subject to revision. While services are already formally contracted between OBs and Group functions, the process could result in terms upon which services are being provided being reworked on a more commercial basis or cancelled altogether. It was suggested that Telefónica plans to treat the OBs comparably to the Group's Partner Program, which manages commercial and procurement relationships with smaller operators to leverage Telefonica Group scale on equipment acquisition, wholesale and roaming rates, and delivery of services to multinational corporations (Telefónicawatch, passim).
It is apparently hoped that the process will build a degree of independence for the local OBs. For example, should a new back office system be introduced by the Group, it will be a decision for Latin American operating businesses as to whether the cost of deploying the new capability is merited by its impact on local operations.
The smaller Latin American OBs are thought to be more reliant on Group‑generated centralised services than the 'Big Four' of Brazil, Germany, Spain and the UK, which are said to be strong enough to manage more operations internally. A potential knock‑on effect of Hispanoamérica OBs picking and choosing which central services to use, and likely embracing cost‑cutting exercises themselves, could be a slimming down of centralised units as reliance on them declines.
Local billionaires circling, with Colombia the centre of interest
Investment bank Citi is also said to be working with Telefónica in Latin America to identify potential investors in operations on the continent, but it appears local interest is building independently.
A cabal of Latin American billionaires is reportedly interested in gaining control of Telefónica Hispanoamérica, taking a majority stake in the business, while bringing in additional local investors to acquire a minority interest. Colombian law firm Cremades & Calvo Sotelo is said to have composed the proposal and it appears that the consortium would be interested in Telefónica Group maintaining a 20%–25% stake in the restructured LatAm business. The consortium is believed to feature members spread across the eight countries in which Telefónica Hispanoamérica operates: Argentina, Chile, Colombia, Ecuador, Mexico, Peru, Uruguay, and Venezuela.
Although press reports appear to indicate that the billionaire group would be ready to pay €10bn for a 51% stake, the Hispanoamérica division has widely been valued at €11bn‑€12bn, suggesting the valuations cited is for the division in its entirety.
As well as an external investor buying into the division, the sale of individual operating businesses has not been ruled out, and nor has an initial public offering of the division on local stock exchanges — a plan that had been mooted by the Group in previous years (Telefónicawatch, passim).
The Colombian business is currently most closely linked to an independent sale, with Novator Partners tagged as a potential buyer. The investment fund recently acquired spectrum in the Colombian 4G auction, but is likely to need an existing network operator partner to fulfil its licence commitments. Telefónica notably elected not to bid in the Colombian auction, which took place after the revised plan for Hispanoamérica emerged, fuelling rumours a quick exit from the market could be in the offing (see separate report).
Liberty Global's Latin American division and mobile group Millicom have also been linked with a potential partnership in the Hispanoamérica business.
Telefónica Tech could be touted to investors too
It was reported in late‑January 2020 that Telefónica has also charged Morgan Stanley with examining the potential for finding a buyer for a minority stake in Telefónica Tech.
It is apparently hoped that a strategic alliance could be agreed by June 2020 when Telefónica holds its annual shareholders meeting.
The Group is said to be interested in replicating the Telxius model with the new division, although the move could be considered a surprising one considering that Telefónica Tech comprises several of the anticipated revenue and profit growth levers for the operator, while Telxius is more akin to an infrastructure utility.
Wholesale to be integrated with TBS
Although not likely to garner the attention that more dramatic sell‑offs and partnerships would attract, implementation of another restructuring project has seen management consultancy AT Kearney appointed to work on the integration of Telefónica International Wholesale Services (TIWS) into the Telefónica Business Solutions (TBS) unit.
The US‑based consultancy is said to be undertaking an audit of TIWS operations to identify potential overlaps in departments across the wholesale unit as it becomes more aligned with TBS. As well as traditional international networking services for fixed and mobile operators and global service providers, the TIWS product portfolio already includes solutions based on cloud services, security and data analytics, which could cross over with TBS offerings.
Voluntary redundancies sought in Spain to streamline Group
While there are expectations that the restructuring of the Group will lead to reduced demand for centralised functions in the mid‑term, Telefónica Group is already looking to streamline its workforce through voluntary redundancy programmes.
In recent years, Telefónica has attempted to reduce its workforce through early retirement programmes for staff aged over‑53 (Telefónicawatch, #137, passim) but the latest plans apply to a wider age range of employees. The new Plan 10 is to offer Telefónica employees in corporate and global units of the company that have more than ten years' service at the company a redundancy package that would equate to five years of their final salary, paid out over the next ten years.
A further scheme is targeting employees with five to ten years' experience and offering a total sum worth three years of final salary, paid out over five. Reports suggest that more senior executives and those in management roles are being offered four years' salary paid out over eight years.
Staff signing up for the redundancy programme are expected to agree a non‑compete clause that would prevent them from working with a direct competitor to Telefónica for two years.