Palliative care trial with Nokia in Segovia using 26GHz frequencies.
Network slicing pilot with Cisco and the University of Vigo in Galicia.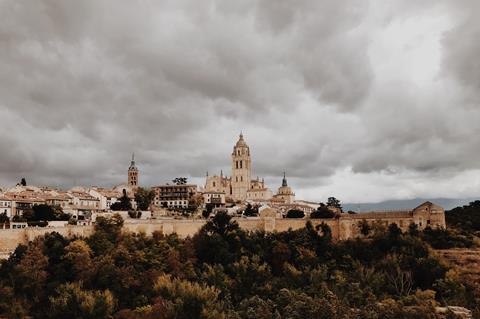 Telefónica flagged more activity at two of its so-called 5G Technologies Cities in Spain, a project designed to test and verify use-cases of next-gen tech (Telefónicawatch, #123 and passim).
In the Castilian city of Segovia, where Nokia is a project partner, Telefónica unveiled some progress in Proyecto Amatista (Project Amethyst), which is aimed at assisting people with neurodegenerative diseases.
Under the 5G Technologies Cities programme, the project is specifically examining "mass MIMO optimisation" in millimetre waves for 5G. The latest trial, carried out in the 26GHz frequency band and using a temporally installed 5G antenna, is exploring how "immersive music" might improve quality of life for those suffering from the likes of Alzheimer's or Parkinson's.
Led by Nokia Bell‑Labs, in cooperation with different audio-visual creators, the Amethyst project is looking to create content with 360-degree video recordings that can be viewed through immersive glasses and special equipment. The project is also evaluating "new audio-visual concepts" of virtual reality in collaboration with production company ButacaVR, a joint promoter of the initiative with theatrical company Yllana.
Telefónica launched the Amethyst project in July 2020, in collaboration with Nokia and Segovia City Council. Carlos III University of Madrid, the University of Valladolid, and the Alfonso X el Sabio University are also founder members. The project is expected to close in July 2022.
Network slicing with Cisco, academics in Galicia
Telefónica also added some more detail on the 5G Galicia Pilot programme, which is backed by Spain's Ministry of Economic Affairs and Digital Transformation and was flagged at the end of 2020 (Telefónicawatch, #149). Galicia is another participant in 5G Technologies Cities.
Working alongside Cisco Systems and the University of Vigo, Telefónica is testing 5G-based network slicing, where each 'slice' acts as a self-contained logical network.
The pilot is being carried out on the university's premises, and appears to involve the testing of three separate types of network slice: one that is focused on dedicated bandwidth; another where certain latency performance levels might be guaranteed; and a slice that could be assigned exclusively to emergency services.
Cisco brings to the 5G Galicia Pilot its Cisco Ultra Packet Core platform, based on cloud-native software, which works in tandem with what it calls various "key technologies". Aside from network slicing, these include network functions virtualisation and automation, which, in turn, are supported by Cisco Network Services Orchestrator.
The University of Vigo is tasked with designing the various tests, and to validate both the quality and versatility of network slicing technologies. Telefónica flagged security forces, media, and communication — as well as automobile, industry and hotel sectors — as possible beneficiaries of network slicing.
Launched by Telefónica in January 2018, 5G Technologies Cities is also supported by technology partners Ericsson in Talavera de la Reina, and Huawei Technologies in Málaga. China-based ZTE is the vendor partner for Alcobendas near Madrid. The Group also includes Barcelona within the project's scope, presumably in part based on its collaboration with the 5G Barcelona initiative that aims to promote the Catalonian city as "Europe's benchmark 5G hub" (Telefónicawatch, #130 and #133).