Sustainable energy supplier offers renewables leg-up to Chilean OB, with significant cuts to CO2 expected.
Existing Telefónica–Acciona relations expanded, with telco pursuing vendor engagement strategy.
Telefónica Mexico quietly reaping rewards of PPA too.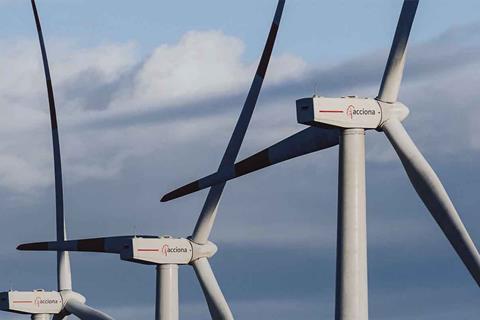 Telefónica Chile (Movistar) firmed up its green credentials by signing a "long-term" power purchase agreement (PPA) with multinational energy producer Acciona.
Under the deal, Acciona will supply the operating business (OB) with 108 gigawatt-hours of "100%" renewable energy on a yearly basis to satisfy 40% of its network's power requirements. The contract, supported by Acciona-owned solar and wind farms across the country, will help Movistar Chile save an estimated 42,400 tonnes of emitted CO2, the partners said.
Antonio Bueno, Director of Technology at Movistar Chile, emphasised the importance of the deal, and talked up the prospect of pursuing other — albeit unspecified — energy-saving projects as it works towards "complete sustainability". "We must be responsible [for] the externalities of our operations", he added.
The announcement noted that Telefónica Group is hoping to attain ISO 50001 certification on environmental management practices — and PPAs are one of the ways it is working towards achieving it. Acciona, whose portfolio of renewable assets spans the Americas, Europe, and Oceania, has an existing relationship with Telefónica, having agreed a ten-year PPA with Telefónica España in 2020 (Telefónicawatch, #144).
Go green or go home
The Group continues to emphasise the importance of its environmental objectives, and recently signalled intent to expand engagement with vendors (such as Acciona) on energy-saving initiatives (Telefónicawatch, #152). The aim is to implement "as many [energy-efficiency] projects as possible", Nilmar Seccomandi David, Head of Network & Systems Infrastructure at Telefónica, said in a recent webinar hosted by consultancy STL Partners.
The Group has previously flagged the use of long-term PPAs as an "action area" to help OBs meet emission reduction targets (Telefónicawatch, #117). Alongside OBs in Chile and Spain, Telefónica Mexico has also entered a PPA — with Mexico's "largest solar park" in 2018. According to data disclosed to the CDP in 2020, this resulted in a 30% energy saving.
As per Telefónica's latest Annual Report, for the year to 31 December 2020, energy supplies in Europe, Brazil, and Peru are now procured entirely from renewable sources. In Hispam territories, the goal is to procure 100% renewable energy by 2030 and go carbon-neutral by 2040 (Telefónicawatch, passim).

Sam Patterson is a Staff Reporter for TelcoTitans, contributing telecoms news analysis since September 2020 as part of the TelcoTitans Editorial team.