Telefónica España added SDDC's to its SD-WAN partnership with Nokia and its Nuage Networks unit
The aim is to simplify customer access to cloud-based applications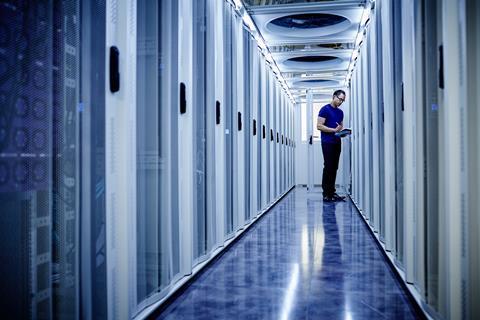 Telefónica is now extending its software-defined wide area network (SD-WAN) infrastructure to include software‑defined data centres (SDDC), based on Nuage's virtualised cloud services (VCS) solution – the data centre and cloud-networking framework of Nuage's virtualised services platform (VSP) – and Nokia and Nuage routers.
The Spanish telco plans to build an "open, elastic, and highly secure" data centre network infrastructure, with the aim of offering enterprises the ability to "order, customise, and configure value-added services through a self-service portal for on-demand delivery".
The VCS solution is said to enable Telefónica to accelerate the provisioning of application and network services for customers with "cloud-scale efficiency".
The new capabilities mean it will be possible to automatically establish networking configurations with quality-of-service and security policies, and follow a "zero-touch, policy-based" approach to network automation of applications running on any infrastructure, whether containers, servers, or virtual machines.
Nuage added that the service will enable hybrid-cloud seamless interconnection between private data centres, Telefónica SDDCs, and public clouds, and manage customer demand for cloud-based applications across their operations.
The Spanish Telefónica unit tied with Nokia-owned Nuage Networks in May 2017, to enable it to provide SD-WAN services to enterprise customers based on Nuage's virtualised network services (Telefónicawatch, #117). In June 2017, the telco launched its SD-WAN solution, branded flexWAN, with an initial focus on enterprise customers in Spain, and deployment in other Group markets expected later in 2017 (Telefónicawatch, #118).
An SDDC is a data centre in which all the infrastructure is virtualised and delivered 'as-a-service', thus offering greater agility, flexibility, and scale for enterprise customers. In 2015, Gartner predicted that, by 2020, the programmatic capabilities of an SDDC would be considered a requirement for 75% of the 2,000 largest public enterprises (the so-called Global 2000) that implement a DevOps approach – a software engineering culture and practice that aims to unify software development (Dev) and software operation (Ops) – and a hybrid cloud model. Speaking to Network World in 2016, Sunil Khandekar, Chief Executive and founder of Nuage Networks, said an enterprise cannot have an SDDC without SD-WAN, if it wants to ensure a consistent policy across its IT infrastructure.
Key points of the extended deal and deployment:
The VCS solution is said to be OpenStack-compliant and fully certified with the Red Hat Enterprise Linux OpenStack platform. Worth noting here is that Telefónica's "cloud-native" UNICA platform is built on OpenStack, which it envisages enabling faster and more flexible delivery of services to end users.
The VCS solution is said to enable Telefónica to automate the configuration, management, and optimisation of virtual networks in the data centre, including bandwidth, quality-of-service policy, and security services.
Telefónica will be able to deliver SD-WAN and SDDC services using Nuage's single common networks VSP, which in turn is said to pave the way for a "massively multi-tenant, fully automated, and highly secure SDN [software-defined network] infrastructure that spans the data centre, the branch, and the cloud". Multi-tenancy is an architecture in which a single instance of a software application serves multiple customers.
Telefónica's leaf-spine data centre architecture (described as a specialised topology that minimises latency and bottlenecks) for the SDDC solution is supported by Nokia 7750-SR-1 routers. These are powered by: 2.4Tbps network processor FP4; Nokia 7250 IXR-10 routers as super-spine nodes to support 100Gbps Ethernet (100GbE) connectivity; and Nuage 210 WBX data centre leaf routers for 1GbE, 10GbE, 25GbE, 40GbE, 50GbE, and 100GbE interfaces.
"To meet the rapidly emerging business requirements for agility and on-demand deployments, we moved aggressively to build our business connectivity services around a new cloud-based architecture. Nuage Networks provided us with a highly scalable SDN architecture that could support all our services across all our regions without disruption. We are confident our customers will significantly improve their businesses with these new cloud-based services."

– Joaquín Mata, Director of Operations, Network and IT, Telefónica España.
Telefónica first showcased flexWAN, alongside flexUser and Multicloud services, as new elements of its Living Cloud strategy in summer 2016, targeted at large enterprise customers and designed to ease the process of migrating company functions to the cloud (Telefónicawatch, #108).
In a June 2017 interview with Netmanias, Gary Kinghorn, Senior Product Marketing Manager at Nuage Networks, claimed that the vendor's SD-WAN solution had proven attractive to operators like Telefónica, and pointed out that SD-WAN is complementary to, rather than a replacement for, multiprotocol label switching (MPLS), and can help reduce MPLS-related costs. Meanwhile, Johan Witters, IP Regional Product Line Manager at Nokia with responsibility for SD-WAN development in Europe, Middle East, and Africa, reportedly claimed that "all major [service providers]" in Europe now have an SD-WAN solution tightly integrated with their other systems, and cited Telefónica and BT (Cisco-aligned, as well as Nuage) as two such operators, with "many potential deals in their pipelines".