Spanish operator called out for allegedly bowing to demands of Venezuela's government.
Accusations extend from media censorship to state-sanctioned espionage.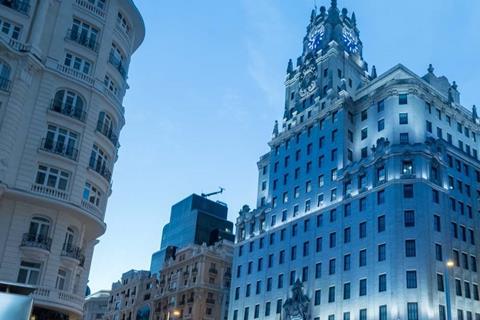 Telefónica's Madrid HQ was the site of a small-scale protest yesterday over the operator's part in a Venezuelan media censorship and privacy dispute.
Gathering protestors accused Telefónica and Executive Chairman José María Álvarez-Pallete of kowtowing to the demands of disputed Venezuelan President Nicolás Maduro, blocking access to media outlets that confront his regime.
The Group's local subsidiary, Movistar, is allegedly censoring news sites that publish information about the country's economic crisis.
The protests coincided with the publication of an open letter to Telefónica leadership from a group of independent media organisations. It draws attention to Movistar's record of providing Venezuelan authorities access to customer metadata and blocking content at the request of Maduro's government.
Telefónica has not commented on the protests.
Telefónica called out
Miguel Otero, Editor-in-Chief at El Nacional, one of the sites blocked by Movistar in the country, participated in the protest yesterday. "[Telefónica] is silencing journalism in Venezuela. It violates freedom of expression. They violate their corporate principles", he said to the outlet.
"I want to know if the shareholders of Telefónica agree with their President", he added, pinning the responsibility on the shoulders of Álvarez-Pallete, to whom the open letter was addressed.
Alberto Ravell, Director of the National Center of Communications of Venezuela and co-founder of La Patilla, another blocked outlet, told El Nacional that Movistar is being "threatened by the government".
Legal trouble?
Beyond the moral issue, there is a legal dimension to the protests. Both Telefónica and the outlets in question are multinationals, with El Nacional, for example, based in the US. Otero claims that any block would require a court order, but "they do it at the whim of the government".
In the open letter, Telefónica is accused of breaking Venezuela's constitutional right to freedom of expression, while contravening a law that requires a court order to intercept the private communications of the country's citizens.
Telefónica's 2021 Transparency Report shows that requests for metadata on customers in the country have grown substantially since 2016, when records began, affecting 21% of Movistar's subscriber base in 2021 (Telefónicawatch, #164).
For comparison, 1.58 million accesses were intercepted in 2021, accounting for 81% of the Group's total affected accesses for the year across the entire Telefónica footprint. 2021 was the first year to record content and URL blocking in the country.
Telefónica's Transparency Report, Venezuela
2016
2017
2018
2019
2020
2021
Source: Telefónica.
Lawful interceptions

Requests received

380,250

234,932

639,911

651,446

736,498

861,004

Accesses affected

418,690

234,932

1,091,668

1,212,732

1,401,311

1,584,547

Access to metadata

Requests received

46,612

121,610

98,746

115,988

109,428

149,152

Accesses affected

46,612

121,610

953,097

1,013,531

981,023

997,679

Blocking and filtering of content

Requests received

1050

90

106

30

86

30

URLs affected

0

0

0

27