Management assures infrastructure investment will be maintained, as key in post-COVID‑19 world.
Customer experience another priority area.
Other projects being reined in to free up funds, though, with Abosolo stressing "strict screening" of spend plans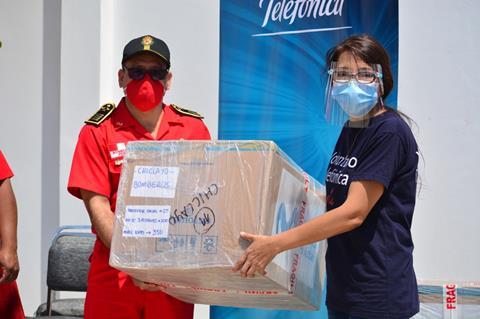 Álvarez‑Pallete talked of "strong operational management, cost control, and [capital expenditure (capex)] management" being at the heart of Telefónica's response to current conditions, and while this could not prevent the Group crashing into the consequences of global lockdown, it was able to soften the blow.
Protecting cash and profitability was deemed critical, and with this came a tightening of belts, and a shedding of operational and investment projects that do not meet strict expectations for transformational benefits. Highlighting the cuts in capital investment required a potentially tricky balancing act for management, with Telefónica maintaining that it is continuing to drive forward with the creation of its next‑generation infrastructure even as it puts the brakes on spending. According to Abasolo, a stricter approach to allocation of resources and relentless prioritisation has enabled the Group to continue funding its network rollout plans, while still saving money.
"What we have done on top [of lockdown cutbacks] is strict capital allocation, strict screening, and approval processes with a view to prioritise everything which is related to customer service, customer quality, and ultra-broadband development. So, we have not stopped, in what really matters, and we've been much stricter on legacy and maintenance that could be deprioritised in these circumstances."

— Abasolo.
Capping capex
This tough new approach to investment is not expected to be a temporary thing, either, with Abasolo adamant that the reduction in current spending is not just a matter of pushing spending further down the pipeline, but a new approach that will be maintained in coming years. Supporting this view, management reiterated the belief that capex in its major markets had peaked prior to the pandemic lockdown, with the heavy lifting now completed.
It was also suggested that this early investment will prove a significant competitive advantage in the coming years, with Abasolo predicting Group capex will be "lower than many, many of our competitors".
While the Group talked about proactive operational cost‑cutting, some of the steps taken — such as reduced spending on handsets and lowering of costs linked to roaming — appear linked to the nature of the global pandemic response, with less spending and travel. Similarly, trimming of commercial costs such as advertising and sales commissions appears reactive. There was an indication that IT spending had been cut, but little detail of how this manifested.
Q2 FY19
Q2 FY20
Change
Telefónica expenditure overview, Q2 FY20

Germany capex bucks the Group trend as it plays catch‑up on 4G upgrade programme.
FX shifts have a silver lining in lower reported cost of local capex in South America.

Source: Telefónica.
Opex

€8,364m

€7,219m

-13.7%

Capex

€1,831m

€1,236m

-32.5%

Core Markets

€1,444m

€1,068m

-26.1%

Spain

€439m

€304m

-30.6%

Brazil

€538m

€328m

-39.0%

Germany

€243m

€251m

2.9%

UK

€224m

€185m

-17.6%

Hispam

€347m

€133m

-61.7%

Infra

€85m

€50m

-40.5%
Telefónica Q2 FY20
1

2

3

Currently reading

Spending: Capex peaks and operational efficiencies rise

4

5

6

7