Plans for a Telefónica joint‑venture with Virgin Media provided the big news, while smaller steps taken on wider digital transformation plans.
COVID‑19 inflicts a manageable early hit, but Group cautious on longer‑term prospects.
Scrip dividend offered as Group aims to carefully manage its cash and discretionary spending.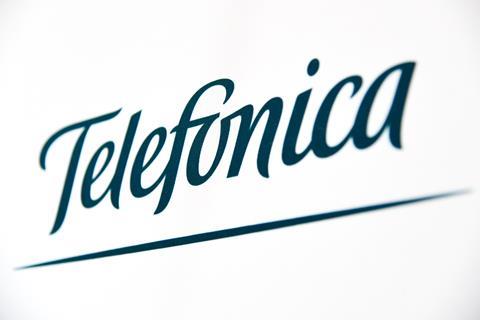 Telefónica Group's results presentation for the three months to end‑March 2020 (Q1 FY20) was dominated by the news of its UK joint venture (JV) agreement with Liberty Global, creating a new converged infrastructure player market through the merger of Virgin Media and Telefónica UK. The news even relegated the impact of the coronavirus pandemic into second place (see below).
Looking beyond the UK, however, showed the Group has so far managed to contain the effects of the initial shock to the system from COVID‑19, and is using the opportunity to accelerate transformation plans and efforts to encourage analysts and investors to take a different view of the business. Any assertions of the anticipated benefits of Telefónica's bold ambition remain a little over the horizon, however, with COVID‑19 consequences prompting the Group to step away from providing guidance for FY20.
The short and sweet results presentation and Q&A (which came in at under an hour, even with the UK news to run through) saw almost business‑as‑usual degradation of Group revenue and profit, with foreign exchange fluctuations making ongoing declines appear worse than individual operating business (OB) performance would suggest.
The Group reiterated its response to this downward trend through the pursuit of digital transformation, but new metrics suggest maintaining stellar rates of growth for new services is already proving challenging. In the meantime, though, the Group is showing core strength in major markets, which goes some way towards negating the urgency of digitalisation.
Overview
Telefónica, selected financial data, Q1 FY20
Q1FY19
Q1FY20
Reported growth
Organic growth(four core markets performance)
Sources: Telefónica and Telefónicawatch.

Revenue

€11,979m

€11,366m

-5.1%

-1.3% (0.1%)

OIBDA

€4,264m

€3,760m

-11.8%

-1.7% (0.8%)

OIBDA margin

35.6%

33.1%

-2.5pp

Net income

€1,009m

€468m

-53.6%

Capital expenditure

€1,554m

€1,485m

-4.4%

1.8%

Operating cash flow

€2,710m

€2,275m

-16.1%

-3.8% (3.2%)

Net debt

€40,381m

€38,223m

-5.3%
Coronavirus redoubles Álvarez‑Pallete's sense of mission
Telefónica Executive Chairman José‑María Álvarez‑Pallete stated that to date, the telco has shown resilience in the face of the pandemic, although it has not been entirely immune to its effects.
These included apparent headwinds on consumer revenue in areas such as prepaid mobility, roaming, and retail sales; and business-to-business declines particularly among small- and medium-size enterprises, public sector clients, and corporate customers in particularly-badly-hit sectors.
Notably, the sentiment that operators are not immune to COVID‑19, but resilient, featured in rival Vodafone's results presentation, with counterpart Chief Financial Officer Margherita Della Valle using a similar version of the phrase.
The news was not all bad, with increases in key services demand said to have taken the edge off COVID-19 negative impact. The Group was said to have seen a minimal impact in terms of profitability, with lower commercial costs, reduced churn, and a muted impact from bad debt to date. A slowdown in network deployment, while a negative in the longer‑term, also helped reduce the decline in profitability in the early days of the pandemic response. Similarly, delays in spectrum auction plans across Telefónica's footprint are set to ease short‑term cash pressure, and the Group is promising to keep a close grip on "discretionary" spending.
Telefónica estimated that the impact of COVID‑19 across its operating footprint in Q1 FY20 amounted to:
A drop in revenue of €77m.
A reduction in OIBDA by €33m.
A saving in capex by €17m.
Beyond the financials, Group leadership is grasping the opportunity to reinforce recent attempts to establish a social mission for the business, and the results announcement was led with the claim that in the midst of the current crisis, "we want to make our world more human, by connecting people's lives".
Álvarez‑Pallete said that the ongoing response of the business would be underpinned by the three new watchwords introduced at the FY19 results presentation: growth, efficiency, and trust (Telefónicawatch, #141).
Partners Cisco and Microsoft in demand
Telefónica highlighted a strong increase in data transmission over Microsoft's Teams and Skype, Cisco's Webex, and Facebook's WhatsApp services as a consequence of the adoption of remote working. Traffic was said to have been 600%-higher than normal at the peak of usage.
The inclusion of Webex in the list of high‑traffic services is notable in that Vodafone UK's Chief Technology Officer Scott Petty conversely identified the service as one that had not seen a meaningful spike in traffic on his network as a result of the crisis. Cisco has, though, been closely involved in Telefónica's business customer response to the demands of the pandemic, alongside Microsoft (Telefónicawatch, #141 and #142).
Guidance withdrawn but keeping an eye on cash
Telefónica withdrew its guidance for FY20, citing current uncertainty.
This saw abandonment of an already modest expectation of "stability", with broadly flat revenue and operating income before depreciation, and amortisation (OIBDA). The Group had also guided for stability on the ratio of OIBDA‑less‑capital expenditure (capex) over revenue, maintaining FY19's 19.9% performance.
Instead, it is now taking revenue out of the equation for FY20, and cautiously forecasting that OIBDA‑less-capex (essentially operating cash flow) will be "slightly negative to flat" on an organic basis, compared to FY19 levels of €7.8bn.
This expectation ties in with senior leaders' focus on management of both operating expenditure (opex) and capex through the current crisis. It also reflects the focus on cash‑driven performance metrics that the Group had already signalled it is intending to lean on, with mid‑term guidance already restricted to the pursuit of 'low‑and‑slow' revenue growth. This is expected to see the (OIBDA‑capex)/revenue ratio increase by two percentage points by the end of FY22, to reach 21.9%.
Dividend to be paid, but scrip payment encouraged
Telefónica is maintaining its previously announced dividend policy but introducing a voluntary scrip (non-cash) payment for the €0.20 second tranche of the €0.40 FY19 dividend (to be paid in June 2020), as well as for the €0.20 first tranche of the €0.40 FY20 dividend (due in December 2020).
Álvarez‑Pallete said that introduction of the scrip was intended to provide flexibility all round — shareholders could choose cash if preferred and the Group would be able to cover the cost. If sufficient numbers are happy to take the scrip, the Group may find it has a little extra financial muscle for investment projects in the nearer term.
Telefónica and peers in same boat
Telefónica was among the first of the European operators to publish quarterly results in the post‑coronavirus environment, and in the run‑up there was considerable attention on the possible impact of the crisis on dividend payments. While BT Group, which unveiled its results on the same day, opted to suspend the dividend for its coming FY, this could arguably be seen as a reflection of a wider range of pressures on the UK incumbent's finances as it plans to escalate fibre rollout. In the following days, Deutsche Telekom (DT) and Vodafone made their financial updates and were able to offer no change to dividend policy, leaving BT Group as an outlier.
DT stood out in being able to maintain its guidance as it stands for FY20, aiming for modest growth in revenue, earnings, and cash flow. However, a rethink was not ruled out later in the year, and the group is expected to adjust its reporting in the coming months, with the integration of Sprint. Vodafone was more in line with Telefónica in ditching some elements of guidance on profitability, but giving a less formal view that earnings would be flat to slightly negative, and also focusing on operating cash flow targets. BT made the call to entirely eschew guidance for its current FY at this current time.