FY19 results the first since a tightened focus on four major markets.
Volatility in Hispam business seen as justification for focus on key regions.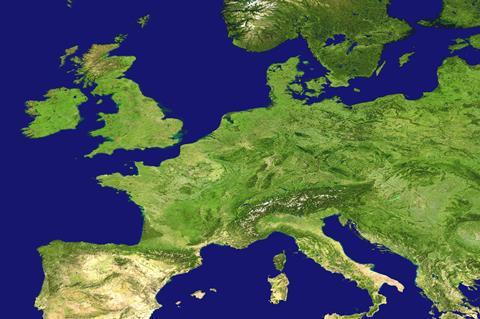 The FY19 results were the first to be presented since the Group announced intent to tighten its focus on its four major markets while seeking to ring‑fence and monetise most Latin American operations. When considering reported performance across the current footprint, the continued volatility of its Hispanoamérica business can be seen as helping to justify this decision.
Across the European operating businesses (and in regional outlier Brazil), clear messages of promising performance were delivered, while the elements of the remainder of the Latin American business tended to be presented with a series of explanations and justifications for wobbles and dips in performance, with intense commercial activity, macroeconomic turbulence, and the growing pains associated with fostering convergence providing challenges at every turn.
Meanwhile, in Europe, Telefónica España was held up as the exemplar of an operating business making the most of its opportunities.
Telefónica Group, performance by unit, FY19
Revenue
Change (reported)
OIBDA
Change (reported)
Operating cash flow
Change (reported)
Sources: Telefónica and Telefónicawatch.
Notes: OIBDA excludes management and brand fees. * Hispam Sur includes Argentina, Chile, Peru, and Uruguay. ** Hispam Norte includes Central America, Colombia, Ecuador, Mexico, and Venezuela.

Total

€48,422m

-0.6%

€15,119m

-2.9%

€6,335m

-15.0%

España

€12,767m

0.5%

€3,687m

-22.6%

€2,040m

-33.0%

Deutschland

€7,399m

1.1%

€2,326m

26.8%

-€143m

-116.5%

UK

€7,109m

4.7%

€2,114m

13.3%

€1,200m

199.2%

Brasil

€10,035m

-0.9%

€4,262m

-1.1%

€2,257m

-6.0%

Hispam Sur*

€6,384m

-4.4%

€1,398m

-18.7%

€433m

-28.2%

Hispam Norte**

€3,795m

-6.9%

€830m

4.7%

€251m

100.4%

Other companies, eliminations

€933m

-6.7%

€502m

75.5%

€297m

–
Spain coming through on commitments as rivals struggle
Two and a half years into a hard‑fought recovery, Telefónica España was described by management as demonstrating "probably the most sustainable business model in the sector in Europe". Angel Vilá highlighted a growing convergence customer base, and expanding average revenue per user (ARPU) at a time when its peers are struggling.
However, analysts were somewhat sceptical about whether the performance in Spain was a reflection of Telefónica's strength, or rivals fumbling the ball badly. It was also noted that the final quarter of the year saw a wobble, with broadband and convergence accesses dipping sequentially, and convergent ARPU falling compared with Q3 FY19. Vilá was strident in knocking back these doubts, highlighting the execution of stated goals for the market over the past three years, moving from returning to revenue growth to accelerating revenue growth while improving profitability.
The business is now said to be positioned to benefit from the expanded product range that has been introduced of late, taking the brand into financial services and digitalisation of services around insurance and domestic monitoring (Telefónicawatch, passim and see separate report).
"We have grown in revenues. We have grown, very importantly, in revenue share, while achieving benchmark OIBDA and operating cash flow margins. The market is getting more polarised, but we have a track record of successful anticipation and adaptation to the market conditions. We were pioneers in fibre; we were pioneers in convergence; we were pioneers in TV; we were pioneers in transforming the channels; we were pioneers in switching off the copper with the fiber transformation; we are pioneers in launching new digital services. "

— Vilá.
Vilá also noted the gathering strength of the Spanish B2B operation, and steady growth in revenue from wholesaling in the commercially competitive Spanish market.
Cash to roll in
Vilá said the Group is aiming for operating cash flow growth in the Spanish market, with infrastructure investment having peaked in terms of level and intensity. It was stressed that this is not part of official guidance, but was a strong expectation among management.
Copper bottomed savings
Telefónica España is yet to see the most of an anticipated windfall from the closure of copper infrastructure in Spain as it is usurped by full fibre. Of about 8,500 switches set to be decommissioned in the country, only 500 have been closed to date, as regulatory clearance for the shutdown lags Telefónica progress in rolling out next‑generation infrastructure.
As the closure programme accelerates, benefits will include real estate sales or site repurposing for new technology such as edge computing. Operating costs for fibre are said to be "a fraction" of copper. The shutdown in Spain is expected to take until 2025 to complete, but similar programmes are also set to get underway in other markets, with Brazil the other major territory where the Group anticipates benefiting from pulling up copper.
Germany strengthening foundations and gaining momentum
Telefónica Deutschland was feted for improvements in its infrastructure and network, which has seen its performance in industry testing begin to reach levels achieved by its network rivals. Commercially, the O2 Free portfolio of converged services are said to be supporting the improved commercial momentum of the German business.
It was noted, though, that cash flow generation in Germany has been negative in the past year, with the cost of investment wiping out synergies that operating efficiency drives have generated.
Vilá appeared to suggest that the E‑Plus acquisition and associated network integration may have been a more substantial drain on the German business than anticipated. While this is now considered to be behind the operating business, operating cash flow is not expected to normalise for at least two FYs as investment intensity will be maintained.
UK maintaining strength while standing alone
Prompted by continued low rates of contract churn, at about 1%, Telefónica continues to describe Telefónica UK (O2 UK) as the "UK's favourite network". Compound annual revenue growth of 4% over the FY17–FY19 period was also flagged.
While converged services are leading the way in many Telefónica markets, Group management continues to maintain that convergence in the UK is still supply‑ rather than demand-driven. Intensifying efforts to promote bundled services were acknowledged, and Vilá recognised steady progress, but adoption is still slower than in other markets.
There are no indications that O2 UK will need to buy its own fibre assets for either convergence or 5G services, but it is undertaking talks to secure sufficient backhaul capacity. Once again, the operator's relationship with Sky was described as a hedge on any escalation in demand for converged services, suggesting that a degree of reciprocity is built into their mobile virtual operator network deal.
Brazil regaining premium brand strength and swagger
Brazil was said to have reported a "stellar" performance in FY19, and the operating business is now focused on "widening the quality gap" between the capabilities of its infrastructure and its rivals through ongoing capex.
The fixed‑line business, which has struggled for years, is an area of investment focus. While efforts to accelerate fibre availability through a franchise model are only just beginning to gain traction, fixed-broadband revenue was up 10% in the final quarter of the year based on customer upgrades.
Hispam weakness in Chile and Peru
Macroeconomic and competitive challenges in Chile and Peru were flagged as the main challenges faced in Hispanoamérica, but it was stressed that the division's longer term strategy, based on transitioning to contract customers in mobile and rolling out more fibre and over‑the‑top (OTT) pay‑TV services, is expected to reap benefits in the two countries.
Across the region, an efficiency drive is underway to counter the vagaries of revenue performance in competitive markets. The division is also attempting to move away from price competition through introduction of offerings that enable alternative ways to differentiate the local operating businesses. OTT service Movistar Play is the most obvious example of this attempt to drive up loyalty, with two million registered and 1.3 million active users achieved across the region in the first twelve months of availability. Data‑sharing offers were also highlighted.
Hispanoamérica all about efficiency and value
With plans for future monetisation of Telefónica Hispanoamérica still developing, the Group focused on ongoing work in the region to improve efficiency within operations, and other efforts that will enhance the value of the region's operating businesses.
"Crystallising value" is the current mission within the Hispanoamérica unit, and the AT&T alliance at Telefónica Mexico (Telefónicawatch, #139) was particularly highlighted as contributing to this effort, along with other efficiency efforts that the Group hopes will improve profitability trends.
The "operative carve out" of Hispanoamérica from the rest of the Group is said to be well advanced (Telefónicawatch, #141), while preparations are underway for a financial separation as well. Abasolo acknowledged that the plans are "generating a lot of attention from third parties", which is providing the Group with options for its next steps. In‑market consolidation appears favoured, although the viability of proposals coming in from potential buyers and partners, and the value they will create, will determine the final action.
Telefónica also noted the progress in the region of Novum, a unified interactive customer service tool that uses the Group's cognitive intelligence platform and was developed by the Tuenti virtual operator and social media unit. Latin American operating businesses were the first to implement the tool, and although it was initially positioned as a Group‑wide offering, it could see its use isolated in Latin America outside Brazil.