German operator signs up seventh wholesale partner.
New deal with E.ON‑owned provider also facilitated by Vitroconnect.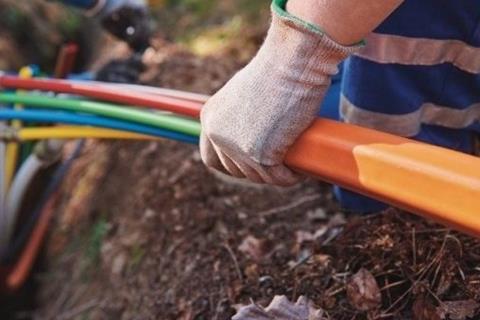 Telefónica Deutschland (O2 Germany) flagged a new long‑term cooperation agreement with one of Germany's largest alternative fixed‑network providers, Westenergie Breitband, which supports ongoing efforts to expand its wireline offering and digital services portfolio.
After originally leaning on wholesaling arrangements with Telekom Deutschland to support its wireline services, O2 Germany has now formed a total of seven collaborations with broadband network operators at regional and local level — including the Unsere Grüne Glasfaser (UGG) joint venture with Allianz (Telefónicawatch, #76, #92, #130, #149 and passim).
Under this latest agreement with Westenergie Breitband, O2 Germany said it will gain access to the 250,000 households covered by the altnet's VDSL vectoring network in Lower Saxony, North Rhine‑Westphalia, and Rhineland‑Palatinate. The agreement was again facilitated by Vitroconnect, which has been providing O2 with access to network assets owned by utility group EWE since 2018 (Telefónicawatch, #131).
Westenergie Breitband, formerly known as innogy TelNet GmbH, is a 100%‑owned subsidiary of regional energy and infrastructure provider Westenergie AG, which in turn is owned by utility group E.ON. On its website, the operator said it has laid more than 10,000km of fibre cable and covers in excess of one million people in 300 communities.
Alfons Lösing, Board Member for Wholesale & Partnering at Telefónica Deutschland, said O2 relies on "strong partners and their network infrastructures" to market fixed‑line products such as O2 My Home. "By continuously expanding our cooperation portfolio, we have become one of the leading fixed‑network providers in Germany", Lösing claimed.
Howdy partner
O2 Germany has tended to make a virtue of its multiple partnerships with wholesale providers. It previously highlighted how a partnership with city carrier wilhelm.tel in Hamburg would become a model for the rest of Germany, for example.
As things stand, O2 Germany has access to the DSL network of Telekom Deutschland, with fibre services to be available in future, as well as the hybrid fibre‑coaxial (HFC) networks of Vodafone Germany and Tele Columbus. EWE TEL in Lower Saxony, Westenergie Breitband, and wilhelm.tel are all regional network partners.
UGG represented something of a departure from the partnership strategy as Telefónica has invested in the joint venture itself. Telefónica Group and Allianz Group each hold 50% in the JV under a "co‑control governance model". Telefónica participation is held through infrastructure unit Telefónica Infra and O2 Germany.
In August 2021, O2 said it was able to market its fixed‑line services to 26 million German households via the various wholesale deals. At the end of September 2021, it said its fixed-broadband customer base reached 2.3 million accesses.
The O2 My Home portfolio is positioned as a technology‑agnostic offering, with entry‑level services based on fixed‑wireless connectivity using O2's LTE and 5G networks, alongside pricier options taking in copper‑based DSL and cable network technology.

Anne Morris is a freelance journalist, editor and translator. She has been working as a reporter and news analyst for TelcoTitans since 2016.