O2 Germany sees next decade as a growth phase following years of network build and integration.
Outlines plans to start building 5G in five cities during 2020.
Huawei and Nokia selected to build the 5G RAN, although the China‑based vendor remains a political hot potato in Germany.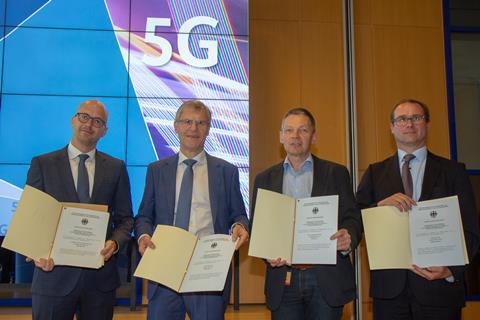 Telefónica Deutschland (O2 Germany) flagged the start of construction work of its new 5G network, six months after shelling out €1.42bn on the necessary frequencies in the 2GHz and 3.6GHz spectrum bands (Telefónicawatch, #136).
In the first quarter of 2020, O2 Germany intends to start building its next‑generation network in urban areas, and is targeting coverage of 16 million users in 30 cities by end‑2022. Work will commence in Berlin, Cologne, Frankfurt, Hamburg, and Munich, and is expected to be "largely completed" in these five cities by the end of 2021.
The move forms part of a broader strategy to "accelerate… growth significantly in the coming years". The German operator aims to invest 17%–18% of its revenue during the next two years in the establishment of 5G, as well as in the ongoing expansion of its LTE network, including in rural areas (see separate report). Investments should then return to more normal levels from 2022. In 2019, the investment ratio was 13%–14% of revenue.
While upping investment, O2 Germany also aims to increase cumulative revenue by "at least" 5% and improve its operating income before depreciation and amortisation margin in 2020–2022 — driven by growth in its mobile, fixed‑line, and enterprise businesses. O2 Germany reported revenue of €7.32bn for 2018.
"With the new decade and the launch of 5G, our company is entering a growth phase. We are going to invest more to capture market share, particularly in rural areas and with business customers, where a high‑performance mobile communications and fixed‑network infrastructure will be a great asset. "

— Markus Haas, Chief Executive, O2 Germany.
Dividend dip
The increase in investments will have an impact on O2 Germany shareholders: the operator said it plans to cut the dividend for 2019 to €0.17 per-share, down from €0.27 in 2018.
Recycling 3G by 2022
During a December 2019 strategy update with analysts accompanying its declaration of new ambitions, O2 Germany revealed that it aims to switch off its 3G network by end‑2022, much earlier than previously indicated, and re‑farm frequencies in the 2.1GHz band for 4G networks.
In terms of 5G, the operator again emphasised the importance of demand from business and industry, with a particular focus on 5G private campus networks. It revealed that it has implemented more than eight trials and proof of concepts for 5G campus networks, and is working with more than five "trusted business partners".
Huawei still provoking political polemic
A somewhat controversial element of O2 Germany's 5G plan is that it intends to use equipment from Huawei Technologies, as well as Nokia, for the new radio access network (RAN). It stressed that it will "maintain diversity in its networks and avoid dependencies on one provider".
While Telefónica's decision to stick with Ericsson and Nokia for 5G access technology in the UK may prove a competitive advantage as other operators juggle with the limits on Huawei's presence (see separate report), the political and operational practicalities of vendor selection are set to shake out differently in Germany.
German Chancellor Angela Merkel has been attempting an awkward balancing act in an effort to avoid disrupting political and economic relations with the United States — which wants to enforce a global ban on the use of Huawei equipment in 5G networks — and China (another critical export market). Indeed, the Chinese Ambassador Ken Wu reportedly said that any decision by the German government to exclude Huawei from its 5G network "will have consequences".
Merkel's preference has been to avoid an outright ban on Huawei equipment, and instead introduce a catalogue of tougher security criteria for network equipment. Indeed, there is a widely held view in Germany that the China‑based vendor is required if 5G networks are to be deployed in a timely manner.
However, Merkel has faced opposition from members of her own party, the Christian Democratic Union (CDU), as well as the Social Democratic Party (SPD). According to reports, the two parties recently drafted a bill that would in effect exclude Huawei from the build‑out of the country's 5G mobile network, while encouraging the use of equipment originating within Europe.
The government continues to insist that it will rely on security concerns alone, not political and industry interests, when deciding whether to allow vendors into the 5G network. In February 2020, the CDU got behind a strategy paper that asserted only "trustworthy" suppliers be permitted to participate in the 5G rollout, with the potential for foreign government interference among the reasons to exclude a supplier. However, the paper stopped short of an outright ban, and may provide space for the vendor, should the CDU and SPD now find a way to align their positions on the matter.
O2 Germany is clearly hedging its bets, although it has stressed that the collaboration with Huawei and Nokia to build a 5G network "will be subject to successful security certification of the technology and the companies in accordance with German law". The operator has yet to reveal which vendors it will select for the 5G network core.
O2 Germany's tactics with regard to Huawei appears broadly aligned with Group strategy, after the Spanish parent also reportedly indicated it intends to use Huawei, along with another vendor (possibly Ericsson, Mavenir, or Nokia), for its 5G core (Telefónicawatch, #139). Within the context of the wide‑reaching strategy recently outlined by Group Chief Executive José María Álvarez‑Pallete for a "new Telefónica", Germany was also cited as one of the Group's four key markets, along with Brazil, Spain, and the UK.