Ofcom closes assignment stage of UK spectrum auction with O2 trading blocks with Vodafone, while BT opts to buy preferable positions outright.
O2–Vodafone trade ensures contiguous spectrum blocks in 5G-ready bands.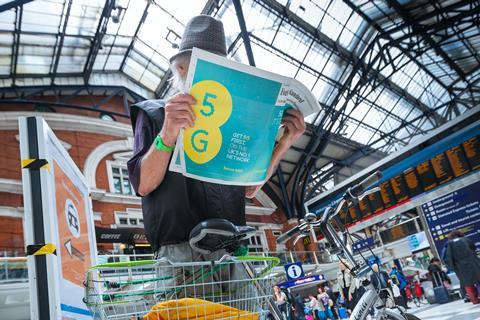 UK regulator Ofcom announced the completion of the second, 'assignment' stage of its spectrum auction in late-April 2021, following the 'principal' stage (Vodafonewatch, #195).
Telefónica UK (O2 UK), EE, Three UK, and Vodafone UK shared the spoils of the £1.38bn (€1.6bn) auction, with EE splashing out a further £23m in the assignment stage to secure "specific frequency positions".
Partnering to avoid fragmentation
The conclusion of the auction process also revealed that O2 UK and Vodafone UK had entered into an agreement to trade elements of their holdings in the 3.6GHz–3.8GHz band. This created a "contiguous" block of 80MHz for O2 UK, and "good proximity" for Vodafone UK's blocks, which amount to 90MHz of bandwidth. The trades are subject to Ofcom approval.
Having large contiguous blocks is said to support the efficiency and capability of 5G services, according to a joint statement from the operators, which cited a GSM Association policy paper.
Mark Evans, O2 UK Chief Executive (CEO), added that "securing contiguous blocks of spectrum is crucial to harnessing the true power of 5G".
Spectrum 'fragmentation', where mobile network operators' spectrum holdings are broken up across the frequency band, had emerged as a concern when the auction process was first drawn up. Ofcom CEO Melanie Dawes acknowledged the concerns by allowing the "post-auction trading" phase (Vodafonewatch, #195).
Agreeing to trade with Vodafone UK enables O2 UK to secure preferred positioning for its bandwidth. EE instead opted to spend a further £23m in the assignment stage to secure its preferred blocks. EE noted that it would "retain the flexibility" to enter into negotiations in the future, however. Three UK has not commented on its plans to avoid defragmented spectrum.
Award of 700MHz and 3.6GHz–3.8GHz frequencies in the UK, 2021

700MHz unpaired
700MHz paired
3.6GHz–3.8GHz
Total spend
Source: Ofcom.

EE

20MHz

2×10MHz

40MHz

£452m (+ £23m)

O2 UK

–

2×10MHz

40MHz

£448m

Three UK

–

2×10MHz

–

£280m

Vodafone UK

–

–

40MHz

£176.4m
Low-balled
As noted previously, the UK Treasury, for which the auction funds are raised, will be disappointed at the proceeds. The Financial Times indicated that analysts predicted bidding closer to the £2.5bn mark. Indeed, Ofcom's £1.1bn reserve price was only marginally surpassed (Vodafonewatch, #195).

Joseph Purnell is a Staff Reporter for TelcoTitans, contributing telecoms news analysis since 2019 as part of the TelcoTitans Editorial team.