Telefónica's pay-TV platform to broadcast every Spanish top-flight match for five years from the 2022–23 season.
DAZN retains production responsibilities, with Movistar Plus+ customers granted access to broadcasts.
DAZN continues telco partnership strategy to ease rights costs.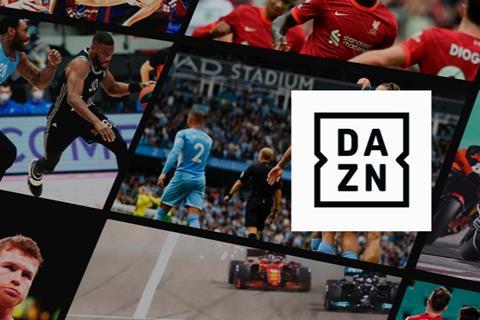 Telefónica signed a distribution deal with sports streaming specialist DAZN that allows it to broadcast Spanish top-flight football for the next five seasons.
The operator's pay-TV platform Movistar Plus+ will show five La Liga matches per weekend, covering 35 of the 38 match-weekends in a season. The non-exclusive agreement will start with the 2022–23 season and end in 2027.
The deal is worth €280m (£237m) per season, and allows Telefónica to broadcast the games it lost to DAZN in November 2021's €4.95bn rights auction (Telefónicawatch, #160).
Then, DAZN and Telefónica each picked up rights for five games per match-weekend, with the latter also taking rights for three full weekends. Under this week's deal between the pair, Telefónica will broadcast all La Liga matches, with DAZN responsible for producing the five weekly matches for which it has rights.
Sergio Oslé, President of Movistar Plus+, said that the DAZN agreement will allow the platform to "focus all our efforts on providing our customers with access to the widest range of content on the market".
The non-exclusive deal will allow Telefónica the option to sub-licence its broadcasting rights to other players such as Orange, which has signed similar agreements in the past.
DAZN launched in Spain in 2019, and now has since picked up rights to a number of high-profile sporting events including Formula 1 (F1), Matchroom Boxing, and a selection of European and South American football tournaments. Movistar Plus+, meanwhile, now boasts Spain's top-flight and Europe's flagship competition, the UEFA Champions League.
Regulator watches on
The deal was confirmed by Telefónica in a note to the Spanish regulator Comisión Nacional de los Mercados y la Competencia (CNMC) on Monday.
Although the agreement's first three years are unlikely to face any issues, the CNMC has called on a limit to rights agreements for longer terms.
Current legislation permits longer deals, so long as they abide by European Union competition rules. Speaking earlier this month, CNMC President Cani Fernández reiterated the regulator's intention to limit deals to three years, but conceded that the Royal Spanish Football Federation and La Liga "never pay attention to us".
Telefónica may face further regulatory challenges given the terms it signed in 2015 when it bought out Canal+ operator Distribuidora de Televisión Digital (DTS). Under that deal, Telefónica risks contravention of EU competition law if it takes long-term rights agreements (Telefónicawatch, #98 and #159).
Comparable regulatory trouble regarding DAZN's F1 rights deal was sparked last year. In mid-2021, the CNMC stated that Telefónica's agreement to sublicence DAZN's F1 broadcasting rights violated the terms of the DTS acquisition (Telefónicawatch, #156–#157).
DAZN wins over another telco
In announcing the deal, DAZN pointed to similar "strategic collaborations" with telecoms operators in other "core markets".
In Germany, the DAZN app is available on Vodafone Germany's GigaTV platform, part of the first deal between DAZN and a Vodafone OpCo in mid-2020 (Vodafonewatch, #189). DAZN is also tied with Telekom Deutschland (TDE). TDE's MagentaTV customers can access DAZN's Bundesliga, UEFA Champions League, and UEFA Europa League coverage, in a similar deal to that with Vodafone (Deutsche Telekomwatch, #98).
Although O2 Germany and DAZN are rivals in the over-the-top content market, the pair signed a carrier billing deal in mid-2020 to allow O2 Germany customers to pay for DAZN subscriptions through their mobile bill (Telefónicawatch, #144).
In Italy, incumbent operator Telecom Italia (TIM) has a sub-licencing agreement with DAZN for its Serie A football rights that stretches to the 2023–24 season. Vodafone Italy tied with DAZN in 2019 in a similar deal (Vodafonewatch, #180).
In the UK, DAZN was regularly rumoured to be among the frontrunners for a deal with BT Sport before it was denied by Discovery, which entered exclusive negotiations in February 2022. A DAZN agreement looked close to a done deal on a number of occasions over the past year, and Kevin Mayer, DAZN Chairman, has remained candid about his business' ambitions in the market, particularly in bagging rights to the English Premier League (BTwatch, #329–#332).

Joseph Purnell is a Staff Reporter for TelcoTitans, contributing telecoms news analysis since 2019 as part of the TelcoTitans Editorial team.