Telefónica talks-up connected home capabilities with new apps from partners, but with limited reach.
'Home‑as‑a‑computer' a technological focus for the Group, although commercial demand unproven, and early gloomy indications of Movistar Home performance.
Latest announcement bolsters Microsoft position as key AI partner for Telefónica.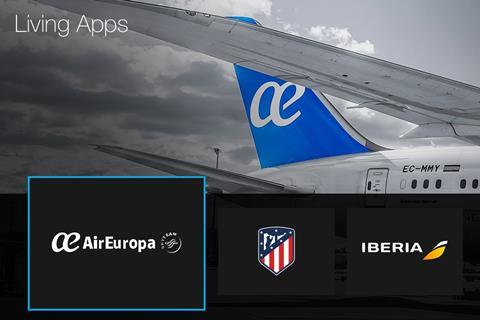 Following its initial unveiling at Mobile World Congress 2019, Telefónica España (Movistar) promoted the availability of its Movistar Livings Apps service, which it described as an interactive content ecosystem including video that gives consumers access to a host of new 'digital experiences' at home.
The operating business also flagged the opportunity for companies and brands to develop their own services that could be made available on the platform.
The operator and its initial commercial partners have developed a series of apps, built on Aura cognitive intelligence technology, that enable users to make purchases and check news and other information using their connected televisions. The first partners using the Living Apps platform include airlines Air Europa and Iberia, and football club Atlético de Madrid, with complementary content from Spanish soccer league La Liga.
Brands from other sectors are already said to be working on proprietary Living Apps related to banking, ecommerce, health, and tourism, as Telefónica opens the ecosystem to third-party developers. Social apps are also being developed, including by Fundación Telefónica (for its Conecta Empleo digital training initiative) and by Real Academia Española in association with Telefónica (linguistics resources, to support "the correct use of Spanish in technology").
Other Movistar digital services will be integrated with Living Apps, with Movistar Car and Smart WiFi among offerings to be made accessible via the home platform.
While not referenced in the latest Living Apps update, retailer El Corte Ingles is a significant early partner for the platform. Telefónica has previously demonstrated potential for using the service for shopping with the retailer, through users identifying items featured on television to add to their shopping baskets for subsequent orders.
TV the star as Movistar Home fails to usurp Alexa
Living Apps ties closely with Telefónica's philosophy of developing the concept of 'home‑as‑a-computer', with app‑ and voice‑based commands managing a range of digital services.
Telefónica indicated that about 800,000 customers have the Movistar UHD set‑top box (STB), which is required to access Living Apps in its current iteration, but also anticipates that the service will ultimately be available to six million subscribers. This latter figure would appear to tie with the total Movistar España fixed‑line broadband customer base, and recent comments from Chema Alonso (then Chief Data Officer, now Chief Digital Consumer Officer — see separate report) suggest the operator expects to expand the ways to interact with Living Apps beyond a reliance on a central television hub.
The focus on set‑top box linked to a router for initial Living Apps applications may in part be driven by the apparent modest uptake of Telefónica's Movistar Home digital assistant, a device with a similar form to the Amazon Echo Show video offering.
The Telefónica device, launched in October 2018, with a focus on the Christmas market and a range of payment plans to cover the €79 cost, has only sold about 10,000 units in the country, according to a presentation given during the recent LUCA innovation day (Telefónicawatch, #138) — and it does not appear to have made inroads into the modest Spanish smart speaker market dominated by Amazon's Alexa.
In contrast, Movistar claimed 1.2 million ultra-high definition (UHD) television customers in Spain, with three million Home Gateway Unit (HGU) routers in circulation among its 6.5 million broadband customers and four million pay‑TV users. Telefónica has indicated that it will be launching a voice‑activated remote control, which may help Living Apps move towards becoming a more voice‑activated service, as an alternative to a smart speaker. This could accelerate Living Apps' adoption among a broader swathe of its customers.
Alonso may be overreaching with consumer forays
Living Apps can be considered an emerging pilot programme from Telefónica's innovative artificial intelligence (AI) and data analytics team, which helps build a business case for a centralised control point for digital services in the home, and reflects the operator's interest in finding a pivotal role in customers' digital lives.
This has been a central tenet of Chairman José‑María Álvarez‑Pallete's strategy for the Group, and can also be seen at other operators — for example, with Deutsche Telekom declaring an interest in creating its own "home OS [operating system]", potentially in conjunction with Microsoft (Deutsche Telekomwatch, #79, and see below).
However, Telefónicawatch is struck by the apparent poor uptake of the Movistar Home device, and also questions the level of demand and interest among consumers for the services that Living Apps can provide, with little quantitative data available.
This may also be a bad omen for Alonso's foray into the consumer market in his new role. The charismatic, high‑profile Alonso, who has been instrumental in re‑shaping perceptions of Telefónica in its early days of transformation, may now be driving strategy in an area outside his core expertise. He has traditionally focused on developing new security‑ and data-driven solutions intended for enterprise applications, and veering into the different and challenging sphere of tapping into consumer demand may not play to his strengths.
Microsoft making a Living
In presenting Living Apps at a recent LUCA event, Telefónica noted that the technology is "powered by Microsoft Azure [which covers the full gamut of cloud computing, including AI]". The initial pitching of the home‑as-a‑computer drive had accompanied the declaration of Telefónica's link‑up with Microsoft on AI development. The software giant has already been a key contributor to the AURA project (Telefónicawatch, #117 and #133).
Group Chairman and Chief Executive José María Álvarez-Pallete pitched advancements in AI as the "central axis of our strategy" in his recent letter to stakeholders (Telefónicawatch, #136).