Telefónica is infiltrating industrial environments with the integration of connectivity solutions expected to upgrade industrial processes through increased automation.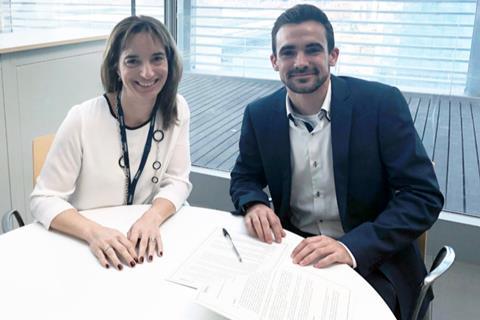 Telefónica Empresas and engineering group Geprom Connecting Industries signed an agreement to create and deploy solutions for industrial environments.
The partners plan to jointly develop "digitalisation solutions" for industrial customers that are designed to improve production and other factory processes in order to reduce costs and increase productivity, among other goals.
Geprom is to provide industrial automation platforms that have already been deployed in a swathe of vertical industries, including the automotive, food, chemical and pharmaceutical, logistics, and energy sectors. The engineering company uses the Legato Sapient cloud‑based, modular manufacturing execution system (MES) that aims to increase production efficiency through automation. Legato Sapient is a product developed by Geprom partner and software developer Gefasoft.
Telefónica Empresas will focus on connectivity technology, big data and analytics, and cloud storage and processing environments to allow communication between production tools, robots, sensors, and automatically guided vehicles (AGVs).
According to Geprom, the operator is providing the "whole set" of Internet of Things (IoT) connectivity required for a factory, including Ethernet, Wi‑Fi, virtual private networks, low power wireless area (LPWA) technology, LTE, and ultimately 5G.
Industrial and private LTE key elements of Telefónica enterprise drive
By teaming up with Geprom, Telefónica is adding a further building block to its existing industrial solutions strategy.
For instance, it has already signed a collaboration agreement with ASTI Mobile Robotics to develop technological and commercial propositions for AGVs, which are common in industrial environments (Telefónicawatch, #128).
The two partnerships appear to tie in with Telefónica's increasing focus on private LTE networks for industrial customers — which it demonstrated together with car manufacturer SEAT and parts‑maker Ficosa at Mobile World Congress (MWC) 2018 (Telefónicawatch, #124). Telefónica, as well as peers such as Deutsche Telekom, has a strong interest in the provision and management of "hybrid" campus networks that combine public and private LTE (and eventually 5G) networks in order to support industrial environments.
In an interview with Enterprise IoT Insights at MWC 2019, Andrés Padilla Fuentes, Global Director of IoT at Telefónica, said private LTE was something the operator "nurtured" in 2018 and is "making a reality" in 2019.
"That concept of the connected factory through a combination of private LTE and our public network is a reality — something we are selling to mines, ports, airports, factories, and plants all over Latin America and also in Europe. "

"In the case of Chile, Peru, Colombia, there is a lot of money in mining, often coming from multinationals headquartered in Europe, and operating in Latin America. That's a perfect fit for us, of course. In the case of Europe, we are seeing demand either in manufacturing plants, many in the car industry — just because the car industry is already very well aware of mobile connectivity and is starting to apply it in its production and processes — and also in those countries with more… commercial activity in ports and airports. "

— Padilla
Padilla added that the operator aims to use its own spectrum assets for private LTE networks where it can, but would be prepared to use unlicensed spectrum in areas where its own spectrum is not available. It has acquired "bits and pieces" of spectrum for this purpose in Europe, and is "analysing" taking the same approach in Latin America. Padilla added that private LTE will allow it to enter regions outside its operational footprint, as well as new market segments.
Worth noting is that Telefónica introduced an enterprise mobility solution called LTE In A Box in 2015, enabled by vendors Cisco and Quortus. The aim was to provide the ability to deploy private LTE networks with a focus on in‑building access (Telefónicawatch, #95). The operator is also collaborating with US‑Turkish next‑generation radio access network specialist Netsia on end‑to‑end network slicing, with the aim of deploying Netsia's Virtual LTE RAN Platform as the basis for private networks, such as in hospitals (Telefónicawatch, #122). Further, Telefónica has teamed up with Ericsson to launch virtualised private networks for business customers based on the UNICA platform and network slicing (Telefónicawatch, #128).