With a fibre foundation topped with a virtualised network, Telefónica is aiming to create flexible services that adapt to customer needs.
Edge computing key to service evolution, but will be driven by incremental benefits, not a single compelling killer application.
As Telefónica focuses on becoming a technology-focused company, partnerships will be needed to transform itself into a truly global competitor.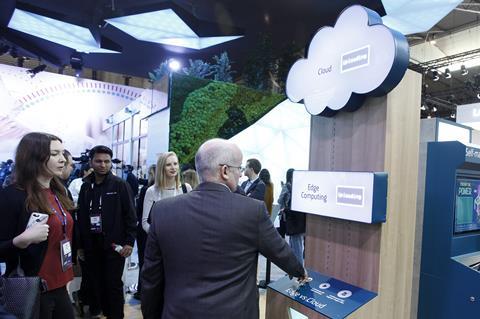 Patrick Lopez, Vice-President of Network Innovation for Telefónica Group, participated in a panel on the potential merits of edge compute technology in network infrastructure at the FutureNet World event in London at the end of March 2019.
Lopez, also a Board Member of the Open Networking Foundation, reinforced and expanded Telefónica's stance on the mobile edge as set out at Mobile World Congress 2019. There, the company stressed the importance of partnerships to expand its reach and scope, embedding Microsoft Azure in its plans, supporting the operator's forward-thinking, technology-focused leadership (Telefónicawatch, #133).
Networks to adapt to customer needs, not vice-versa
Lopez started with an observation that current networks require customers to adapt what they do based on the capabilities of communications networks, and said that the goal of Telefónica's transformation is to create an infrastructure that can adapt to customer needs instead.
He said that Telefónica is considering a range of approaches and technologies to help rethink network architecture and create more elastic systems to achieve this objective.
As demonstrated in other recent Telefónica comments (see above), the underlying principle driving the transformation is the disaggregation of the network and the services and applications that run across it.
Complexity comes hand in hand with granularity
Lopez noted that, in the past, introduction of new services meant the introduction of additional hardware and software layers too, resulting in networks that become inflexible, expensive to run, and time-consuming and even more expensive to alter.
Modern approaches make the networks more responsive and granular, and better able to adapt to what customers are doing, but as software and functions become independent of the hardware they run on, the networks also become far more complex to manage. This is where automation and artificial intelligence technologies are expected to take up the load, but for these solutions to be effective operators need a foundation of effective analytics tools that can extract the relevant data from vast networks at speed.
"That's where basically we use data science to detect first anomalies, then detect patterns, and try to match those anomalies and patterns to issues. And then we try to find use cases in which we can make the network self-configure proactively, whenever possible, to adapt or anticipate the customer demand.


We think that there's a continuum between public cloud, private cloud, core network, edge, on-premise, on-device and that continuum requires our armoury to function well."

– Lopez.
No 'killer' use case for edge
While Lopez is convinced of the value and need for edge computing and other new technologies, he also acknowledged that there is no single use-case that can justify the investment at this stage, but that collectively the array of potential benefits and applications justify the expenditure.
"[Spending on edge computing is] an infrastructure investment. We haven't found one single use case that justifies deploying edge computing. There are several dozens of use cases [that] together can justify the edge, but the reality is the edge is [only] going to work for telco if it works for us. AI is the same thing. I don't think we're going to find one single use case that will necessitate it absolutely."

– Lopez.
Lopez emphasised that the first justification for deploying edge computing must be supporting the needs of the operator itself, before additional services are considered.
"[New technologies] must make sense for our own functions, for our own telecom workloads [then] we [will] discover the value. For instance, right now, we have edge compute providing four millisecond (ms) latency between [customer premises equipment] and the first virtual machine. The value of that can be large, we believe, but it's got to be working for us first.



One of the dumbest examples we can take is very simple. It's just caching. Counter-intuitively, you think that live content wouldn't [need caching], but, if you have a recap, a large proportion of people are watching it as a unicast, and there is huge transport cost savings by deploying [at the edge]. And there are a lot of use cases like that."

– Lopez.
Open APIs make multi-local global
With the development of edge access, the opening up of capabilities to a wider market is expected to be dependent on a more standardised approach that will make it straightforward for developers to work with operators around the world with minimal need for customisation.
"[We must] have sufficient APIs and platforms so that, at the end, the developer can build for the use of that compute capability. Then it will be a marketplace.



We're working with a number of companies in that space, but we haven't done a good job opening our networks because, for the longest time, our networks were just for our use. Now that the boundary between cloud and networks is getting blurrier and edge computing becomes an extension of the cloud… Telefónica is big, Vodafone is big, Deutsche Telekom is big – but I don't think it makes sense to ask developers to code something that is specific to each one of us."

– Lopez.
Lopez believes that developers will continue to be drawn to more established cloud platforms for creating services as a starting point, but, if a more standardised approach can be adopted, a telco cloud marketplace will emerge.
"We might find a way to ask them to code a version that is specific to telco, but, in all likelihood, they're going to start developing on Amazon Web Services, or Google Cloud or Microsoft Azure. We have to make sure that [if we have] one developer application in this environment, there a possibility to expand its use and its workload into our telco cloud. There's a number of initiatives in that space, but it won't work if it's not possible to do that."

– Lopez.
The Telefónica executive made a distinction between the nature of telecoms operators and the world-striding IT giants, noting that, even with a presence in many parts of the world, telcos assets and strengths are best described as "multi-local" rather than global. Lopez indicated that Telefónica's partnership plans are developing with a view to addressing that difference.
"I think that, if we're deploying compute capabilities in our networks that we hope to rent or sell and make available to other parties outside of the telecom industry, then we have the responsibility to offer the tools to make that available on a global scale because the cloud companies are global and we [operators] are multi-local.



The distinction here is that none of us [operators] really has a global business, but, if we want the edge computing to become a global business, if we want to enable AI in that context, [then we must be] willing to offer the platforms to enable that. We've come up with some strategy [and] an announcement at MWC for a strategic relationship with Microsoft in that direction [Telefónicawatch, #133], and we will see more in the future."

– Lopez.