A left-wing candidate could become Peru's next president with suggestions that nationalisation may be on the agenda.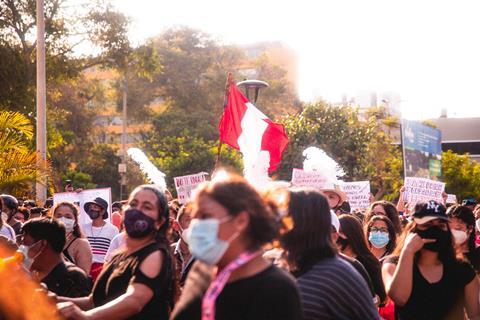 Telefónica del Peru (Movistar) is no doubt watching with bated breath as the country moves closer to selecting its next president.
Although it is to be hoped that the democratic election of a new president will calm the social and political crisis in Peru following the ouster of President Martín Vizcarra in late-2020, the chances of this happening appear slim.
Vizcarra, elected as an institutional reform champion and expected to address alleged problems in the country's parliament, was forced to resign his post following disputed allegations that he himself had accepted bribes early on in his career. Manuel Merino was appointed interim President, but in the wake of widespread protests in the country, resulting in several deaths, Merino stepped down in mid-November 2020. Francisco Sagasti was then elected by Congress as Peru's caretaker President until the election, which began in April.
Feeding the turbulence is that voters are choosing between two polarised candidates — a far-left union leader called Pedro Castillo and Keiko Fujimori, described in the media as the right-wing, neoliberal daughter of the jailed and disgraced former president Alberto Fujimori.
As things stand, the situation is on a knife edge. According to Reuters, Castillo is clinging to a narrow lead that the news agency said "would tilt the country firmly to the left". He has already claimed victory and in some news outlets is being described as the president-in-waiting.
Spanish news site La Informacion points out that Telefónica is one of two Spanish groups with a considerable amount at stake in Peru — the other being oil giant Repsol. The site suggests that Castillo would be the less popular option for both groups because of his "Marxist" stance and apparent support for the nationalisation of industries such as telecoms and energy.
Telefónica entered the country in 1994 following the privatisation of Compañía Peruana de Teléfonos and Entel Perú. The market is now part of the Telefónica Hispanoamérica division, the Group's problem child, although it would appear Telefónica is dabbing the brakes on efforts to jettison these regional assets.
Mixed messages
Telefónica's fortunes in Peru have been mixed, to say the least. In the mobile market, for example, Movistar has lost considerable ground over the years. According to regulator Osiptel, at the end of September 2020, Movistar and Claro Peru (América Móvil) were practically tied at the top of the mobile operator rankings, with market shares of 29.8% and 29.6% respectively. Movistar's mobile market share has dropped steadily since 2014, when it amounted to a more sizeable 54.3%.
According to Telefónica, its share of the fixed broadband market fell to 66.2% in 2020, down from 70% in 2019.
Performance-wise, Telefónica Peru has been an obvious recent pain point for the Group in Latin America, reporting major declines in revenue (-16.7%) and operating income before depreciation and amortisation (-24%) during the year to 31 December 2020 (FY20), with Telefónica blaming the "competitive environment and COVID-19 impacts".
Telefónica's more recent quarterly results statements have characterised the Peruvian operating business (OB) as in the process of recovering from the shock of the pandemic, at least in terms of commercial indicators. In its results for the three months to 31 March 2021 (Q1 FY21), the competitive environment in Peru was described as "intense", and putting considerable pressure on revenue. Despite this, the OB was said to be seeing sequential improvements in its customer base across fixed and mobile services.
It is also evident that the business is set for major changes in how it operates. For example, the OB was recently reported to be intending to axe hundreds of staff as part of a restructuring programme, justified on the basis of meeting "current challenges" and ensuring "sustainability and relevance in the market". Furthermore, Movistar created a new fibre subsidiary in 2020, called PangeaCo, and its sites were among the assets Telefónica recently offloaded to American Tower as part of the multi-country deal they struck in January (Telefónicawatch, #149 and #150).
At the same time, Movistar has a more positive tale to tell with Internet Para Todos ("Internet for All"), its wholesale rural wireless venture that is now said to reach more than 2.1 million people with its open 4G network. Pedro Cortez, Executive President of Telefónica Peru, said Internet Para Todos had connected 12,000 rural Peruvian communities with its 4G network as of May 2021, two years after launch (and up by around 1,000 from February 2021). The project, also backed by Facebook and investment funds CAF and IDB Invest, is expected to cover at least 13,000 remote communities by the end of 2021
In addition, the OB has adopted a far-reaching digital transformation programme, underpinned by Surge middleware from Finnish vendor Tecnotree (Telefónicawatch, #147).

Anne Morris is a freelance journalist, editor and translator. She has been working as a reporter and news analyst for TelcoTitans since 2016.