After Virgin Media O2's first 100 days, Schüler is raring to go head-to-head with BT on full fibre, wholesale, and B2B.
Reportedly in talks with Sky on fibre investment.
Determined merger integration won't slow VM O2 down.
Big believer in "data and digital" for delivering what customers want; hints at data transformation push.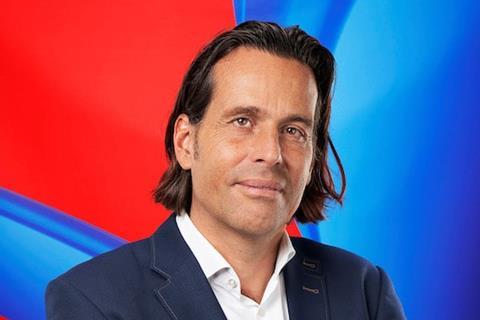 Lutz Schüler, CEO of Virgin Media O2 (VM O2), likes to use a football analogy to show how deep his challenger roots go. He lives in Munich (as well as in London for the last three years), but emphatically does not support his hometown team FC Bayern Munich and instead backs Borussia Dortmund.
Why? "Because Borussia Dortmund is the challenger of Bayern Munich and Bayern Munich is sponsored by Deutsche Telekom", he told the audience at the Connected Britain event in September, making clear, in case there was any doubt, that VM O2 is "the challenger of BT and EE" and "everybody" in the UK market.
The VM O2 joint venture is just over 100 days old since the merger of Telefónica UK and Liberty Global's Virgin Media was approved in mid-April 2021 (Telefónicawatch, #143 and #153–#154). Schüler was named CEO in early-April 2021, beating O2 CEO Mark Evans to the top job (Telefónicawatch, #152).
Bounding onto the Connected Britain stage, he boasted that he has the "coolest gig in Europe" and presented his priorities for the new company with energy and verve levels not typical of telecom industry gatherings. His style seemed to be more Virgin than O2, even though he has worked for both companies, most recently as CEO of Virgin Media, and in senior positions at Telefónica in Germany earlier in his career between 1998 and 2010.
He seemed most passionate about his top priority, which is, not surprisingly, to keep up VM O2's commercial momentum. Speaking from experience of overseeing merger integrations, notably when O2 Germany acquired Hansenet in 2010, he said big integrations were "very dangerous" because it is so easy to "focus only internally and lose momentum in the market". That's why, "every day, we make sure we are growing, growing, growing", he said.
Liberty Global CEO Mike Fries has taken note of Schüler's start and said the VM O2 team is "energised, totally focused, super busy", speaking at the Goldman Sachs Communacopia Conference at the end of September (as transcribed by VIQ FD Disclosure). "Lutz and the team are squarely focused on the integration … and on maintaining commercial momentum", he noted.
In some ways, Schüler has come full circle from his days at O2 Germany. He said he was part of the team that came up with the O2 brand and thinks that Virgin and O2 have the "same roots", suggesting this could make the job easier to unify them into one company, another of his priorities. It's a "power couple" he said, "and we have to now integrate it in the right way and come up with the right proposition".
Much of VM O2's focus will be on cross-selling services between the customer bases. The JV says that 40% of its broadband customers also take a mobile contract with O2 UK. Fries pointed out that "two-thirds of the O2 customers on our footprint don't have a Virgin product … the cross-sell is obvious".
VM O2 is also reportedly planning to introduce an IPTV offer by the end of 2021, according to Reuters, which would mark the JV's entry into streaming media services (Telefónicawatch, #157).
The move suggests Schüler is eyeing an aggregator play. He did not mention the new IPTV service plans at the Connected Britain event, but discussed the aggregation opportunity in the context of VM O2's "reimagining connectivity" company mantra. "We need to use the connectivity to help our customers to get access to everything they want", he said, adding that "we have the chance now to aggregate all the apps for consumers".
Data believer
Beyond the integration priorities, the other two big items on his agenda are among the usual suspects for any telco right now: transforming the JV into a "data-driven business"; and upgrading and expanding its broadband and fibre networks.
Schüler said he is a "big believer in data and digital". His view on industry progress in this area was a mix of hope and exasperation. "Let's be honest; we're all talking about it, but nobody has shown how to transform our businesses into a data-driven business", he maintained.
"We all have much more products than our customers want. Let's do it the other way around", he said. In other words, he wants to be able to use customer data "in a transparent way" to "understand immediately what the customer wants and offer it to them".
He added that this transformation would have "huge benefits not only for our shareholders, but for all of us in the industry".
Finding fibre funding
Schüler's CEO plate is quite full as he is simultaneously shepherding the merger integration and embarking on a major full-fibre network upgrade. As a sign of the merger not slowing the company's ambitions, he pointed out that it was just 60 days after the VM–O2 deal was closed that the company announced plans to upgrade its hybrid fibre-coaxial (HFC) network to be FTTP-compatible by 2028 and to potentially enter the fixed wholesale market, taking aim directly at BT and Openreach (Telefónicawatch, #154 and #156). The operator already has 1.2 million FTTP homes covered through Project Lightning, and could further extend its full-fibre footprint to an additional seven million homes.
"We want to shift gears here and we need the right partner and financial model", he highlighted, alluding to VM O2 being open to finding an investment partner for the full-fibre plan.
VM O2 has already apparently attracted interest from pay-TV provider Sky, which has emerged as a potential investor in the fibre plan, according to a report in The Sunday Telegraph. The companies are reportedly in talks about a deal, which could involve the spin out of VM O2's cable network into a joint venture.
Separately, VM O2 is also upgrading the HFC network to gigabit speeds. As of early October, 12.8 million homes were "gigabit-ready" and VM O2 said it is on track to complete the upgrade on its whole footprint by the end of 2021.
Up for a challenge in B2B
The other new key area, in addition to wholesale, where VM O2 wants to play is in B2B services. Schüler seemed eager to ramp up efforts in the business market and made clear that the business will be coming up with new products and services that leverage its 5G and broadband networks.
Reviewing the enterprise sector market where the JV is "under indexing heavily" with less than 10% market share, he declared his "challenger heart is thumping".

Michelle Donegan is an experienced telecoms writer and has been contributing as a reporter and news analyst for TelcoTitans since July 2020.