TowerCo CEO cheerfully talks up prospect of acquiring stake in Group's infrastructure business.
Idea of Telefónica-Cellnex tie mooted previously — and never totally quashed.
Telefónica's weakening debt profile may prompt inorganic action around infrastructure.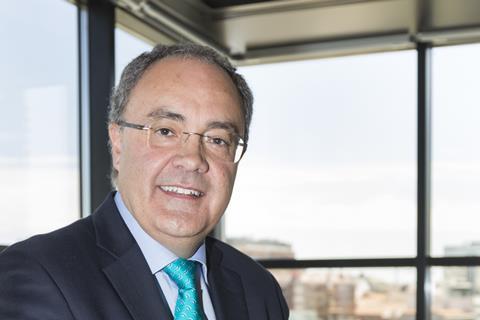 Cellnex Telecom Chief Executive (CEO) Tobias Martinez reportedly played up the prospect of acquiring a stake in Telefónica Group's Telxius division, claiming that his "wish is always to acquire the towers of all of the telecoms operators. Why not? It's my core business!"
The TowerCo CEO was speaking at November 2020's Morgan Stanley Tech, Media, and Telecom Europe 2020 conference, and responding to remarks made by Ángel Vilá at the same event. In an earlier session, according to Reuters, the Telefónica Group Chief Operating Officer (COO) confirmed that the operator is "open to potential options that would take us [Telefónica's stake in Telxius] below 50%".
Telxius is said to operate and own more than 30,000 sites worldwide in 16 different countries, with a large footing in Spain and Germany, and in countries across South America. Other stakeholders in the Telefónica infrastructure subsidiary are global investment group Kohlberg Kravis Roberts (40%) and the Spanish investment vehicle Pontegadea (which holds an indirect 9.99% cut — Telefónicawatch, #128 and #144).
Under pressure Vilá seeking flexibility
Clearly weighing up the merits of further divestment, Vilá hinted at ways the Group was aiming to develop, and thereby monetise, its core infra assets, adding that Telxius is plagued by a "restriction on leverage that independent TowerCos don't have, [and so] it is very difficult to grow inorganically".
Martinez, in turn, declared a "personal ambition" to find a way to cooperate with or invest in the Telefónica unit, although adding that no discussions were currently underway. His company may, though, find it is limited in its ability to splash out on more investments following the completion of a €10bn deal to acquire the European tower assets of CK Hutchison, which includes an €8.6bn cash element.
Nevertheless, the potential for the two companies to collaborate more closely could increase as Telefónica Group considers its options for the subsea cable element of the Telxius business (see separate report). Should the cable business float away independently, the remaining tower operation would align more comfortably with Cellnex strengths.
And Telefónica appears to be facing growing external pressure to make greater use of its tower assets as a quick fix for its dicey debt position. In late-November 2020, credit agency Standard & Poor's cut Telefónica Group's long-term debt rating from 'BBB' to 'BBB-' — one notch above junk — and lowered its short-term credit rating to 'A-3' from 'A-2'. Taking the edge off the downgrade, the outlook was raised to 'stable' from 'negative' but the credit agency still warned that the mid-term prospects for the Group managing to improve its debt position look limited.
The potential for selling another chunk of Telxius, as well as assets in the volatile Latin American market, was noted as a way of brightening the picture, however. Media reports jumped on the idea, with suggestions that the value of Telxius would have increased considerably since the last batch of chairs was hived off, but industry analysts appeared more sceptical that any sale could be sure of a good price in current market conditions.
Orange damns Cellnex deals as lacking imagination
As operators across Europe develop and refine their approach to monetising infrastructure, Stéphane Richard, Chief Executive of Orange, appeared to be seeking a bolder plan than a simple sale and leaseback.
Mooting the idea of a pan-European TowerCo with other operators in a Financial Times interview, Richard described the prospect of a tie-up with Deutsche Telekom or Vodafone as presenting an "interesting opportunity". Turning to an independent tower management company does not appeal to the head of Orange, however, who also noted that "there is something smarter to do than just selling your towers to Cellnex".
Telefónica was apparently not at the front of Richard's mind as he considered a link-up with another operator. However, both he and his Telefónica counterpart José-María Álvarez-Pallete have pondered the prospect of pan-European cooperation as a means of consolidating the market without running afoul of stubborn European Commission resistance to in-market mergers (Telefónicawatch, #144).
Two and two coming together (finally?)
Martinez — flirting with the idea of collaborating with Telefónica — referred to the operator as a "magnificent company with which we have magnificent relations" at Cellnex's Annual Shareholders' meeting in July 2020. Indeed, while a tie-up on Telxius did not initially seem to fit with Cellnex management's spending plans — laid out at that same meeting (Telefónicawatch, #145) — it is not out of the ordinary for Martinez to publicly declare interest in buying into the telco's infrastructure subsidiary. Cellnex, moreover, has been linked with a move for Telxius for the best part of five years (Telefónicawatch, #103 and passim).
Nor is this the first time Vilá has spoken in public about the potential for institutional investment in Telxius. In fact, the Telefónica COO used the platform of another Morgan Stanley-organised industry summit (this time in late-2016) as a platform to drum up interest in the spin-out (Telefónicawatch, #112).
Meanwhile, business is booming for Cellnex, which is purportedly Europe's largest tower management company and has seen its share price rocket over the last half a decade. The prolific TowerCo has also continued a surge in M&A activity of late, acquiring a stake in Metrocall, the Spanish infrastructure business that runs wireless communications on the Metro de Madrid (Telefónicawatch, #148) and agreeing a deal to buy masts across several European markets from Hong Kong-based CK Hutchison.

Sam Patterson is a Staff Reporter for TelcoTitans, contributing telecoms news analysis since September 2020 as part of the TelcoTitans Editorial team.