Three-way tie-up between Telefónica, SatCo, and logistics tech player aims to fill coverage gaps for container monitoring.
Trials planned later in 2022.
Swiss startup Astrocast sees big untapped market for satellite-based links in shipping, fishing, and ocean monitoring.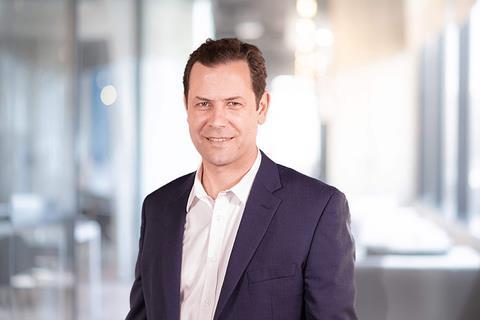 Swiss satellite IoT startup Astrocast is aiming for a target base of "potentially millions of devices" in the maritime industry after linking up with Telefónica and cargo management tech player ArrowSpot on development of a new "hybrid" tracking solution.
The offering — which will combine cellular- and satellite-based monitoring of assets, as well as Bluetooth and LoraWAN access — is due to enter field trials on shipping containers between now and the end of the year, Astrocast Chief Executive Fabien Jordan told TelcoTitans.
Telefónica is expected to market the solution to shipping clients, having formed a Memorandum of Understanding with Astrocast to work jointly on developing and marketing IoT solutions. It also made the introductions to bring Astrocast and ArrowSpot together so their R&D teams could integrate their systems, said Jordan.
Astrocast and Telefónica first flagged they were collaborating on widening connected trackers' network access in September 2021, highlighting proof-of-concept trials at Telefónica's 5G Tech Lab in Munich (Telefónicawatch, #157). Astrocast went on to announce the Arrowspot tie-up in June 2022, saying enhancement of the latter's ArrowTrack SAT device to access Astrocast's satellite network would give supply chain managers a platform for "24/7 monitoring" and "effective management of assets globally".
The uprated gadget is now finalised and "ready to be mass produced", said Jordan.
" The device really has the intelligence to switch between different networks depending on where it is located and the availability of these networks. To me, from what I've seen, it's probably the best tracker available today on the market. "

Jordan.
Astrocast overview (31 December 2021)
Established
2014
Source: Astrocast.

Direct listing

Euronext Growth Oslo

Employees

74

Founders

Fabien Jordan (Chief Executive), Federico Belloni (Chief Technology Officer)

Shareholders (external, non-VPS)

Adit Ventures, Schroder & Co Banque, Argenta AM, Palantir, Verve Investment Syndicates

Partners

Airbus, CEA-Leti: co-development of protocol.

D-Orbit, Spaceflight: launch aggregation and vehicle provision.

Flex, TSMC: production.

KSAT, Leafspace: ground station services.

Thuraya: L-Band spectrum access.
Beyond the call
When out of cellular range, the new device will link up to Astrocast's network, currently in the midst of rollout.
Formed back in 2014, the Swiss provider now has twelve of its nano-satellites up in low-Earth orbit (LEO) — although two are described as 'working demo' craft and not pencilled in for commercial use. It plans to launch another eight before the end of the year, and complete deployment of a "first" constellation, featuring a total of 40 craft, during 2023.
Geographically, Jordan said Astrocast's network now works "everywhere", although it remains in ramp-up mode in terms of regulatory access (with more than 70 countries now opened up) and go-to-market resource. Its commercial footprint includes most of Europe, Africa, and Oceania, as well as parts of the Middle East and Southeast Asia — and was extended to the Americas with the acquisition of IoT service provider Hiber, announced in May.
Wave power
Astrocast's network — based on a proprietary system it has developed from scratch, alongside Airbus — is designed to support low-power IoT applications of the type traditionally associated with cellular, operator-led Narrowband IoT technology, such as asset tracking and livestock monitoring.
However, Jordan was keen to differentiate the network from other New Sat providers that are seeking to extend existing standards such as Lora and NB-IoT to the world of space, saying Astrocast's system was "highly optimised for direct-to-satellite IoT". "We're far ahead of all the other players in terms of the power consumption and efficiency", he highlighted.
He also talked up Astrocast's access to L-Band spectrum through a strategic tie-up with UAE-based satellite operator Thuraya as a key differentiator.
" If you have to design a system like this from the ground up, you will pick L-Band, because it's really by far the best technical compromise. If you look at the physics, this is really where we started. Not only is this band of frequencies very clean and reliable, it really provides the best compromise in terms of power consumption and form factor of the antenna. "

Jordan.
One LEO neighbour of Astrocast, Spain's Sateliot, is also working with Telefónica on delivering connectivity to devices in hard-to-reach areas following integration of its satellite network with the operator's Kite platform (Telefónicawatch, #165–#166). It is focusing on providing "Narrowband IoT from space", and reportedly utilising UHF frequencies. Jordan described these as the "next best choice" after L-Band airwaves, while necessitating "big antennas and [being] in some cases quite expensive as well". "Most of our competitors are operating in the VHF/UHF band, which means big, bulky antennas, or long-width antennas. And integrators don't like to see that. They want to see something that is flat", he added.
All at sea
As well as being the primary target for Astrocast's Arrowspot and Telefónica tie-up, the maritime sector is where the provider sees the majority of its future business coming from.
Jordan cited a "really exciting opportunity that can scale up to large numbers" in the space, and reckoned there could end up being hundreds of thousands, or "potentially millions", of connected devices deployed in the shipping industry alone.
He highlighted further growth opportunities on offer from linking up buoys used in fishing and ocean monitoring. Spanish maritime kit supplier Marine Instruments — an early investor in Astrocast — is a client of the provider and looking at its system as a way to "reduce their satellite bill", according to Jordan.
Overall, the Swiss business has ambitions to grab 20%–25% of the satellite IoT space. "This is a personal opinion, but I think [the market] could scale to the hundreds of millions of devices by 2030 and beyond", said Jordan. "It's not as big as the [overall] IoT market but it's a huge opportunity for us. We think we can grab the lion's share".
Astrocast IoT target markets
Industry
Share
Source: Astrocast.

Maritime

51%

Agriculture and livestock

16%

Environmental and utilities

15%

Oil and mining

12%

Land transport

6%