O2, Telekom Deutschland, and Vodafone make headway in respective network restoration efforts after flash floods take out networks.
Portable base stations plugging gaps left by damaged fibre.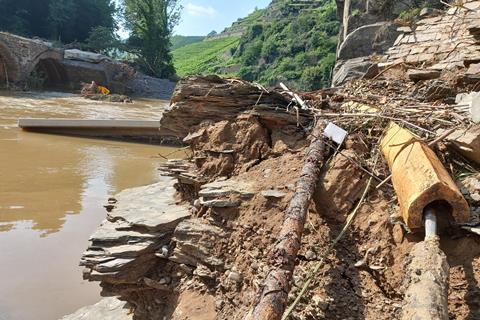 The flash floods that hit Europe over the past week have started to recede, laying bare the impact on communications networks.
In Germany, mobile network operators (MNO) have begun their respective clean-up operations, with Telekom Deutschland (TDE) describing the restoration and repair job as a "Herculean task".
Telefónica Deutschland (O2) was candid in admitting that the extent of the damage remains "confused" and "dynamic", while Vodafone Germany (VfD) has set to work by deploying mobile base stations and financial assistance packages.
Most damaged base stations revived, but normality remains weeks away
Details on the extent of the damage have yet to be tallied, but networks are not expected to return to 'normal' for several weeks, according to TDE. It counted 130 "sites" in North Rhine-Westphalia and Rhineland-Palatinate that had been taken offline, and said it had repaired "more than half" of its failed mobile sites by 19 July.
Markus Haas, Chief Executive at O2, said that progress was good "at the locations we can currently reach", with the operator saying that its primary challenge is disruption to power supplies. The O2 restoration project began on 16 July, and within three days it had repaired "more than two-thirds" of the 150 affected network facilities. As of 21 July, 80% of O2 customers in impacted regions were able to regain connectivity.
VfD claimed to have repaired half of its damaged radio sites by 20 July 2021, five days after its restoration operation began. This had reconnected "more than" 90% of its customers.
MNOs deploy portable and emergency support
For locations that have proved more difficult to reach, O2 has deployed mobile base stations and power generators.
It is a similar story at VfD, which, in partnership with the Group's charity and social inclusion arm, Vodafone Foundation, has deployed Instant Network Teams to support emergency responders and connect victims with temporary equipment and satellites.
The Instant Network portfolio includes portable network solutions that offer connectivity in areas with damaged or no network infrastructure. These have previously been deployed in refugee camps in Greece and are generally set up by volunteers — Instant Network Teams — from local operating businesses (Vodafonewatch, #142, #191).
Beyond restoring network connectivity, Vodafone pledged a €1m donation to the Aktion Deutschland Hilft support programme, which aims to provide financial aid to flood victims and those working to assist people impacted. VfD will fund half of that amount, with the remainder drawn from Vodafone Foundation's humanitarian fund.
For TDE, there are some areas where fixed and mobile network infrastructure will need to "start from scratch". In the meantime, mobile base stations have been deployed, along with emergency routers, battery packs. Devices have been distributed to worst-hit customers.
TDE has also deployed its in-house Disaster Recovery Management team, which, among other things, has delivered a portable building containing "all the necessary technology" to replace an unusable network operations site in Göttingen.
All three operators are offering free data. 100GB is available to O2 and VfD customers, while TDE is providing "unlimited" data for 31 days.
Infrastructure operations reconfigured
Where infrastructure cannot be reached or has been "completely destroyed", VfD has "readjusted" 200 functioning stations to "significantly increase their range", enabling them to transmit GSM and LTE signals to a wider area.
Separately, Vodafone's tower division Vantage Towers said it is "coordinating" with VfD to accelerate restoration of networks in affected areas. It is also working with the country's Federal Agency for Technical Relief to identify priorities, Vantage Towers said in a LinkedIn post. While "some" locations were restored promptly, others remain in early planning stages.
At TDE, cell towers ordinarily connected with fibre that has been destroyed or disrupted are being replaced, temporarily, with radio connectivity.
Going it alone — regional roaming rejected
The idea of regional roaming, wherein MNOs share access to infrastructure in order to ensure connectivity for everyone in a region where only a single operator has a working signal, has been floated repeatedly as a potential quick fix in affected areas. TDE and VfD have made statements pointing at flaws in the idea.
TDE dismissed the concept, saying it "makes no sense" because of the way mobile infrastructure is designed, with regional roaming threatening to overwhelm any towers that remain operational.
VfD said it was open in principle to the concept, but it requires all three MNOs to collaborate, and the technology is "complex" and time-consuming. With the repair work "progressing rapidly", VfD indicated that activating a tenable regional roaming system would come too late to be of benefit.

Joseph Purnell is a Staff Reporter for TelcoTitans, contributing telecoms news analysis since 2019 as part of the TelcoTitans Editorial team.