BT's Allera, VM O2's Cobian, and Vodafone's Essam share their views on 'big tech' contributions to network investment.
IPTV and streaming driving data traffic boom, but regulation deemed outdated and unsustainable.
Allera calls for digital equity over net neutrality.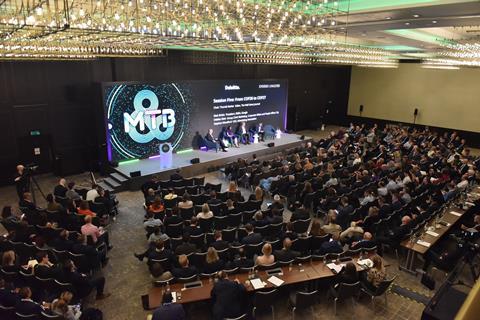 Executives from BT, Virgin Media O2, and Vodafone called for an infrastructure funding rethink, identifying the need for change as content providers and streaming platforms spark a data traffic boom.
Speaking at the Enders Media & Telecoms 2022 & Beyond conference, BT Consumer Chief Executive Marc Allera outlined "massive peaks" in data traffic in recent months. VM O2 CEO Lutz Schüler noted that consumer trends and data demands have fundamentally changed over the past two years "and will not go back".
" It shouldn't be assumed that networks can just 'cope' with these increasing peaks driven by the distribution shift in TV streaming and gaming. I just can't see how this is sustainable. "

— Allera.
'3G regulation in a 5G world'
Allera's comments sparked some debate during the conference, with a number of senior telco figures adding their two cents during respective fireside chats.
Vodafone UK CEO Ahmed Essam went a step further than his BT Consumer counterpart and called out the UK's "restrictive" net neutrality rules. "We're working with 3G regulation in a 5G world", he said.
VM O2 Chief Financial Officer Patricia Cobian joined the charge in her Q&A, stating that any potential change in regulation would represent a "rebalance". She added that if restrictions were lifted, infrastructure providers would be given a "more assured perspective" on the monetisation of products and services, as well as greater "flexibility" to handle data traffic surges — a "constructive" change, according to the CFO.
The value of
net neutrality

digital equity

Allera is a longstanding proponent of changes to net neutrality laws. In 2021, he called for rules to be "recast" to ensure they are "fit for the next decade". At the conference last week, he offered his alternative: 'digital equity'.

"The internet has evolved beyond all recognition since the principles of net neutrality were set", he said. He added that the conversation needed to shift from ensuring people can access online content and services to instead focus on ensuring consistent quality of experience. The migration to all‑IP networks will bring greater capacity, but traffic growth will "explode" concurrently, he predicted. "Our current, one‑sided economic models are not designed to manage this".
Big Tech: partners not predators
When speaking on data usage and demand, Allera was very much aware that Stephen van Rooyen, CEO for UK & Europe at Sky, one of BT's closest content allies, was in the audience. "We love our partnerships and services", he said. "But I do believe we need to change some things".
VM O2's Cobian toed a similar line. "I look at 'Big Tech' not as predators but as partners with whom we have longstanding relationships", she said. "But, like in any high growth environment, there is merit in having checks and balances".
Clamour in Brussels as UK watches on
In the past few weeks, as the debate intensifies in the European Union about a shift in net neutrality strategy across the bloc, telco leaders have offered their view. Speaking at Telefónica Group's latest earnings call, Chief Operating Officer Ángel Vilá used the term "fair share" several times to make clear his view on network cost contributions. Similarly, BT CEO Philip Jansen said he was "encouraged the rhetoric" in the EU's current debate. "We need balance", he said, "and it's more likely now than it has ever been". Earlier in the month, BT's Policy & Public Affairs Director Alex Towers called on the UK government to "get there first" and implement its own reform ahead of the EU. BT and Telefónica were among the telcos to co‑author a report in early‑May that found that tech giants "do not contribute a fair share to the deployment of telecom networks, while generating network‑related costs of tens of billion euros".
On UK shores, regulator Ofcom has opened a consultation into the issue, but no commitments have been made. CEO Melanie Dawes, who was also interviewed at the conference, managed to avoid any difficult questions on the subject. She used the platform to talk up the impact of social tariffs, which she declared a success, and laid out the next frontier: "for people to drive take up". In the context of the UK's cost of living crisis and inflationary storm, she added her take on mobile pricing in the country. She claimed that the market is "very competitive" compared to its peers, and that "competition is the starting point" for growth.

Joseph Purnell is a Staff Reporter for TelcoTitans, contributing telecoms news analysis since 2019 as part of the TelcoTitans Editorial team.