Vodafone just can't catch a break, with even German stronghold tormented by reinvigorated DT in aggressive housing association fibre overbuild play.
Double whammy as new laws tear open cushy supply agreements.
Vodafone banks on client ennui to minimise imminent damage.
DT dismissive, even derisive, of Vodafone's defence.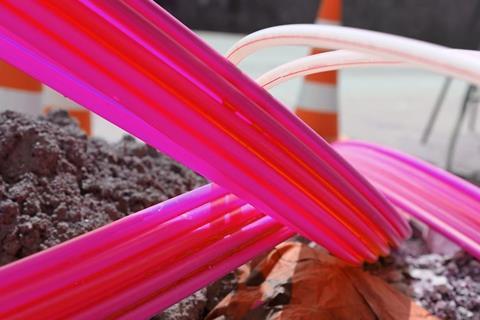 Deutsche Telekom has upped the ante in its broadband battle with arch-rival Vodafone Germany, indicating it is making inroads into the latter's housing association heartland.
The operator claims to have secured fibre licence agreements covering more than one million residential units during 2021 — and with more than half of these featuring full-fibre connections. This contrasts with Vodafone's own reassurances over the stickiness of its multiple occupancy building clients on cable.
"We are making fibre optics the new standard for the housing industry in Germany", said Jean-Pascal Roux, Head of Housing and Broadband Expansion for Business Customers at Telekom Deutschland, reinforcing this impression of shifting competitive advantage.
Beyond fibre-to-the-home, DT claims traction for interim fibre-to-the-basement services that utilise pre-existing internal coax lines, with the offer of fibre installation to the end-user's apartment on request.
This middle ground is "particularly popular with housing construction companies", said the operator, citing a 2021 TV and broadband bundle covering 13,400 homes with GWW Wiesbadener Wohnbaugesellschaft in Wiesbaden, western Germany. It also referenced fibre deals with two cooperatives in the town of Stralsund, Mecklenburg-Vorpommern, that brought 6,500 units onto its network, and a further two organisations in the city of Wittenberge, Brandenburg, encompassing another 5,000 or so apartments.
Roux claimed to be succeeding in convincing housing associations and other real estate management companies of the benefits of replacing cable with fibre, helped by incentives for "early" agreements.
He also indicated that 2022 will see an expansion of both his team and DT's fibre product portfolio, and welcomed commitments to FTTH expansion in the new federal government's coalition agreement. "With this [political] determination, the traffic light [governing] coalition creates clarity for the housing industry: the fibre optic knot has finally burst", he said.
Pandemic shakes up the action
The comments are an evident shot across the bows of Vodafone Germany, whose positioning in broadband has been coming under the spotlight after a recent run of lacklustre commercial numbers.
The British-owned operator — whose fixed infrastructure covers 24.3 million households — added only 61,000 net broadband users to its near-eleven million-strong base during 2021. Telekom — which up till recently was facing an uphill struggle against cable rivals — gained 276,000 net adds in the nine months to 30 September, having not yet reported its performance for the last quarter.
Pandemic movement restrictions and the apparent stickiness of national telco services in times of uncertainty have been cited as factors behind its sluggish results, but Vodafone has not been helping matters with some customer experience own goals. It recently admitted mishandled execution of a customer consent process required by new data protection norms introduced in December, creating a "painful" procedure that effectively invited churn.
Home advantage dissipating
In the housing association space, which Vodafone says makes up about two thirds of its cable subscriber base, legislative changes are also providing a 'Meerkat Moment' for associations and users to reassess their connectivity and digital services options.
Rule changes being phased in under Germany's Telekommunikationsmodernisierungsgesetz (Telecommunications Modernisation Act) will prevent housing associations from tying specific cable services into rental contracts, thus opening the way for other broadband and TV service providers to churn individual users away from cablecos' bulk deals (Vodafonewatch, #115, #163, and #195).
Cablecos' housing association contracts have long been an emotive issue for DT, which was one of the loudest lobbyers for an end to the so-called "nebenkostenprivileg" ("additional cost privilege") practice. DT has seen its legacy cable assets steadily come to life this century, under new ownership, and more recently been highly irritated by regulators' acquiescence to consolidation of the cable market through M&A — particularly Vodafone's integration of Kabel Deutschland and Unitymedia (Deutsche Telekomwatch, passim).
Chillax, says Vodafone
Vodafone has been responding to the threat to its housing association hinterland with a customer retention drive, segmenting and re-targeting clients according to their level of openness towards an upgrade of existing cable connections or replacement with fibre.
It has had discussions with about half of its housing association partners and plans to have contacted two thirds by the end of March, Vodafone Group Chief Executive Nick Read told analysts at its latest quarterly results update, earlier this month.
Read also indicated in November that Vodafone could join forces with an infrastructure investor to roll out fibre-to-the-premises infrastructure within its German cable footprint, while exploring new relationships to expand full-fibre in other areas (Vodafonewatch, #201). However, on the former, management has said the scheme will sit off Vodafone's balance sheet and only go ahead if "sizeable enough" demand emerges from within its housing association clientele.
In the meantime, the messaging from Vodafone has been that it has time on its side in the battle with full-fibre, at least somewhat cynically noting housing associations' lengthy property refurbishment cycles (at least for internal infrastructure) and claiming that its cable network will comfortably meet user demand well into the future.
Vodafone says it can already provide 23 million German households with Gigabit downstream connections, and has plans to begin migrating HFC links to up-to-3Gbps/1Gbps speeds. The network has a "really good runway of capability, moving forward", Read said in November.
Less convinced of this competitive moat is Tim Höttges, Read's counterpart at DT, which, as well as targeting Vodafone's housing association base, has been forming new investor relationships and recalibrating internally to meet a ten million FTTP footprint goal by December 2024.
"Cable", Höttges said in 2020, was "not the answer" to improving next-generation broadband availability in Germany. Moreover, its status as a shared medium made cablecos' Gigabit claims "fake news". "Better to have a reliable 250Mbps of Deutsche Telekom than a lost promise on 1Gbps from Vodafone", he declared.