Long-running, Huawei-supported project said to have been met well, with customer experience and efficiencies benefits.
Some compromises made on legacy and vendor retention.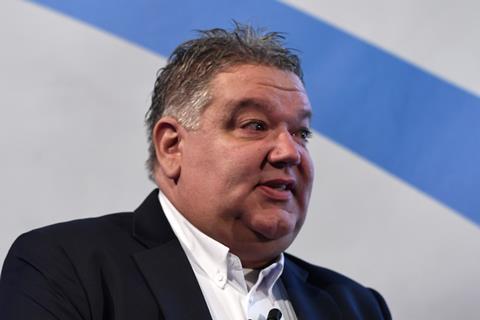 Martin Wesenaar, Programme Director for Cloud Readiness at Vodafone Germany (VfD), provided some insights into the OpCo's transition to a cloud-native environment, and how it built what it called the "largest virtualised charging system" in Europe.
During a session at Digital Transformation World2019 (DTW19), Wesenaar said VfD plans to become a fully-digital operation by 2021, with aspirations to reach 100% penetration of the My Vodafone customer care application, and for all customer campaigns to be targeted and driven purely by data. The ultimate goal is to improve customer satisfaction and reduce business costs. "We are having a lot more positive feedback from our customers, who are even accepting the offers we are sending out", noted Wesenaar.
Big bang refresh
The transition to the cloud started with the charging system, which Wesenaar described as a key pillar of digitalisation. It has been a long process, however, beginning with deployment of bare metal cloud in 2015, and the launch of offers such as the Red+ Zusatzkarte multi-SIM card offering and GigaCube home broadband services based on 4G.
This was followed by migration to a virtualised environment in the 2015-18 period, and the launch of 'smart-pricing', which enabled greater autonomy for the customer in selecting tariffs. Smart-pricing, which was developed in collaboration with Huawei, started the virtualisation journey, said Wesenaar. He described what came next as a "big bang", with many things happening simultaneously. For example, a number of systems, such as prepaid and postpaid charging solutions, were moved into the new environment, and several legacy systems were made redundant. "It was quite successful,because what we have built now is the largest virtualised charging system in Europe", said Wesenaar.
He conceded that the final stages of migration were the most difficult, involving the transition of what he described as "exotic tariffs" often used by only a handful of subscribers. "We have now started with the cloud-native part. I cannot say yet how much saving we have made, as we are just at the beginning of that. We are at the start of the orchestration of our virtualised environment", he added.
Back to basics
Tariff consolidation is not just something that would be welcomed by many telecoms customers, given the mystifying level of complexity typically associated with selecting the right provider and plan. It is also one of the key elements of the "radical simplification" agenda of Vodafone's leadership, as it seeks to cut costs and improve commercial performance.
In the three fiscal years to 31 March 2019, the Group claims to have cut its tariff plans by half, and reduced its product base by "around 40%", although it is not clear whether it is referring purely to mature markets or across all territories. A more high-profile move, within this, is the ongoing rollback of Vodafone UK's Talkmobile offerings – a leftover from a past partnership with retailer Dixons Carphone (Vodafonewatch, #158).
Nonetheless, Vodafone still has significant work to do in the tidy-up. The operator admits that OpCos still have "hundreds, and in some cases thousands" of legacy plans in usage by customers. Vodafone's management recently reiterated intent to "move to new simplified pricing models across all of our markets" and "proactively phase out complex legacy tariffs". Beyond this, Vodafone is seeking to rollout a "number of 'digital only' products, which require no human interaction" – as per the low-touch, app-managed Vodafone Bit offering released in Spain during late-2018.
Compromises
Wesenaar made no secret of the fact that the entire programme has been a huge challenge, and a costly and time-consuming exercise. For example, in the early stages it was extremely difficult to find the right people to carry out the work. The network architecture is also no less complex than before, with a greater number of vendors in the mix. He pointed out that some legacy systems still have to be maintained to avoid taking too many risks.
Nonetheless, he said the benefits have been significant, and include reductions in both capital and operating expenditure, improved scalability and flexibility, faster time-to-market for services, and the creation of the foundation for a 5G micro-services architecture. "Are we ready? I think we are", said Wesenaar – both on business and cloud-readiness levels.