TMUS still hopes to wrest 500MHz of highly prized C-Band airwaves.
Ongoing dispute ratchets up another notch as satellite bigwigs meet FCC.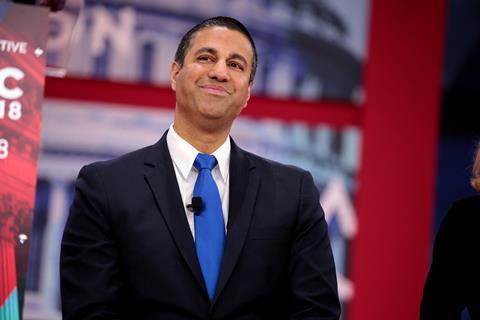 The top brass at T‑Mobile US (TMUS) will no doubt have felt uneasy at the thought of key figures from the C‑Band Alliance (CBA) meeting Federal Communications Commission (FCC) Chairman Ajit Pai and Aaron Goldberger, his legal advisor, on 29 March 2019.
Under discussion was the thorny subject of how much spectrum in the C‑Band (3.7GHz–4.2GHz), currently used for satellite broadcasting, should be allocated for terrestrial 5G. Timeframes and the process for auctioning off the highly prized mid‑band spectrum were also up for debate.
Any anxiety TMUS might have had about the meeting is understandable. There is little common ground between the NatCo and the CBA, a relatively new organisation speaking on behalf of satellite operators.
Just give us the nod, FCC
The message to Pai from Stephen Spengler and Steve Collar, Chief Executives (CEO) of satellite operators Intelsat and SES, respectively, was reportedly quite straightforward. They said the CBA was engaged in working with their broadcaster customers on the technical, operational, and logistical issues related to clearing between 180MHz and 200MHz of C‑Band spectrum within an 18‑ to 36‑month timeframe. All they needed, it seemed, was a final FCC order to kick‑start the process. The thinking behind its plan, said the CBA, was to protect "satellite service quality" during (and after) the transfer of C‑Band spectrum for 5G use.
The CBA has repeatedly given short shrift to proposals by TMUS to release as much as 500MHz of C‑Band capacity, and then undergo a so‑called 'incentive' auction in much the same way as low‑band 600MHz spectrum was priced and parcelled out in 2017 (Deutsche Telekomwatch, #62 and passim). The CBA claims such an approach would create "insurmountable" legal and logistical complexity.
"There are fundamental problems with regards to the involvement of earth stations in an FCC‑run incentive auction for each of the 416 geographic zones. First, the Communication Act does not permit earth stations to participate in an incentive auction because they are not licensees with respect to the C‑Band downlink. And second, even if they were permitted to participate, it would be exceedingly complicated and create endless delay to have 17,000 earth stations in 416 geographic zones participate in auctions… 



The idea to potentially auction different chunks of spectrum to different sets of participants in these zones would not only create insurmountable complexity and delay but also fails to consider the basic laws of physics. If a different amount of spectrum is cleared in adjacent zones, the 5G signals will not stop at the border of a zone, but could interfere with co‑frequency satellite operations in the neighbouring zone. This could have a daisy chain effect on ultimately all 416 zones, driving the amount of available spectrum nationwide for 5G operations to the lowest common denominator. The whole concept is ill construed."

— CBA.
How difficult can it be?
For its part, TMUS appeared to claim in an FCC filing that a C‑Band incentive auction would be a model of simplicity itself.
"An incentive auction of the C‑Band spectrum… would have three simple steps. First, the Commission would hold a forward auction in which terrestrial operators bid to establish a purchase price for the C‑Band spectrum in every Partial Economic Area [PEA]. Second, that purchase price would be offered to satellite operators and earth station registrants. Third, the Commission would award the purchase price in the PEA to whichever group that is willing to clear the band for the least amount of money. The auction and associated clearing process can significantly reduce the time to make spectrum available and launch competitive [5G] services compared to the CBA proposal."

— TMUS.
Averting a mid‑band crisis
TMUS is pretty much on level pegging with larger rivals AT&T and Verizon Communications when it comes to mid‑band spectrum.
According to market research provider Allnet Insights, TMUS in early‑2018 held 69MHz of mid‑band assets when weighted nationally (Deutsche Telekomwatch, #73). AT&T was slightly ahead (73MHz) and "Big Red" slightly behind (68MHz). Sprint lagged with 37MHz. Allnet defines "mid‑band" as covering Personal Communication Services at 1900MHz and Advanced Wireless Services (AWS).
AWS spectrum ranges from 1695MHz to 2200MHz, stretching across four bands (AWS‑1 through to AWS‑4).
Nonetheless, TMUS remains hungry for more spectrum assets, represented by Chief Technology Officer Neville Ray's fondness for saying he has "never seen a MHz he doesn't like".
TMUS has repeatedly cited intent to roll out "broad and deep nationwide 5G coverage", enabled by the proposed Sprint merger and a multi‑band strategy, using 600MHz and 700MHz to underpin nationwide 5G rollout, and higher frequencies to increase indoor coverage and capacity.
In higher ranges, TMUS claims to already control 200MHz of millimetre waves (mmWave) across the 28GHz and 39GHz frequency bands. A Sprint acquisition would also provide it with sizeable 2.5GHz holdings.
"While the other guys [AT&T and Verizon] focus on 5G mmWave on a handful of blocks in a handful of cities, we're building 5G for everyone", John Legere, CEO at TMUS, bragged recently.