Q1 call sees new CEO Sievert riff on familiar Legere-era themes, taking aim at rival duo on pricing and service.
COVID-19 impact still being assessed, but mixed. TMUS responds with operational "re-evaluation" but cites commercial upside too.
Sprint merger: buying economies being accelerated, brands to be melded to support coming sales drive.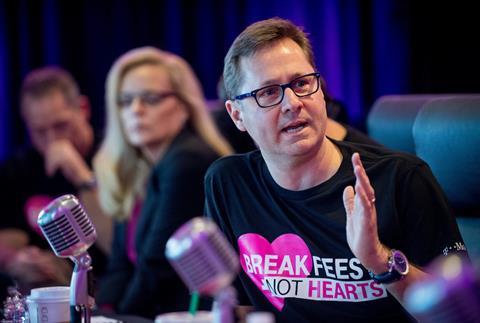 New T-Mobile US (TMUS) President & Chief Executive (CEO) Mike Sievert oversaw his first results call since moving into the NatCo's top job, and spent much of the hour and a quarter-long session seeking to re-frame a "crazy" three months.
With the quarter to 31 March 2020 (Q1 FY20) seeing the first fallout from COVID-19 hit TMUS' operations and customers, and executives simultaneously rushing to wrap up its mega-merger with Sprint (Deutsche Telekomwatch, #92), this was anything but a seamless transition into the new Sievert era.
The tone of the Q1 call was pretty much the same as before his appointment, however, with mingling-in of questions from Twitter and TMUS' cadre of top executives continuing to feed the T-Mobile underdog legend.
Sievert also enthusiastically took up the mantle of predecessor John Legere in taunting of main rivals AT&T and Verizon Communications.
In his opening statement, he slipped in the claim that the Sprint transaction — completed just after the close of Q1 — had seen opposition from the USA's traditional telecoms big two, given the challenge presented by a bulked-up and transformed TMUS. Highlighting the spectrum gains the NatCo was making by amalgamating Sprint, he said it was "no wonder they spent the last two years fighting the merger behind the scenes".
Publicly, at least, AT&T and Verizon tended to present themselves as relaxed on the Sprint–TMUS combination — and certainly not opposed from the off, as suggested by Sievert.
When the deal was announced in 2018, then-Verizon CEO Lowell McAdam told The Seattle Times that "we frankly don't care" whether it received a go-ahead from regulators, and successor Hans Vestberg told investors earlier in 2020 that the operator's strategy was "agnostic to whatever outcome" came out of the approval process. In late-2018, New Street Research cited AT&T CEO Randall Stephenson as suggesting he was supportive of the merger if it proceeded as originally laid out — but not if strings were attached that strengthened a competitor (as ultimately happened with mid-2019's Department of Justice ruling, seeing assets divested to Dish Network — Deutsche Telekomwatch, #89).
If AT&T and Verizon were actively seeking to stymy the transaction, this adds a bit more needle to Deutsche Telekom's (DT) recent suggestions that the deal went through with a lower-than-expected legal and regulatory burden (Deutsche Telekomwatch, #92).
CV19 and Sprint merger combine to speed up change agenda
The Q1 presentation saw TMUS executives do more AT&T- and Verizon-bashing as they reiterated growth plans for the scaled-up New T-Mobile and sought to stress the "temporary" nature of COVID-19 disruption. Nonetheless, it is clear the NatCo's refreshed leadership team is faced with a huge range of moving parts to manage for the foreseeable future. Takeaways from the call included:
COVID-19 muddiness still being worked through: Although TMUS continued to grow strongly in Q1, with a 5%-service revenue increase, COVID-19 had major impact on the NatCo's results, operations, and outlook before the three months was out. On a standalone basis (Sprint's data will not be amalgamated until Q2's results), the NatCo recorded 777,000 branded postpaid net additions, down from one million in Q1 FY19, and said it expected this to drop to "between zero and 150,000" in the current quarter — natural, given the closure of stores. TMUS did not provide FY outlook in its re-calibrated forward guidance, merely providing forecasts for Q2 and saying it will provide FY20 expectations when reporting that quarter. It recorded $117m in employee, commission, and cleaning-related costs linked with coronavirus during Q1, and sees $450m–$550m in pre-tax costs in Q2. The NatCo expects adverse impacts from the crisis to continue throughout FY20 and beyond. Bad debt trends are being "watched very closely".
Cost-saving measures in pipeline: Beyond immediate disruption and reaction, Chief Financial Officer Braxton Carter said TMUS was "in the process of re-evaluating our spending across various operating areas. We are taking action to adjust our spending given the significant uncertainty around the magnitude and duration of any recessional impact arising from the COVID-19 pandemic".
Summer sales push coming: At the same time, the pandemic was emphasised as a commercial opportunity for TMUS as customers look to optimise spend. TMUS will "continue to be there" for users seeking "better value", said Sievert. He added that he expects "AT&T and Verizon customers will most certainly be looking to get out from under their high monthly bills". While TMUS has been upping focus on retention in recent years, as acquisition has slowed, he hinted at a more aggressive go-to-market approach as pandemic containment measures ease. Churn will increase as "carriers won't be able to keep themselves from squeezing customers who are already budget-constrained", he said. TMUS plans to firm up orientation around the T-Mobile brand in summer 2020, when it expects this switching opportunity to "come to life".
5G ramping up: President of Technology Neville Ray continued to fly the flag for the NatCo's 5G plans, now boosted by the Sprint 2.5GHz holdings TMUS so coveted. Despite containment measures, he said the NatCo had 5G-enabled 2,600 sites in the first four months of 2020, including more than 1,000 in April 2020. Ray also highlighted the operator's implementation of a tri-layer 5G network in New York, and a 2.5GHz-based switch-on in Philadelphia that is said to have served up 600Mbps peak speeds in testing. He again scoffed at Verizon's focus on Dynamic Spectrum Sharing and high-band rollout in its 5G strategy (Deutsche Telekomwatch, #90). Just before the Q1 announcement, TMUS flagged various "world-firsts" on 5G development alongside partners Cisco Systems, Ericsson, MediaTek, Nokia, OnePlus, and Qualcomm Technologies. These revolved around 5G Standalone-based data and voice services, and video- and voice-over-New Radio technologies.
Suppliers to be squeezed, faster: As well as being forced to tool up for a battle to maintain relationships with the integrating Sprint and TMUS, vendors have been buffeted in recent months by the uncertainty surrounding the merger and the overrun in securing approval (Deutsche Telekomwatch, #92 and passim). Now, they look set to see the pressure ratcheted up further, with Sievert emphasising plans to more quickly bring TMUS' new scale to bear on its supply chain. "Procurement looks like an area of possibility to exceed plan", he said.
Upside of the delay to Sprint approval: Beyond procurement, Sievert said TMUS was looking to move "faster and bigger" on Sprint synergies — which are tabled to grow to more than $6bn, annually, from the medium-term, and turn TMUS into a huge cash cow for parent DT (Deutsche Telekomwatch, #73). Sievert noted the integration plan was now two years old, following the prolonged approval effort. He flagged particular opportunities for "acceleration" of retail rationalisation and network integration.