Initial, mmWave-based rollout restricted to parts of six cities.
TMUS keeps promise on pricing 5G the same as LTE.
Partners with Qualcomm, Ericsson to test 5G data session using 600MHz.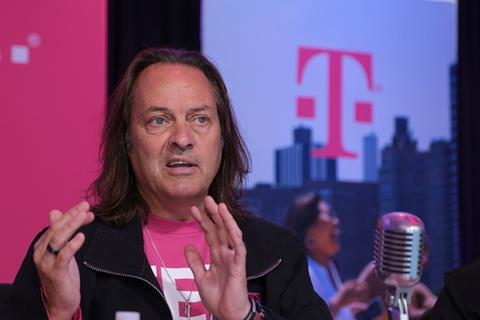 There was little fanfare when T‑Mobile US (TMUS) launched 5G commercial services on 28 June 2019. Rather than foreground network capabilities, something which TMUS is not normally shy about, the NatCo highlighted availability of the Samsung Galaxy S10 5G smartphone.
TMUS is playing the long game. It clearly prefers to talk about plans for deeper and broader 5G coverage than its rivals, once its spectrum arsenal starts firing on all cylinders — rather than make too much fuss about what was after all a modest launch.
John Legere, Chief Executive of TMUS, seemed much more interested in patriotic flag-waving and making (familiar) barbs about others. "Unlike the other guys, we believe 5G should cover people near and far — especially those in rural America", he said. Legere reiterated his claim that the Sprint–TMUS merger — now seemingly nearing completion (see separate report) — will see the NatCo "build a 5G network for all… the kind of 5G network America deserves".
No 5G premium
TMUS kept good on its promise not to charge extra for 5G (Deutsche Telekomwatch, #81). Neither has it abandoned a more ambitious pledge to offer 'unlimited' 5G data tariffs. Whether or not these 'unlimited' plans will involve any speed restrictions, once customers go beyond certain limits, remains to be seen. By pledging not to raise prices, TMUS had a firm eye on antitrust regulators weighing up the proposed merger with Sprint. It has already promised not to raise prices for at least three years, in a bid to help secure the tie‑up's approval.
Patchy mmWave coverage
Initially, 5G coverage is restricted to parts of just six urban areas: Atlanta, Cleveland, Dallas, Las Vegas, Los Angeles, and New York, but expansion to other markets may follow relatively swiftly. Previous reports suggest TMUS had activated 5G networks in 30 cities by the end of 2018, as per a previous pledge, but was waiting for compatible devices to become available before bringing the service live, commercially.
Nonetheless, within that footprint, signal distance will be hampered by TMUS' sole reliance on millimetre wave (mmWave) spectrum for its initial 5G offering. Although capable of much faster data speeds than low-band airwaves, mmWave is comparatively poor when it comes to signal attenuation. Reassuringly for first adopters, the Galaxy S10 5G switches automatically to 4G when outside the range of the speedier network.
The official TMUS announcement did not name the mmWave frequency used, although the NatCo now has more high‑band spectrum to play with following recent auctions of 24GHz and 28GHz airwaves (Deutsche Telekomwatch, #84).
According to Allnet Insights & Analytics, a spectrum tracking specialist, TMUS now claims a 48% market share of 24GHz bandwidth, although only a 7% share of spectrum between 28GHz and 31GHz. TMUS claimed before the auctions took place that it had 200MHz of airwaves at its disposal across the 28GHz and 39GHz frequency bands, although Deutsche Telekomwatch is not entirely clear about the extent of geographical coverage.
Low-band prep
In what they claimed was a world first, TMUS, Ericsson, and Qualcomm conducted a low‑band 5G data session on a commercial 5G modem. The test was carried out in TMUS's lab in Bellevue, Washington, using frequency division duplex (FDD) 600MHz spectrum. The mobile test device was equipped with the Qualcomm Snapdragon X55 5G modem, which is FDD-compatible. Ericsson supplied commercial 5G radios. Neville Ray, Chief Technology Officer at TMUS, lauded the test as a "key step" towards realising the NatCo's vision of "5G for All".
The claim of a world first apparently rests on the use of Qualcomm's commercially available modem. In December 2018, TMUS also claimed to have conducted the world's first 5G data and video call across 600MHz airwaves, only this time the 5G data session was performed in collaboration with Ericsson and Intel (Deutsche Telekomwatch, #80). During the tests, the teams apparently generated a 5G signal capable of covering more than 1,000 miles2 from a single tower.
The test was not just focused on lower‑band 600MHz frequencies. With an eye on commercial rollout of mmWave spectrum as part of a multi‑band 5G strategy, TMUS said it managed a tri‑band 5G video call with three users on different spectrum ranges: 600MHz, 28GHz, and 39GHz. There was no mention of data speeds achieved over the respective bands, although mmWave-based 5G connectivity — delivered over shorter distances — should be much higher than at 600MHz.
The TMUS 5G coverage mantra, to go broad and deep, will use 600MHz and 700MHz to underpin nationwide rollout, and higher frequencies to increase indoor coverage and capacity. "When we get the terminals in the second half of 2019, we're going to be lighting up an enormous footprint on 5G, an enormous footprint on 600MHz, and we have a lot of spectrum I should point out", said Ray, recently (Deutsche Telekomwatch, #84). TMUS aims to have a nationwide 5G footprint in place by 2020.
A big current TMUS weakness is an absence of mid‑band spectrum in sub‑6GHz categories, but this is something Sprint's 2.5GHz holdings would fix.