Kinexon raises $130 million in largest financial round to date.
Business provides solutions for major sporting organisations such as the NFL, FIFA, and the NBA, as well as strong presence in production and logistics industries.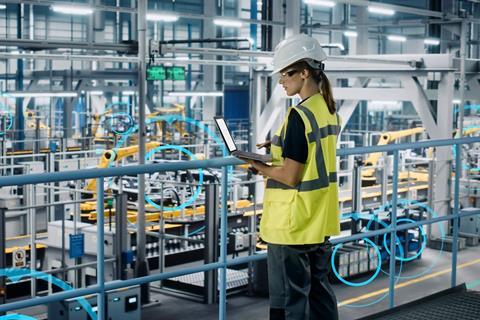 Telekom Innovation Pool (TIP) took part in a $130m (£112m, €133m) investment round for IoT specialist Kinexon.
Kinexon — a Munich-based startup — is targeting "gigantic market potential" in the wake of its largest financial boost to date, co-founder Oliver Trinchera told the Handelsblatt.
The round expands a pre-existing relationship with DT. Kinexon has previously contributed to Deutsche Telekom IoT (DT IoT) projects, most recently trialling a SafeTag wearable in the German ice hockey league (Deutsche Telekomwatch, #103).
DT IoT Chief Executive Dennis Nikles said DT's 5G capabilities "pave the way for co-development opportunities" between the two businesses.
Founded in 2012, Kinexon has forged relationships with major players across the production, logistics and sports industries. In May 2021, it partnered with FIFA, the world football association, to provide analysis software and smart sensors, and claims to provide similar services to more than 400 sports teams and leagues.
Kinexon integrates chips into football shirts, transmitting statistical information to coaches and broadcasters, from positional heatmaps and strategical analysis to player conditioning and performance.
A similar chip will be installed inside match balls in the Portuguese football league in May 2022, tracking data such as shot speed and pass paths. Kinexon also flagged working relationships with German teams Bayer Leverkusen and RB Leipzig and "numerous clubs" in the NFL and NBA.
Setting new standards
Despite strong partnerships within sport, Kinexon's position in the industrial segment would appear to be even more significant. It has a well-established relationship with BMW Group, which, following yesterday's investment round, now holds a minority stake in its long-term partner. The investment was made via venture capital company BMW i Ventures.
Kinexon's technology has been implemented at BMW Group since 2017, installed to "recognise, observe, and automate a broad variety of manufacturing and logistics processes with utmost precision", according to BMW.
In a statement, it explained, "In car manufacturing, [tens of thousands] of components have to be available at exactly the right place on the production line, right beside the tools that will be used – and all of them just in time."
In addition, the technology can determine where a forklift is located, while driverless transport vehicles and robots can be controlled remotely.
Milan Nedeljković, Board Member for Production at BMW, believes the strengthened relationship will allow the two companies to "set new standards in digital production steering".