Acceleration follows formation of Sporttotal subsidiary Forty10 in February 2022.
Forty10 will act as producer for MagentaTV's 2022 FIFA World Cup coverage.
Success cited in amateur sport, with almost 300 Bavarian clubs utilising Sporttotal's 5G live streaming technology.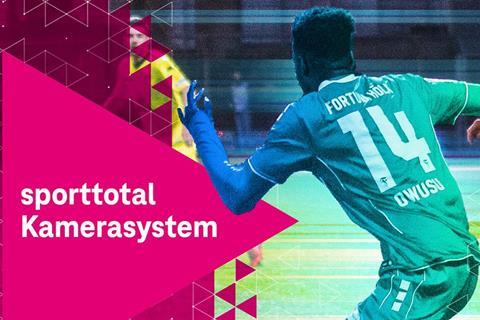 Telekom Deutschland's 5G streaming partnership with Sporttotal gathered pace as the 2022 FIFA World Cup draws closer.
Posting on LinkedIn in early-August, Hartmut Wittig, VP, Portfolio and IT Product Management IT, Telekom Deutschland, claimed a "whole new quality" of sports broadcasts and training analyses is being delivered by the pair's AI-driven 5G camera.
"Artificial intelligence will be significantly accelerated by 5G", Wittig asserted, highlighting availability for all forms of clubs: professional, amateur, football or otherwise.
TDE's 5G camera system, the partners said, is controlled and tracked by Sporttotal's AI technology, which "independently recognises the game situations and ensures a dynamic viewer experience".
Kicking off
In mid-February, Sporttotal announced that its newly formed subsidiary Forty10 had secured a "multi-year" production contract with Deutsche Telekom, tasked with switching the MagentaTV offering from live TV production to remote production. At the time, Sporttotal said it anticipates growing annual revenue contribution from Forty10 "in the double-digit million range", adding that, moving forward, Forty10 will "develop content-related services and business models".
It is also said to be working on "strategies" for building a "state-of-the-art" TV studio at Telekom Deutschland's headquarters in Bonn.
Michael Schuld, Head of TV, Deutsche Telekom, said the operator's productions will become "significantly more efficient in the future as we plan to increasingly opt for non-legacy production methods".
Peter Lauterbach, Sporttotal Chief Executive, has ambitions for Forty10 to become "Europe's foremost cutting-edge production house".
The partnership goes back further to September 2021, when Sporttotal signed a five-year collaborative agreement with Telekom Deutschland to "forge ahead with medialising sports". At the time, Sporttotal was working with four of five regional football leagues and broadcasting "eight kinds of sports live or on-demand" via its Sporttotal.tv streaming platform. It cited "huge market potential", with 25,000 football clubs and 90,000 sports clubs to target.