Commercial smart speaker available.
Expansion of smart homes services.
Magenta VR on display.
Wi‑Fi optimisation at home.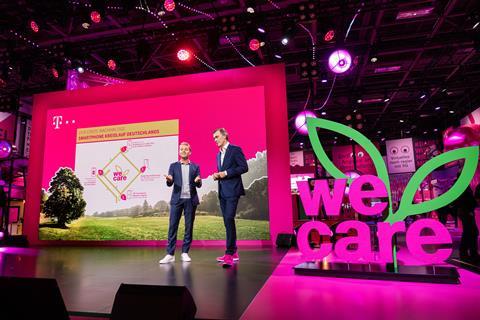 Telekom Deutschland (TDE) made a determined effort at the Internationale Funkausstellung (IFA) trade show to reassure investors and analysts that it had no shortage of ideas regarding how to retain and attract broadband customers. The NatCo, which is under major pressure in the broadband market, announced commercial availability of the long-awaited Smart Speaker and accompanying Hallo Magenta voice assistant, developed in collaboration with Orange (Deutsche Telekomwatch, #81), while more products and services were added to TDE's Magenta SmartHome range. Wi‑Fi optimisation, to improve signal strength throughout the house, was another development.
IFA, held in early-September 2019, was a timely event for TDE. Only a few weeks before the trade show, when Deutsche Telekom (DT) reported its results for the quarter to 30 June 2019 (Q2 FY19), shareholders appeared to be spooked by DT's concession of "softness" in Germany's wireline broadband market (Deutsche Telekomwatch, #86). TDE's net broadband adds have been on a slide for several quarters, while cable and telco competitors have maintained a higher rate of expansion.
Home improvements
TDE launched various home-based products and services at IFA, ostensibly designed to reduce churn within its residential user base.
These included:
Smart Speaker. TDE launched what it called the "first smart speaker made in Europe", furthering the Group's focus on 'voic-ification' (see separate report). Developed by DT and Orange, the speaker is described as providing "maximum data security". Following the Group playbook of stressing privacy protection in products, data captured by the Smart Speaker is being processed "exclusively" within the European Union (EU), and complies with DT's "strict data protection standards". By referencing EU security regulations, TDE is no doubt implying that US‑based rivals Amazon, Google, and Microsoft — which have all made strong headway in the voice assistant market — are not as trustworthy when it comes to the handling of personal data. The Smart Speaker has been undergoing testing in a beta trial since late‑2018 (Deutsche Telekomwatch, #76). Other partners in the platform include Amazon, Nuance Communications, and the Fraunhofer-Institut für Digitale Medientechnologie (Deutsche Telekomwatch, #71). Perhaps as a concession to the popularity of Alexa, Amazon's voice assistant, TDE has incorporated it into the Smart Speaker as a "second voice service" alongside its own Hallo Magenta system.
Virtual reality (VR). TDE showcased Magenta VR, an interactive app for 360‑degree and VR videos. The Basketball World Cup in China was among the events featured. To mark the 30th anniversary of popular German band Die Fantastischen Vier, TDE claimed a world-first 6‑degrees-of‑freedom (6DoF) VR take on the pop group. The audience could apparently link up with band members as they are today and as their younger selves — 6DoF refers to 'freedom of movement' in three-dimensional space. The Magenta Virtual Reality app works on Android and iOS devices, as well as standalone platforms Daydream and Oculus that use VR headsets. The app includes a "lounge room" where users can "hang out" together as avatars.
Smart-home additions. New partners and products were added to the Magenta SmartHome range, underpinned by DT's QIVICON connected‑home platform (Deutsche Telekomwatch, passim). Additions included a Bosch-made robotic vacuum cleaner; Logitech's HarmonyHub (which purportedly connects "thousands" of entertainment devices); and the Tado air conditioning controller. TDE further announced extended links between Bosch-Siemens Home Appliances and Magenta SmartHome. Smart indoor and outdoor cameras from Netatmo, designed to boost property security, have also been added to the portfolio. The indoor camera uses facial recognition to identify residents and report unknown people, while the weather-proof outdoor version differentiates between people, animals, and cars. In future, TDE said customers will be able to control smart-home functions from their car using CarConnect, the vehicle monitoring solution it debuted in 2017 alongside Canadian startup and Group minority investment Mojio (Deutsche Telekomwatch, #66). No timeframe was given for commercial launch, although TDE previously indicated that "digital car‑related services" for the home were due for release during 2019 (Deutsche Telekomwatch, #66).
Wi-Fi optimisation. The WLAN Paket plus tariff now includes two Speed Home Wi-Fi units that use mesh Wi‑Fi technology to help extend wireless signals throughout homes. Included is a "fully comprehensive service" for questions related to home networking. TDE experts are apparently on hand to help "set up and optimise Wi‑Fi", either over the phone or via remote access. "We're creating genuine added value for our customers that is unparalleled on the market", boldly asserted Ferri Abolhassan, Director of Service at TDE.
Network advances
Also at IFA, TDE claimed that it had reached more than 30 million households with speeds ranging from 50Mbps to 250Mbps (with souped-up copper lines), and some 1.1 million households with speeds of up-to-1Gbps (via fibre‑to-the‑home links).