Claudia Nemat calls for industry to step up on sustainability and human-centred tech development, amid wave of global crises.
DT adapts MWC presence in light of Ukrainian situation.
"Intensive discussions" took place over event withdrawal.
Robbie Williams demo cancelled.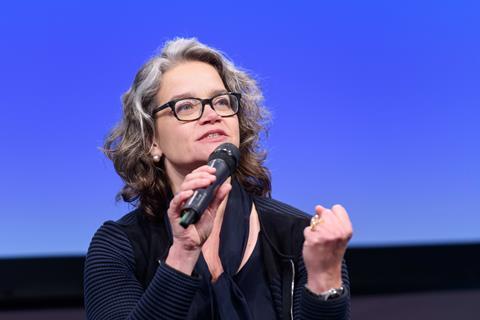 Claudia Nemat, Deutsche Telekom's Head of Technology & Innovation, made a plea for the industry to humanise technology development in an emotionally charged speech at Mobile World Congress yesterday.
Speaking on DT's stand, a tearful Nemat said she was "deeply saddened and shocked" by the Russian invasion of Ukraine, and reflected on what the situation — and broader social and environmental crises taking place globally — will mean for "business people, for myself".
She called the war a catastrophe that "overshadows all the other crises we are facing", including the "pandemic, geopolitical conflict between China and the US, supply chain crisis — and let's not forget the devastation of our planet, the climate crisis".
Nemat said the operator's leadership had held "intensive discussions" about whether to pull out of MWC, but decided to continue with an adapted programme, while cancelling a planned showcase of artificial intelligence with singer Robbie Williams.
It had been important to "reconnect, re-meet, to see each other especially after two years of being almost only remote", asserted Nemat. The industry does not "need to hide in front of those who want to destroy peace and freedom in this world", she added.
" Please, let's be here for each other. Let us defend our beliefs, our beliefs on peace and freedom. Let us be brave. "

Nemat.
Positive energy
Nemat — a regular, vocal advocate of ethics-led tech development (Deutsche Telekomwatch, #111 and passim) — acknowledged that technology "will not create peace in the world", but expressed her belief that "digital technologies can help us with some challenges".
Telcos need to "deliver meaningful technology" and "products and solutions that are good for people… that solve relevant problems, and that are sustainable, socially and ecologically", she said.
Regarding sustainability, Nemat outlined plans to tighten emissions reduction responsibilities on DT's suppliers. The sector had "no time for greenwashing", she said.
" My personal conviction is in business: every business model will be replaced by a more sustainable version of itself. Every business model will be replaced by a more ethical and social version of itself. And every business model will be replaced by a more secure version of itself. "

Nemat.
She also touched on the polarisation of society and proliferation of hate speech and fake news, closing out her speech by highlighting how the pandemic had made people "thin-skinned". "Let us be kind, let us be kind to ourselves and to each other. So therefore I would say let us be human, human to other human beings. Thank you".
CEO concerns
Nemat was by no means the only top executive to touch on the Ukrainian invasion's ethical implications for the industry during MWC yesterday.
Telefónica Executive Chairman José María Álvarez-Pallete — who also regularly warns on the societal dangers of unchecked digital tech development (Telefónicawatch, #161 and passim) — said the events in Ukraine had "reminded us that technology lacks values".
Vodafone Group Chief Executive Nick Read described the crisis, via Mobile World Live, as the industry's "most pressing issue".
" It adds to the world facing political, economic, social, and environmental turmoil all at the same time. We are all going to have to dig very deep to overcome these challenges. As an industry it is our obligation to do our part — and through our technology, we clearly have a lot to offer. "

Read.