Campus networks in focus at Hannover Messe event.
T-Systems develops edge offerings with AWS.
AI-managed service and industrial IoT apps added to campus portfolio.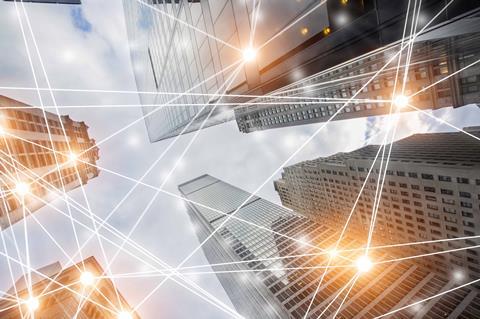 T-Systems fleshed out more of its offerings for campus networks during the virtual HannoverMesse event, with an emphasis on its "end-to-end ecosystem" that brings together 5G, edge computing, and artificial intelligence (AI) for industrial environments.
Deutsche Telekom's (DT) IT services division has been signalling its intent to pursue campus networks and play a bigger role as systems integrator (SI). In February 2021, T-Systems expanded its partnership with Ericsson to deliver an "integrated end-to-end solution" for campus networks to new markets outside Germany (Deutsche Telekomwatch, #93 and #101–#102).
During the HannoverMesse event in April 2021, T-Systems presented a new CampusEdge Framework based on Amazon Web Services (AWS) cloud services and an AISolution Factory offering, alongside a collaboration with German IT specialist GFT for industrial Internet of Things (IIoT) applications.
Campus framework built on AWS
T-Systems works with several edge computing providers, including AWS, Google, and Microsoft, as well as providing its own edge compute platform, EdgAir, which is based on OpenStack and uses edge cloud infrastructure software from Wind River (Deutsche Telekomwatch, #99 and #101–#102). However, the new CampusEdge Framework is built specifically on AWS cloud platforms and services.
T-Systems provides the consulting, connectivity (from DT), integration with third-party networks, security services, as well as operations and service maintenance. The offering is described as having four layers:
Connectivity (4G/5G/WiFi6 provided by DT with partner Ericsson).
Computing (a "continuum" of AWS cloud resources from Regions to Outposts, as well as "near" or "on-device" edge computing services, such as AWS IoTGreengrass and AWS Snow family of edge platforms).
Services.
Applications.
"For manufacturing companies … everything is about how to bring digital-enabler technologies —such as AI, robotics, augmented reality, to the very edge where the sparks fly —onto machines and onto devices. Information technology (IT) and operational technology [OT] are melting together", said Dirk Reinert, Lead for Campus Edge Solutions at T-Systems International, speaking during a HannoverMesse presentation on "Why edge is the new cloud for factories".
T-Systems has partnered with AWS since 2018. The companies expanded their relationship with a new multi-year strategic collaboration agreement announced in December 2020. The CampusEdge Framework looks to be an early result from the renewed relationship.
For AWS, edge computing in campus networks is an "extension of the cloud", said Michael Hanisch, Head of Technology at AWS EMEA. "It's a continuum between the far edge and the massive scalability of the cloud, and it's about identifying where you place which parts of your systems that are best suited to support your workloads".
From T-Systems' perspective, a campus network implementation should be part of an enterprise's digital strategy, rather than deploying one-off use-cases in siloes.
"I think every one of our clients is on their digital transformation journey", said Stephan Salmann, Vice-President for Technology, Architecture & Innovation at T-Systems, speaking from the Center Connected Industry (CCI) site at the RWTH Aachen University, where DT and Ericson have deployed a 5G standalone private network as a testbed for industrial use-cases (Deutsche Telekomwatch, #79 and #96).
"We often have isolated discussions [with clients] about individual use-cases and tend to build them up in isolation. I think that would be a big mistake. We base all of this on the backbone of connectivity and processing platform, then we have the foundation for any kind of digital growth in a factory. This is where the journey has to start."

Salmann.
AI-powered factories and digital twins
Among the other announcements was T-Systems' AISolution Factory, described as a managed service that simplifies the use of AI in industrial environments. The offering is said to provide a standardised environment for developing AI services linked to existing business systems that T-Systems integrates with any edge or hyperscaler platform.
T-Systems also announced an IIoT offering for manufacturers in collaboration with GFT to support applications such as predictive maintenance for equipment in factories. The service combines GFT's "SphinxOpen Online" digital twin platform, AI, and data analytics capabilities with edge computing from T-Systems. The solution collects data from various sensor devices and the data is processed and analysed locally. T-Systems claims "errors in production are detected up to 300% faster".
Summing up his video presentation from the CCI site at Aachen, Salmann said "OT, IT, and communication technology are growing together, and 5G and edge are playing a central role in this. They provide a platform for the further development of [clients'] campus. We have built an end-to-end ecosystem around these technologies … and provide the foundation [for our clients] to implement their own ideas on this platform".

Michelle Donegan is an experienced telecoms writer and has been contributing as a reporter and news analyst for TelcoTitans since July 2020.