Data privacy remains a key stumbling block.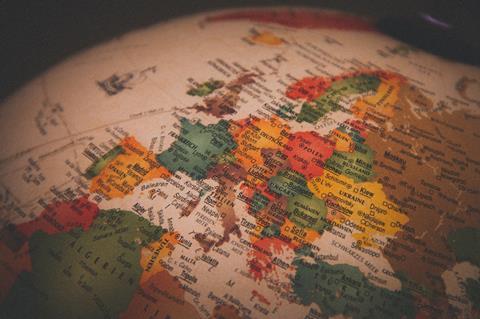 Andreas Dittrich, Head of the Blockchain Solutions Centre at T-Systems Multimedia Solutions (MMS), is optimistic that efforts to create a blockchain solution for asylum management in Germany could eventually be implemented throughout Europe.
Dittrich, who was speaking during the Public Administration Track of the Blockchain-in-use Conference last week, singled out the T-Systems-supported Corona-Warn-App as a "very positive example" of a German project that has now been adopted by a number of other European countries (Deutsche Telekomwatch, #95–#98).
While conceding that blockchain technology was not used in the contact-tracing app, which was developed by T-Systems and partner SAP, he said the fact that the app is now interoperable with other national applications via a European gateway attests to the ability of European countries to collaborate on technology initiatives.
During his presentation, Dittrich mainly focused on a German project that aims to develop a GDPR-compliant blockchain solution to improve the management of asylum seekers in the country.
The project is an initiative of the Bundesamt für Migration und Flüchtlinge (Federal Office for Migration and Refugees/BAMF). T-Systems is one of the technology partners involved, and a BAMF whitepaper also referenced the participation of the Fraunhofer Institute for Applied Information Technology.
Following the completion of a proof-of-concept in 2018, the scheme is now at the pilot stage and has been dubbed Projekt Flora, according to Dittrich. The BAMF whitepaper noted that this pilot is being carried out at the AnkER facility in Dresden in collaboration with the regional government of Saxony, and is based on Hyperledger Fabric technology.
AnKER facilities refer to the new asylum centres that were first introduced in Germany in 2018.
Joining the dots
The BAMF whitepaper notes that a large number of different federal and state authorities are involved in the asylum procedures, and that central control by a single workflow management system is "virtually impossible" because of all the various sub-processes at work.
"What the German asylum procedure requires instead is a coordinated approach and a distributed IT solution that distributes process updates to all participating authorities in a secure and speedy fashion that will allow said authorities to initiate coordination measures independently and whenever necessary", the BAMF said. "Blockchain technology can provide a very promising basis for such an IT solution", it added.
The whitepaper also noted that blockchain, "if applied in the asylum context", would serve as a "digital enabler" of European federalism and "may very well constitute a further step towards a united, fully integrated Europe".
Dittrich discussed some of the specific challenges of the project, such as the need for collaboration among various German government agencies in different federal states. "We have complex processes… and you have to adhere to diverse legal requirements, and not everyone has the same interpretation of the laws", he said.
Privacy importance stressed
"Of course, data privacy is a huge issue," he added. In fact, Dittrich thinks that the use of blockchain makes it harder to guarantee data privacy, and said the emphasis should be on minimising how much personal data is collected from the outset. "Data privacy needs to be included by design right from the beginning, whenever you start a project, and this hasn't changed just because we are working with blockchain", he said.
Work in progress
As to the current status of the pilot, Dittrich said the blockchain-powered process is "actually live" and running alongside the traditional process. "Unfortunately it's still not there", he said, citing issues such as the lack of a unified standard for IT across Germany and general incompatibilities between systems and processes. "And then, we have to be honest, we are not fully digitised yet", he added.

Anne Morris is a freelance journalist, editor and translator. She has been working as a reporter and news analyst for TelcoTitans since 2016.