Deal agreed after exchange of words over pace of 5G network buildout.
Agreement worth $17bn over 15 years.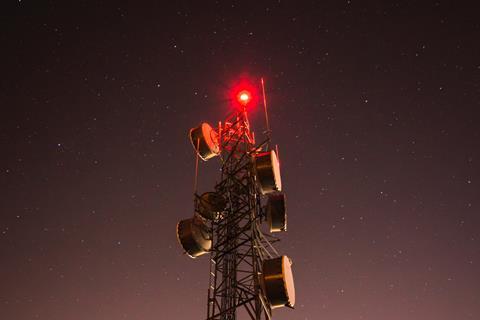 T‑Mobile US (TMUS) signed what appeared to be its first lease contract with a US tower company since completing its merger with Sprint, announcing a new 15‑year agreement with American Tower.
According to an SEC filing, American Tower will gain incremental revenue of about $17bn (£13.1bn/€14.3bn) over the term of the deal, and will recognise $95m in additional revenue in 2020.
Neville Ray, President of Technology at TMUS, said the deal will "accelerate our aggressive 5G build", and "allows T‑Mobile to increase momentum on its rapid 5G deployment".
Towerco talk
The new tower agreement is set to build on the NatCo's 5G rollout progress to date. Reports also suggest that similar lease agreements with the other two major US towercos, Crown Castle and SBA Communications, will be signed soon.
The arrangement with American Tower comes weeks after TMUS was stung by inferred criticism from the towercos that the pace of its 5G rollout has been slower than expected following the completion of the Sprint merger. American Tower said during its earnings call in July that it had reduced its 2020 growth outlook from 5% to 4.5% as a result.
Jeffrey Stoops, Chief Executive of SBA Communications, also said its business had been impacted by a "slower start than we had anticipated from T‑Mobile after the closing of their merger with Sprint".
At the same time, Stoop noted that TMUS "has a lot to do to meet their required 5G coverage goals, including upgrading the majority of their sites with either 2.5GHz or 600MHz spectrum, and we expect to be a valued partner to them in meeting their build‑out objectives".
Mike Sievert, Chief Executive of TMUS, provided a robust response to claims that the NatCo has been less sprightly with 5G than expected. Speaking during the NatCo's Q2 FY20 earnings call, he accused the tower companies of "spreading some disinformation about our pace".
"We're running really fast. The reason it feels tough over there at the tower companies is because both standalone T‑Mobile and Sprint were planning on lots of new sites, Sprint for coverage and T‑Mobile for capacity. New T‑Mobile has synergies. That's called site avoidance. And I know that's tough if you're a tower company because billions and billions of dollars of site avoidance causes the kinds of comments you're now hearing from them", Sievert said, according to a transcript of the call.
Stoop conceded that TMUS has been focusing on getting its house in order, "choosing to initially focus on closing the Boost deal with Dish, integrating workforces, and delivering on synergies. In typical T‑Mobile fashion, they seemed to have acted quickly, decisively, and thoughtfully, and now have the organisation they want in place to turn full attention to their network development needs and obligations".
American Tower and Crown Castle are the top two US towercos, according to Inside Towers. The news outlet said American Tower is the largest independent towerco in the world with a portfolio of about 180,000 towers in 19 countries (American Tower says 181,000 on its web site). The US portion is said to consist of nearly 41,000 macro towers and rooftops or 23% of its global tower base. Crown Castle operates just over 40,000 towers in the US.
Stepping up on 5G
TMUS has certainly been engaged in a flurry of 5G activity in recent months. For example, it has been switching on the 150MHz of mid‑band 2.5GHz spectrum it gained through the Sprint acquisition, recently claiming it can now offer peak download speeds of up to 1Gbps in close to 90 towns and cities across the USA and will cover "thousands more" this year.
During the Q2 earnings call, Ray said TMUS was upgrading 700 sites a week and rising. "I really want to break the back of the 2.5GHz deployment over the next 18 months", he added.
The NatCo subsequently flagged a collaboration with Ericsson on a demonstration of 16‑layer multi‑user multi-input multi‑output (MU‑MIMO) technology that showcased peak cell throughput of more than 5.6Gbps on one 2.5GHz channel. TMUS said it expects to begin deploying the technology in 2021.
In August, it launched what it said was the world's first standalone (SA) 5G New Radio (NR) network. The NatCo said it was able to increase its 5G footprint by 30% and covers 1.3 million square miles in more than 7,500 cities and towns using low‑band 600MHz spectrum. Longstanding infrastructure suppliers Cisco Systems and Nokia provided core network capabilities, while both Nokia and Ericsson supplied radio kit.

Anne Morris is a freelance journalist, editor and translator. She has been working as a reporter and news analyst for TelcoTitans since 2016.