Go-to-market growth momentum maintained, easing concerns around new December 2019 completion target for deal.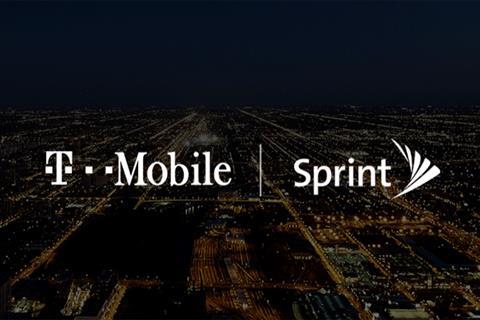 Deutsche Telekom (DT) was again able to shrug off ongoing delay and uncertainty around US regulators' Sprint-T-Mobile US (TMUS) merger review, as the American NatCo delivered another round of hard-hitting commercial numbers.
TMUS' results for the quarter to 30 June 2019 (Q2 FY19) featured the familiar storyline of aggressive, customer acquisition- and retention-fuelled top-line growth. Highlights included:
An uprating of TMUS' FY19 branded postpaid net additions forecast, to 3.5 million-four million, after it boosted the key user segment by 1.1 million during Q2. TMUS therefore repeated its twin, signature tricks of surpassing one million branded postpaid adds each quarter, and uplifting commercial guidance to put extra gloss on performance data.
A drop in branded postpaid churn to below 1% (0.9%) on DT's basis of tracking, possibly for the first time. TMUS pegged branded postpaid phone churn at an "all-time record low" of 0.78%. This will have been especially pleasing to Group leadership, which has highlighted customer loyalty as a key focus area for FY19 (Deutsche Telekomwatch, #83).
Deutsche Telekom, US area operational indicators, Q2 FY19

Q2 FY18

Q2 FY19

Change

Sources: DT and Deutsche Telekomwatch.

Customers ('000)

Total

75,619

83,052

9.8%

Branded contract

40,082

44,646

11.4%

Branded prepaid

20,967

21,337

1.8%

Average revenue-per-user

Branded contract

€36

€37

2.8%

Branded prepaid

€31

€33

6.5%

Churn

Branded contract

1.1%

0.9%

-0.2pp

Branded prepaid

3.8%

3.5%

-0.3pp
A 4% increase in total revenue in dollar terms, jumping to an 11.4% growth figure when translated into DT's euro-based P&L, reflecting the relative rise in the dollar seen since early-2018. TMUS remains tantalisingly close to matching DT's Europe, Germany, and Systems Solutions segments in terms of revenue contribution (€9.83bn, versus €10.04bn, during Q2), as another nod to DT's newly-acknowledged "Trans-Atlantic" character.
A 7% rise in adjusted earnings before interest, taxation, depreciation, and amortisation, in dollar terms, prompting a narrowing (and effective increase) in TMUS' FY19 forecast range.
"I am particularly proud of the team's ability to maintain our incredible momentum while working to complete our merger with Sprint. Most companies would be distracted and take their eye off the ball. And I know there's been a lot of speculation around whether we can get all this done and drive our business. Our Q2 results are the strongest proof yet that this team really can execute."

– John Legere, Chief Executive (CEO), TMUS.
Deutsche Telekom, US area financial summary (as reported), Q2 FY19

Q2 FY18

Q2 FY19

Change

Note: * Cash capex line includes spectrum purchases.
Sources: DT and Deutsche Telekomwatch.

Total revenue

€8,821m

€9,826m

11.4%

EBITDA

€2,522m

€3,334m

32.2%

EBITDA margin

28.6%

33.9%

5.3pp

Depreciation, amortisation, impairment

-€1,321m

-€1,870m

41.6%

Operating profit (EBIT)

€1,201m

€1,464m

21.9%

Cash capex *

€1,353m

€2,272m

67.9%
Sprint-TMUS tie-up now a FY20 thing?
While impressive, TMUS' quarterly performance updates continue to represent a bit of a side-story in the saga of whether the Sprint merger will get a legal and regulatory green light, and the business' expansion can be given a significant further boost.
TMUS shares actually took a slight dip in the wake of the Q2 disclosure, after last-minute rescheduling of the management presentation seemed to raise – and then dash – hopes that the results would be accompanied by confirmation of Department of Justice (DoJ) approval for the deal. TMUS ended up actually announcing the DoJ's consent the day after its Q2 release, on 26 July 2019 (Deutsche Telekomwatch, #85), with the confusion suggesting some late-hour snags before everything got fully tied down.
As noted, the terms of the DoJ Consent Decree appear positive for DT and TMUS (causing neither a departure from TMUS' synergy plan, nor drastic competitive concerns from forced asset divestments to Dish Network), and saw the NatCo's shares rebound strongly.
However, the approval process is now in its 17th month and has extended beyond the Group's original 30 June 2019 target. It may now not be wrapped up until after December 2019, when a grouping of state attorney generals that are seeking to block the deal have requested their case is heard (Deutsche Telekomwatch, #84). TMUS' leadership has indicated that the operator does not intend to close the acquisition before the outcome of the case becomes clear. A Fox Business report suggested TMUS and Sprint executives are exploring the possibility of a settlement, which would speed things up, but representatives of New York Attorney General Letitia James denied talks were taking place.
The attorney generals' challenge is seen as the largest remaining obstacle to the deal's completion, and commentators' views of its threat level vary widely. Nomura Instinet Analyst Jeffrey Kvaal deemed it "formidable", noting the now-mixed political make-up of states involved gives the challenge a "bipartisan tone". Beyond it, DT and TMUS need to firm up approval by the Federal Communications Commission, whose leadership has given positive signals. They have already gained the go-ahead from the Committee on Foreign Investment in the USA and a cross-regulator "Team Telecom" review panel (Deutsche Telekomwatch, #79), as well as all but one of the required state Public Utility Commissions (California being the holdout).
Höttges keeps zen re. entanglements
DT CEO Timotheus Höttges was relatively relaxed about the Sprint-TMUS lag – evidently buoyed by having cleared the DoJ hurdle and TMUS' ongoing momentum as a standalone business.
"We are focusing now on the 9th of December with regard to the next milestone, and almost the last milestone in these long procedures here. It's not good that we have so long [a] time period of uncertainty. But if you look to our operational performance, if you look to the T-Mobile business, I'm not so worried. I'm not worried too much because we are working on a very strong operational track here and I do not see why this should break within the next four or five months."

– Höttges.
Höttges backed up TMUS executives' assertion that the DoJ-imposed customer, brand, and spectrum divestments to Dish do not sour the overall Sprint-TMUS business case (i.e. encompassing short term balance sheet stretching but massive revenue and cash flow growth ambitions once the integrated operator is properly firing – Deutsche Telekomwatch, #73). "Our plans to build a bigger, stronger T-Mobile remain unchanged – even after the conditions agreed with the DoJ", he said.