Dutch NatCo builds on Primevest investments as first anchor tenant of Open Dutch Fiber.
New fibre venture taps former CEO and CCO of Vodafone Germany partner Deutsche Glasfaser.
Move raises further questions over Group plans for its Dutch business.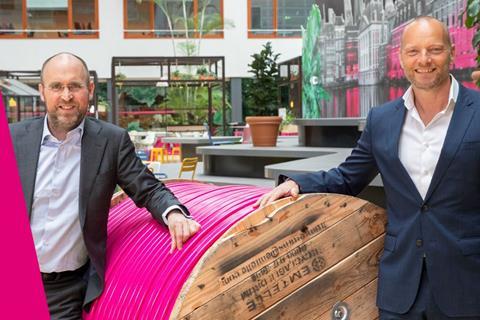 T‑Mobile Netherlands trumpeted the expansion of its fibre network presence through an agreement with Open Dutch Fiber, a new wholesale fibre network provider established by Deutsche Telekom Capital Partners (DTCP) and private equity owner KKR.
DTCP Infra, which focuses on longer‑term infrastructure investments for the Deutsche Telekom Group, is to hold a minority investment in Open Dutch Fiber while KKR is the majority partner. T‑Mobile Netherlands will be the first anchor tenant under a 20‑year agreement.
The Dutch NatCo said the aim is to pass at least one million premises with a new fibre‑to‑the‑home (FTTH) network over five years, focusing on urban and higher population density areas where there is currently no fibre infrastructure.
All three partners emphasised that the platform will have an open architecture and that services will be available to all operators on an open access basis. According to KKR, Open Dutch Fiber will begin operations in the second quarter of 2021 and has a "fully funded commitment" for an initial capital expenditure of about €700m.
KKR added that construction agreements are "already in place", although without revealing details about partners. The private equity owner also noted that it will be making the investment through its Global Infrastructure Investors Funds, and boasted that Open Dutch Fiber will benefit from its previous experience with Deutsche Glasfaser in Germany, FiberCop in Italy, and Hyperoptic in the UK.
Notably, the new Dutch venture will be led by the former Chief Executive (CEO) and Chief Commercial Officer of Deutsche Glasfaser Uwe Nickl and Jordi Nieuwenhuis, both of whom left the German altnet in December 2020 citing personal reasons. Prior to his role at Deutsche Glasfaser, Nieuwenhuis also co‑founded Dutch fibre network operator Reggefiber (now KPN NetwerkNL). Michael Griffioen, currently in charge of FTTH deployments at T‑Mobile Netherlands, has been appointed CEO of Open Dutch Fiber.
"We are fulfilling the promise we made to the Dutch consumer at the time of the merger with Tele2; everyone in the Netherlands has the right to high‑speed internet. We had already started but are now accelerating by becoming the first tenant of Open Dutch Fiber … but as far as I'm concerned Open Dutch Fiber should not stop there. If suitable new projects come along, I expect Open Dutch Fiber to jump on them so the numbers could easily grow. In this way the digital gap in fibre adoption that we are facing in the Netherlands compared to other European countries can be closed."

— Søren Abildgaard, T‑Mobile Netherlands CEO.
Building a head of steam
The latest move by T‑Mobile Netherlands follows comments by CEO Abildgaard in February that new fibre projects were in the pipeline.
During the presentation of the NatCo's full‑year financial figures for 2020, Abildgaard said: "We will be partnering with investment companies to scale up substantially. Our goal is to offer superfast internet everywhere in the Netherlands at affordable prices as soon as possible. We advocate an open access model with reasonable wholesale prices that make this possible for everyone".
The NatCo is already partnering with Primevest Capital Partners on the construction of open fibre networks, with a current target to provide services to 130,000 households in The Hague, Eindhoven, and Rotterdam (Deutsche Telekomwatch, #88, #91, and #101). It said that half of this target has already been realised. VolkerWessels Telecom is the preferred construction partner in all three cities, while Van Gelder Telecom has been announced as a further partner in Rotterdam.
The collaborations with Primevest and now DTCP and KKR, with potentially more to come, also raises questions about Deutsche Telekom's plan for its Dutch business as fibre rollout is accelerated.
A sale or flotation of TMNL by the Group has long been mooted. In January 2021 local reports suggested the Group was considering such a move to unnamed private equity investors in a deal expected to be worth north of €4bn, though Deutsche Telekom did not comment at the time. More recently, Tele2 Group confirmed intent to shed its minority stake in T‑Mobile Netherlands as an option to sell nears.
To be sure, T‑Mobile Netherlands has been something of a success story and is now the country's largest mobile network operator by market share, reaching 6.8 million customers at 31 December 2020 (Deutsche Telekomwatch, #89 and passim). However, although T‑Mobile is building its own fibre presence with investors, KPN and VodafoneZiggo have a much stronger wireline footing, making it difficult for Deutsche Telekom to achieve its goal of being number one or two in all markets where it operates.
KPN recently announced plans to accelerate its fibre network rollout through a new 50:50 joint venture with pension fund ABP. The former Dutch incumbent is already aiming to connect 2.5 million households in larger municipalities over the next five years; the new venture aims to add a further 700,000 households in villages and 200,000 premises in 1,400 business parks. VodafoneZiggo, meanwhile, has been ramping up a DOCSIS 3.1 rollout in its cable network, with the aim to offer 1Gbps connections to all 7.2 million premises connected to its network by early‑2022.
Other fibre network providers in the Netherlands' crowded market include Delta Fiber, owned by Swedish investment company EQT; and open broadband fibre provider E‑Fiber, in which Arcus Infrastructure Partners acquired a majority stake in 2018. On its web site, KPN notes that it collaborates with local fibre providers including Glasdraad; FiberFlevo; FiberNH; Getnet; Digitale Stad; CAI Harderwijk, Rekam; Fryslân Ring; KT Waalre; and its own KPN NetwerkNL. It notes that it does not cooperate with Delta Fiber and E‑Fiber or Glasvezel Zuidenveld; DFMopGlas; Glasvezel Buitenaf; and Glasweb Venray.

Anne Morris is a freelance journalist, editor and translator. She has been working as a reporter and news analyst for TelcoTitans since 2016.