Corona‑Warn‑App downloaded more than 18 million times in Germany.
Project conducted with ruthless efficiency and met initial target.
Next steps being planned: app to be rolled out in ten more countries, and T-Systems focusing on ways to grow overall impact.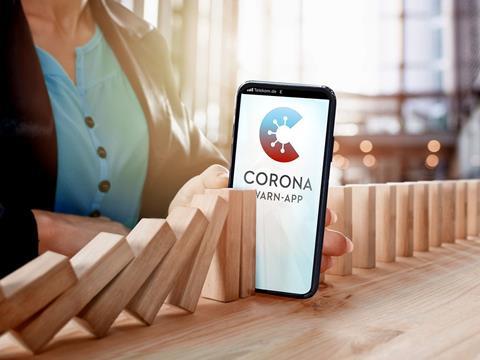 Peter Lorenz, Head of the newly launched Digital Solutions unit at T‑Systems, conceded that the Corona‑Warn‑App developed by Deutsche Telekom (DT) and SAP has been facing some challenges since its launch in June (Deutsche Telekomwatch, #93–#97).
However, Lorenz insisted that the initial project to create the app in only 50 days can be described as a success. In an online seminar titled Accelerate Digital Now — with Speed & Agility, Lorenz said the creation of Corona-Warn-App may not have been the biggest digital project that T‑Systems has ever faced, but claimed that it will provide a good blueprint for how digital projects should be conducted in future.
First and foremost, the project was given a very clear target — to quickly interrupt infection chains — and pursued with a single‑minded approach.
Lorenz himself stepped away from his day job as co‑head of Digital Solutions in order to lead creation of Corona-Warn-App alongside Martin Fassunge, Senior Development Manager at SAP. The entire team involved in the project effectively abandoned their usual roles to work solely on developing the application.
"Our target was 100% clear, and we were 100% focused on it."

— Lorenz said.
According to Lorenz, the call to develop the app came from German Health Minister Jens Spahn over the course of a weekend. By the following Monday, the first 20 employees were already in place.
Disciplined approach
A high level of discipline was instilled from the outset. A two‑hour meeting was held on Sundays to plan the week ahead. A 30‑minute project management meeting took place at 8.30am sharp every morning, followed by an hour‑long meeting with the entire team. "You cannot miss out on a single meeting", Lorenz said. "That discipline is needed in a super critical digital project, which can make a strategic difference to your company".
At 7pm every evening, the project leaders met with government ministers to give them a status update. "We made the customer a daily part of the exercise", Lorenz said. "You need to open up completely", and not hide problems or disasters. Importantly, the project met its goal of delivering the app within the required timeframe.
As Lorenz explained, the app itself is only the tip of the iceberg, with a lot more going on underneath. "It is more than just an app: we digitise core processes of the current health system and we trace proximity", he said.
Overall, close to 200 people were involved across the project's 19 work streams, although not all were working on it full time. Other parties involved included the Frauenhofer and Robert Koch institutes, Apple and Google, and Germany's Federal Office for Information Security and Federal Data Protection Commissioner.
Lorenz stressed that an agile approach, a high level of expertise, and the involvement of company leaders are crucial to the success of such projects. "Doing a project like this is a super experience", he said, noting that he is now back doing his usual job. He also indicated that learnings from the project are being introduced within the wider T‑Sys organisation, such as within human resources.
Next steps — looking beyond basic growth
Lorenz indicated in the webinar that T‑Sys and SAP are now shifting focus from the app's uptake to impact.
As of 22 September 2020, the app had been downloaded more than 18.4 million times in Germany and 20 million times across Europe, Lorenz confirmed. In the first 24 hours, the app was downloaded 6.5 million times — making it the most successful app launch in German history, according to data from T‑Sys and IDC.
Germany's Health Ministry said the app transmitted 1.2 million test results from labs to users during the first 100 days of use. More than 90% of laboratories in Germany are now connected to the app, and 5,000 users have shared information about a positive test in order to warn contacts.
Despite this rapid growth in users, Lorenz noted that "we are now being challenged on how good it is", pointing to the criticism the app has received in the media, including reports of early teething issues (Deutsche Telekomwatch, #96) and claims from some outlets that it has not had a high enough impact on stopping the spread of the virus.
On track or off track — questions over apps' impact
In August 2020, Wilfried Bauer, Vice‑President, Digital Solutions, Public Health at T‑Sys, took to LinkedIn to call on everyone who tests positive to inform other users via the app. In response, Martin Koenig, Product Marketing Manager of Teams Adoption at Microsoft, said an improvement in how positive tests are reported into the app was required, and added that "1,320 TANs [Transaction Authorisation Number] issued since [16 June 2020] (of which is even unclear how many were actually used) vs. 1,400 positive tests daily is a disaster and won't get us anywhere". Bauer said this was "not the full picture" and that several thousand tests results had been imported into the backend of the app in prior weeks. He noted that it is important as a user "to declare yourself in the app, in order to effectively break the chain of infection".
A report published in The Lancet Digital Health by researchers from University College London also warned that contact tracing apps are unlikely to be effective in limiting the spread of the coronavirus without almost universal uptake, substantial investment in manual track‑and‑trace programmes, and support from other government measures. Potential privacy and ethics concerns were also raised, and it was pointed out that automated contact tracing apps rely on high smartphone penetration and digital inclusivity. The researchers looked at more than 4,000 studies on automated and partially automated contact tracing, and found 15 relevant research papers.
Lorenz remains undaunted. "We have reached our initial goal. Now, we can talk about the next phase", he declared.
Next steps — cross-country coordination
Attention has also been turning to expansion of the app's reach beyond Germany, following T‑Sys's recent selection by the European Commission (EC) to work on harmonisation of tracing systems across borders (Deutsche Telekomwatch, #96).
A report in Pharmazeutische Zeitung said the Corona-Warn-App will be rolled out in October across ten more European countries — which DT named as Austria, Czech Republic, Denmark, Estonia, Ireland, Italy, Latvia, Netherlands, Poland, and Spain.
The EC has now kicked off test runs between the backend servers of the official apps from the Czech Republic, Denmark, Germany, Ireland, Italy, and Latvia, and a newly established gateway server. Germany, Ireland, and Italy's applications are expected to be connected to the gateway first — by 17 October 2020, according to a Wall Street Journal report.
Helge Braun, Head of the Chancellery and Federal Minister for Special Affairs, also indicated that Switzerland's app could be added to the project in future.
However, it was said that integration of Corona‑Warn‑App will not be possible for systems in countries such as France, which has adopted a centralised approach to data storage. The app is also set to gain additional functionality, such as gathering information about symptoms. The Lancet report referred to one study that reported centralised systems "assess transmission risk more accurately (reducing the number of people quarantined), enable better optimisation, are less susceptible to false reports, and are more readily evaluated".

Anne Morris is a freelance journalist, editor and translator. She has been working as a reporter and news analyst for TelcoTitans since 2016.