Deutsche Telekom's UK enterprise IT unit records a loss on revenue slowdown.
Figures also blunted by impairment of Managed Infrastructure unit.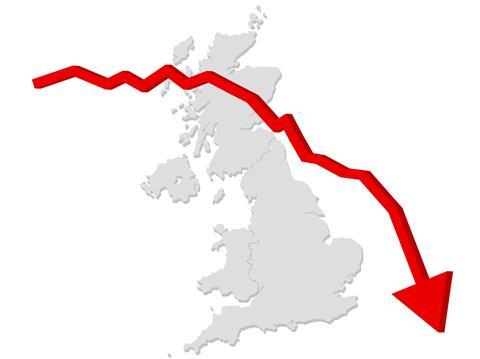 Customer losses and an "ongoing" cost drain from legacy infrastructure services were revealed to have hit the figures of T-Systems UK (T-Sys UK), Deutsche Telekom's British enterprise IT unit, during its last fiscal year.
Results documentation for the twelve months to 31 December 2020 (FY20) showed the unit suffered a 38.3% drop in turnover, to £112.9m (€133.8m), during the pandemic-hit year. This pushed it into the red with a loss of £9.5m. Net assets also decreased sharply, by 70.3% to £4.6m.
T-Sys UK blamed the reversal "mainly" on a "decrease in operational activity relating to existing customer accounts, in line with agreed exit plans" — albeit without offering further detail.
Also contributing was that T-Sys UK took a provision during FY20 relating to its Managed Infrastructure (MIS) portfolio unit, based on a projection of "ongoing unrecoverable costs" from the business, including data centre, staff, and hardware and software expenses. The fixed assets of the unit were "fully impaired", and a £1m chunk of the provision was released during FY20, the filing said. The provision will be spread over five FYs.
Like its parent division — which has also been attempting to reduce exposure to legacy activities such as traditional enterprise comms and mainframe services (Deutsche Telekomwatch, #99 and passim) — T-Sys UK emphasised a "forward focus" on newer digital and IT solutions revolving around "application operations and delivery, centralised private cloud, and the provision of public cloud". Supporting this is an "adjusted" data centre strategy, "intensified" sales activity, and T-Sys UK's "strong partner network", said the filing.
T-Sys UK did not reveal its current data centre partners but in 2016 revealed it was using Equinix and Virtus facilities to power its cloud services, having moved to wind down use of its own centre (Deutsche Telekomwatch, #58).
Re-shaping of T-Systems extends across channel
Also impacting the business beyond the MIS provision and commercial setbacks was the wide-scale restructuring Deutsche Telekom has been conducting in its B2B operations over the past two FYs.
The main way this affected T-Sys UK's business was via the carve out of T-Systems' enterprise communications and carrier services operations, which took place in mid-2020 and saw their management transferred to Deutsche Telekom's Germany segment. Part of this saw the creation on 1 July 2020 of a new, distinct local unit, Deutsche Telekom Global Business Solutions UK, with executives primarily drawn from T-Sys UK's ranks (Deutsche Telekomwatch, #96). It has yet to be revealed how many staff transferred across.
T-Sys UK's headcount has also dropped significantly as a result of the T-Sys reorg. Its workforce shrank by nearly a third (-31.9%) during FY20, to 241, in part because of the separation process.
Also impacting the unit's headcount, however, was the behind-the-scenes regionalisation of T-Systems' remaining international operations that has been seen in management-level people movements over the past year or more (Deutsche Telekomwatch, passim).
T-Systems has kept quiet on the ins and outs of this synergy-focused process but, through it, T-Sys UK now forms part of a cross-border Northern Europe Region within the division, alongside its T-Systems Nordic business. Accompanying this rejig was a move to "consolidate and streamline all sales, delivery, and supporting functions into an efficient and powerful organisation to enable our growth strategy in the region", said the T-Sys UK document.