With the appointment of Dominique Leroy to lead Europe segment, DT appears to be ensuring it can attack regional revival from all sides.
An outsider but not a maverick — Group continues 'internationalisation' of upper hierarchy but evidently does not want to rock boat in a time of crisis.
Knockback on Europe segment's Q2 performance accentuates need for safe pair of hands during testing times.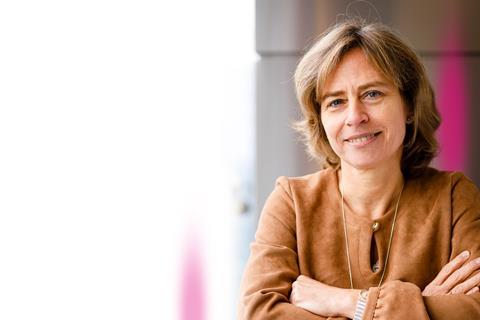 Deutsche Telekom (DT) again signalled its desire for a helpful policy and regulation shift in Europe, and remove the macro manacles shackling its regional business, with the appointment of former Proximus Chief Executive (CEO) Dominique Leroy to its Board of Management.
Leroy will take over as Europe Head at DT on 1 November 2020, when incumbent Srini Gopalan is due to formally step across to the top job at Telekom Deutschland (Deutsche Telekomwatch, #95 and see separate).
Group CEO Timotheus Höttges said he had got to know Leroy from "many meetings in Brussels", and she will "provide us with very good support in our political and regulatory work".
"She has over 30 years of experience in the consumer goods and telecommunications industry and knows our industry like the back of her hand. I appreciate her strong market and customer orientation. She stands for growth."

— Höttges.
Replying to a LinkedIn post by Höttges on her appointment, Leroy thanked him for the "trust and opportunity".
An opportunistic, post-scandal hire
The 55-year-old Belgian is quite a high-profile, big-hitting appointee, bringing with her experience from five years as CEO of Proximus, between 2014 and 2019. Before that stint, she led the Belgian national telco's Consumer Business Unit, having joined from Unilever Belgium (where she was Managing Director) in 2012.
Proximus' performance during her spell in charge made an impression, seeing Leroy linked with the top job at Group minority investment BT Group when Gavin Patterson stepped down in 2018 (and when Höttges was on the UK telco's Board of Directors, and Nominating & Governance Committee — Deutsche Telekomwatch, #74).
In 2019, she was appointed to lead KPN Group — but the Dutch telco then backtracked on the hire when Leroy became the subject of an insider trading investigation in Belgium, focused on her sale of a batch of Proximus shares a few weeks before her departure from the operator was announced. Belgium's Autorité des Services et Marchés Financiers (Financial Services and Markets Authority) announced a settlement with Leroy on the issue in July 2020.
DT opts against a Gopalan 2.0 hire
Leroy's appointment is an evident change of course for DT's recruitment policy, following the promotion of Gopalan — who is credited with a successful refresh of NatCos in the Europe segment through digital transformation measures and a more aggressive mindset on go-to-market (Deutsche Telekomwatch, #74 and passim).
At surface level, she does represent a level of continuity. Ulrich Lehner, Chairman of DT, sought to stress that Leroy will continue Gopalan's "successful work", and like the former Bharti Airtel executive, she is an outsider appointment by DT, continuing — from a certain perspective — the "internationalisation" of Group leadership that DT CEO Timotheus Höttges has been seeking to engender during his time in charge.
But in reality, she is many ways a playbook telecoms industry appointment, and with COVID‑19, trade wars, and political fragmentation stirring the Europe segment's already-spicy macro pot, it appears that DT has decided now is not the time for another 'maverick' to be brought in from an exotic locale outside of the Group's geographical and philosophical footprint.
In the tug-of-war between the conservative and more radical elements in DT's Supervisory Board, this time the former won out.
DT's leadership of all talents: hire focuses on team over the individual
To Deutsche Telekomwatch, it appears that DT is making a complementary, sum-of-parts appointment as it approaches its next strategic cycle and turns attention from the revamp of its US business to its long-festering European challenges.
While on paper, it retains a division-based layout on DT's Management Board, there is logic in encouraging Gopalan and Leroy — two newcomers in their latest roles — to work in tandem, under Höttges, with reach across both their areas of responsibility.
Crossover of their experiences would make sense, seeing as the Germany and Europe operations share many of the same challenges and opportunities but are clearly not yet fully harmonised. Deutsche Telekomwatch would not be surprised to see a number of common initiatives confirmed at the Group's next Capital Markets Day, likely to take place in 2021 or early‑2022.
This plan would cast Gopalan as DT's point-man on business transformation and go-to-market, in both the consumer and enterprise segments — while Leroy would support Höttges in pushing the Group's key public affairs objectives within European corridors of power.
With her appointment, the Group is getting a seasoned operator to sway the minds of national and regional power-brokers in order to push back barriers and allow it more opportunities to exploit speed and flexibility gains — whether in its home market or outside.
None of the major regulatory headaches that have seen DT steer investment from Europe to the USA in recent years have gone away — and, with the COVID‑19 crisis adding to DT's uncertainty over the regional macro picture, Leroy's appointment suggests it sees a safe, well-connected pair of hands as important to tide things over.
Further, DT's leadership no doubt sees the crisis — coinciding as it has with the refresh of European Commission leadership, shift to 5G, political instability, and rise in telecoms supply chain geopolitics — as a window of opportunity to reshape European policy in its favour.
Europe's Q2 wobble will have played into Leroy's appointment
Leroy's appointment came shortly after the Group's results announcement for the COVID‑19-hit quarter to 30 June 2020 (Q2 FY20), and the Europe segment's figures will have heightened DT's desire for stability in unprecedented times.
While the numbers were not as bad as many of DT's regional peers, the division reported a 2%‑'organic' drop in revenue for Q2, with COVID‑19 impact hurting tourism-focused markets such as Greece (where revenue dropped 3.9% in Q2). Negative currency movement worsened the slide to ‑4.5% when viewed on a 'reported' basis.
Despite the revenue drop, Gopalan was able to continue his run of consecutive quarters of earnings growth, albeit with multiple reporting caveats. The Europe segment delivered a 1.1% 'organic' rise in adjusted earnings before interest, taxation, depreciation, and amortisation after leases, achieved via "rigorous cost management" during the crisis, said Group Chief Financial Officer Christian Illek.
Deutsche Telekom, Europe area financial summary (as reported), Q2 FY20
Q2 FY19
Q2 FY20
Source: DT.
Total revenue

€2,978m

€2,843m

EBITDA

€1,038m

€1,033m

EBITDA margin

34.9%

36.3%

Depreciation, amortisation, impairment

-€681m

-€646m

Operating profit

€357m

€387m

Cash capex

€469m

€567m


Richard Agnew is Group Editor at TelcoTitans and Market Mettle.
Deutsche Telekom Q2 FY20
1

2

3

4

5

6

Currently reading

Q2 FY20: Steadying European ship now a top DT priority

7

8