New buddy for DT's vaunted 'voicification' strategy.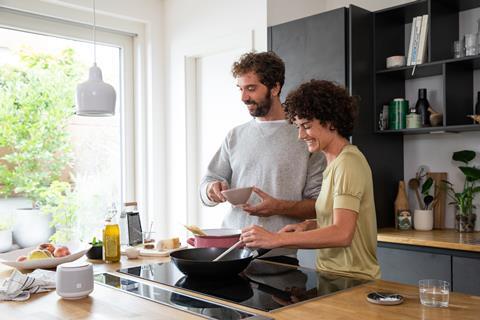 A report suggested that Deutsche Telekom (DT) is using artificial intelligence (AI)‑based voice-activation technology from US‑based SoundHound to support the Hallo Magenta voice assistant used in the Group's Smart Speaker.
SoundHound revealed that it had formed a partnership with DT to integrate its Houndify Voice AI platform with products and devices from the operator. Although neither Hallo Magenta nor Smart Speaker were mentioned in the release, technology news website Voicebot reported that Houndify is supporting the Hallo Magenta voice assistant.
The Group recently launched the Smart Speaker, developed in collaboration with Orange, in Germany (Deutsche Telekomwatch, #71, #81, and #87). As well as Hallo Magenta, Amazon's Alexa voice assistant is included in Smart Speaker as a "second voice service". Other partners involved in the Smart Speaker project include DSP Group, Fraunhofer-Institut für Digitale Medientechnologie, and Nuance Communications. Smart Speaker and the Magenta voice assistant form main planks of DT's 'voicification' strategy — recently talked up by DT Technology & Innovation Head Claudia Nemat as a key strategic theme for the telco (Deutsche Telekomwatch, #87).
According to the report, DT initially brought in SoundHound as an option for automated speech recognition (ASR), enabling DT's somewhat overstretched team of software engineers to focus on the natural language understanding and generation requirements, to "support a few dozen common voice applications". Industry sources also told Voicebot that "Orange's Djingo voice assistant team came to a similar conclusion".
DT has offered no confirmation of the Voicebot report, however. A spokesperson told Deutsche Telekomwatch that "we explore chances for voicification across several touchpoints in Deutsche Telekom. Please understand that we do not want to share specific architecture decisions at this time".
The option of a customisable, AI‑based voice assistant that reduces reliance on technology from other providers, including Amazon, Apple, and Google, is likely to appeal to DT — which generally prefers to keep its technology options as open as possible.
Voicebot noted that Houndify has emerged as one of the top white‑label solutions for enterprises that want to build their own voice assistants. It said SoundHound's strategy has been to offer "capabilities similar to Alexa, but with total control over the user experience and data. In some cases, Houndify does provide access to that full range of services, but we are also seeing instances where it is sharing those responsibilities with Alexa or other assistants. Deutsche Telekom and Orange are two examples".
"SoundHound has carved out a strong position as a leading solution for enterprises that want to quickly build a robust custom voice assistant. "

— Voicebot.
SoundHound said the Houndify platform currently supports more than 14 languages, including Chinese, English, German, Japanese, Portuguese, and Spanish. The platform enables partners to develop a custom 'wake word', and allows "multiple voice assistants to live side by side, each with its own wake word". The software specialist recently partnered with Motorola Mobility (owned by Lenovo) to integrate the Houndify Voice AI platform into the manufacturer's products, enabling the use of Moto Voice commands on certain devices. Houndify is also featured in the provider's own products: Hound, the voice search and assistant application; and SoundHound, the music search, discovery, and play application.
Orange is an investor in SoundHound. The France‑based operator took part in a $100m (€90m) funding round in May 2018, together with Daimler, Hyundai Motor Company, Midea Group, and Tencent Holdings. Existing strategic investors include HTC, Korea Telecom, Samsung, and others. In a factsheet published in February 2019, Orange said Houndify "will be instrumental in enhancing our assistants and chatbots in the future. Orange is progressively testing it at the moment".