T-Systems' infrastructure-as-a-service offering adds Circle partner benefits packages, with spend-based reward tiers.
Not a one-way street, says Partner Manager Ulf Mayer, who is looking for commitment from customers.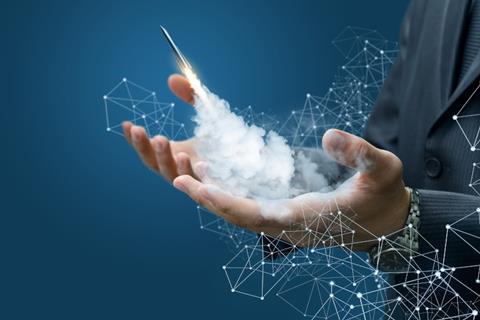 T-Systems is aiming to build "special alliances" around Open Telekom Cloud (OTC), its infrastructure-as-a-service suite, via a new partner programme, branded Circle. The scheme offers members commercial benefits and enhanced technical support for enterprise cloud customers.
Partners are assigned a reward level dependent on their spending within the OTC ecosystem. The base tier, Partner, grants access to joint marketing campaigns and sales support; Advance adds architectural consulting; and Expert includes beta testing and technical workshops. There is also a Startup tier, which is said to offer "special support" tailored to smaller enterprises.
Data sovereignty inevitably plays a part in the value proposition. Speaking to Deutsche Telekomwatch, Ulf Mayer, Partner Manager for Circle at T-Systems, said that "we can jointly address those customers in the European market who seek a true alternative in regards to European GDPR… who would like compliance to come native with the platform beyond a shadow of a doubt".
Mayer also explained the meaning behind the programme's name, describing the customer relationship as circular. Though partners benefit from T-Systems expertise and OTC services, the programme is "not a one-way street". "We would like to convince our future partners to commit to OTC", he said.
Sven Kullmann, Vice-President of Sales at OTC, said that the partner programme aims to "intensify our customer relationships", with Circle benefits offered to encourage companies to "firmly integrate" OTC into their business strategies.
This two-way model is the reason that Circle membership is "free of charge", according to T-Systems.
Targeted growth
Circle is available to OTC customers internationally but with a particular focus on Europe, making use of OTC's recently expanded footprint. A new Region was added in Amsterdam in December 2020, almost doubling the capacity provided from the two extant data centres in Biere and Magdeburg, Germany.
Circle is specifically targeting four core client bases: international startups; cloud solution providers, including software- and platform-as-a-service providers; business and IT consultancies; and managed service providers.
Circle's Startup tier, which offers "additional cloud resources" to support startups that are "internationally active", runs separately to the Germany-focused TechBoost programme. Circle allows startups to onboard onto OTC without showing a minimum earnings review for the first two years, and gives them vouchers to "kickstart" the process. TechBoost, launched in 2017, offers startups up to €100,000 for scalable IT resources from OTC, along with sales and marketing support and the potential to expand collaborations into "full-fledged partnerships" (Deutsche Telekomwatch, #69).
Three in the stable
Since its launch in early-2021, three partners have been confirmed as Circle members.
insinno: a Germany- and Spain-based digital business solutions provider, first partnered in 2018.
oneclick: a Swiss virtual desktop management platform provider, first partnered in 2018 under the TechBoost startup programme.
virtion: a Germany-based hosting and managed services provider, an OTC customer since at least 2018.

Joseph Purnell is a Staff Reporter for TelcoTitans, contributing telecoms news analysis since 2019 as part of the TelcoTitans Editorial team.