DT to continue its collaboration with partners in the automotive sector.
Partnership with Continental takes on broader remit.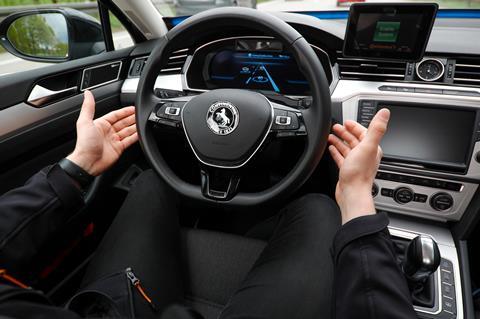 Deutsche Telekom (DT) technology partner Nokia flagged the conclusion of collaborative work with the Group on connected‑car technology, hailing the "two years of intensive trialling and testing" as proof that multi‑access edge computing (MEC) is a "key enabling technology" for safe connected driving, particularly in the 5G era.
Various use‑cases were tested, including "emergency warning", "end of jam warning", "variable speed limit assistant", and "HD [high-definition] maps".
DT first highlighted the trials in late‑2015, as part of a government‑supported programme to use a stretch of the A9 motorway in Germany as a test bed for digital technology (Deutsche Telekomwatch, #47 and passim).
Nokia contributed its MEC technology, which has since been dubbed Car2MEC, integrating the system with positioning technology (the GeoService distributed messaging service) developed by the Fraunhofer Institute for Embedded Systems and Communications Technologies (Fraunhofer ESK), and installing it on LTE base stations of Telekom Deutschland (TDE). TDE was responsible for the installation of two separate MEC nodes using Nokia's technology. The MEC solution was combined with a vehicle electronics interface developed by tyre‑maker Continental, while consultancy Mieschke Hofmann und Partner (MHP, a subsidiary of Porsche), provided insights into MEC's value for connected driving from a business perspective.
According to Ronald Hain, Backend Team Leader, Interior Systems & Technology at Continental, MEC aims to close the gap between local real‑time applications and cloud services, allowing it to "enhance automated driving and enable vehicles to cooperate with each other".
"The project results validate the performance of edge computing over our 4G networks as a potential enabler for automotive cases that require low latency and ultra‑high reliability. Going forward, we will continue to collaborate with partners in the automotive sector on the evolution of the technology and its application in connected and automated driving solutions that will deliver the best driving experience. "

— Alexander Lautz, Senior Vice‑President, 5G, DT.
DT has since 2015 highlighted several other edge computing activities, including work at spinout MobiledgeX (Deutsche Telekomwatch, #70, #81, and passim). The Group is involved with the Edge Application Developer project group under the aegis of the Facebook‑backed Telecom Infra Project/TIP (Deutsche Telekomwatch, #77), and created the tooz technologies joint venture (JV) with smart‑glasses specialist ZEISS (Deutsche Telekomwatch, #71). It has collaborated with German startup Teraki on enterprise use‑cases for the new network architecture, while edge computing has been cited as a key area of focus for DT's technology development relationship with South Korea's SK Telecom (Deutsche Telekomwatch, #47 and passim). DT is also a backer of the US‑based Open Edge Computing Initiative, alongside Intel, Nokia, Vodafone, and others.
Continental collaboration extends to car security and public cloud
Meanwhile, DT flagged further partnerships with Continental beyond the edge computing trials for connected driving. Enterprise services unit T‑Systems (T‑Sys) has teamed up with the tyre‑maker's Israel‑based cybersecurity specialist Argus Cyber Security on the development of joint cybersecurity solutions for cars.
Argus is to become a partner of T‑Sys's planned Security Operation Centre (variously called Automotive SOC or Car SOC), which is to specialise in vehicles. It will contribute its security information and event management system for cars as well as in‑vehicle solutions, with the aim of identifying anomalies with connected vehicles.
Furthermore, T‑Sys recently signed a contract with Continental that will extend the partners' existing cloud partnership from the private to the public domain, with the aim of supporting a hybrid cloud structure for 75,000 SAP users at 600 locations around the world.
In future, T‑Sys will enable Continental to access applications, particularly SAP solutions, from the public as well as the private cloud. T‑Sys noted that it already supports around 500 business-critical SAP systems for Continental, and provides access to a number of public cloud platforms including Amazon Web Services, Microsoft Azure, and Open Telekom Cloud.
Also worth noting is that T‑Sys and SAP have now connected their cloud‑based platforms for networked devices and sensors, with the aim of enabling customers to integrate Internet of Things (IoT) data into SAP systems such as SAP S/4HANA. By linking the cloud platforms, data transmitted from sensors and telematics modules to T‑Sys's IoT platform can now be automatically transferred to SAP Leonardo IoT, SAP's IoT solution.
Continental is also working with rival Vodafone Group on connected-car safety using Cellular‑V2X (C‑V2X) tech and edge computing in 5G network environments, and the two recently showcased the first results of their collaboration at the Mobile World Congress tradeshow in late-February 2019 (Vodafonewatch, #173).
DT takes the fifth on Swiss automotive player Spearhead
Elsewhere in the automotive IoT services market, DT's Annual Report for the twelve months to 31 December 2018 (FY18) confirmed its acquisition of a minority stake in Swiss connected‑vehicle solutions specialist Spearhead during the year.
The purchase of the 20%‑holding came alongside the provider's formation of a commercial partnership with T‑Sys, and sees Spearhead added to the Group's Telekom Innovation Pool (TIP) of "strategic" external and internal startups, led by prolific corporate investment arm Deutsche Telekom Capital Partners (DTCP).
The link‑up between Spearhead and T‑Sys focuses around telematics-enhanced claims management software for insurance providers and their clients (Deutsche Telekomwatch, #70). The service is an adjunct to T‑Sys' Digital Drive connected-vehicle platform for businesses, enabled by Canadian vendor Mojio (another DTCP investment), and makes the bold claim to reduce accident damage assessment to a "one minute" process, from several days. Zurich Insurance flagged it was piloting the offering in late‑2018.
In May 2018, DT published an article on its website to highlight availability of the joint service, and noted that it had "taken a stake in Spearhead to deepen the partnership", without offering further detail. Swiss law firm Niederer Kraft Frey flagged that it had advised DT on the investment a few weeks later.
Headquartered in Zollikon, near Zürich, Spearhead is the second insurance venture that DT has sought to support through the TIP platform. It oversaw the launch of a travel insurance spinout called SureNow in 2013, in partnership with Allianz, but that venture was shuttered in 2015 (Deutsche Telekomwatch, #32 and #40). The Group has long flagged the automotive space as a key focus of its Partnering strategy, often using the Mojio relationship as a key reference tie‑up (Deutsche Telekomwatch, #61, #66, and passim).