2019 Pushspring buyout morphs into launch of T-Mobile Marketing Solutions business, with talk of "disruption" and focus on industry "pain points".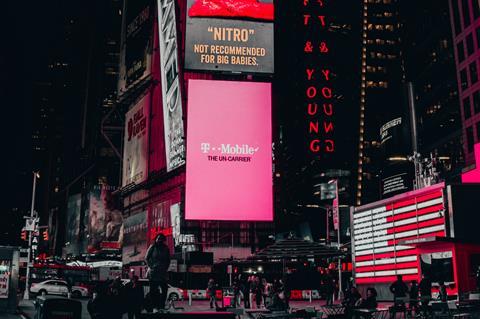 T-Mobile US continues to push for extra growth opportunities beyond core mobile services with the creation of a new business line targeting the digital advertising market.
The T-Mobile Marketing Solutions (TMS) unit, built from T-Mobile US' low-profile, $32m (£24.1m/€26.9m) acquisition of mobile advertising tool provider Pushspring in 2019 (Deutsche Telekomwatch, #86), will extend the operator's disruptive Un-Carrier ideology into the realm of media sales and services, according to recent hiring moves.
Organisationally, the unit sits under T-Mobile US' Emerging Business Group, which is led by former Sprint Chief Commercial Officer Dow Draper and is mandated to drive growth for the operator in Internet of Things, residential broadband and TV, and other new services.
It appears to be operating out of offices in Los Angeles, New York, and Bellevue — the latter a few minutes' drive from T-Mobile US' headquarters.
Ex-PushSpring Chief Executive Karl Stillner left T-Mobile US earlier in 2020 but several other former staffers at the startup have remained at the NatCo, and are working within TMS.
Beefed up NatCo seeking to sweat assets
T-Mobile US describes the unit's platform as being "mobile-originated", but gaming, online video, and connected-TV are also mooted as forming part of its offering — the latter a nod to T-Mobile US' refreshed TVision service, which debuted, after a long gestation period, in late-October.
"We are a customer-obsessed company and we are also evolving into a data-driven mobile technology business. At T-Mobile we pride ourselves on being the Un-Carrier, industry disruptors obsessed with solving our customers' pain points. Now, we are bringing that same philosophy to digital marketing."

T-Mobile US.
Where's that secret sauce?
It is not yet clear exactly how T-Mobile US plans to differentiate TMS' offering for brands (or consumers) — but its strategy will no doubt be drawn from its own experiences as a major spender on ads, as well as its own assets, capabilities, and inventory.
It evidently sees space for an Un-Carrier-type play addressing challenges around issues such as trust and transparency. However, it is not yet apparent whether (and how) it is planning to aggressively take on existing ad platforms, perhaps playing on frustrations around loss of 'data control' to the advertising 'walled gardens' of Google, Facebook, and others; or bringing its vast user base into play with ads more closely tailored to smartphone users' specific actions.
As noted by GeekWire when the Pushspring acquisition came to light, TMS appears to be planning — at least partly — to base sales of inventory on the Google Ad Manager exchange platform, with the proviso that other "extended platforms/exchanges" could be "brought on board".
Echoing T-Mobile US' past challenger efforts in the mobile, wireline, banking, and other sectors, the operator said it will focus on "solving some of the biggest pain points in the advertising industry".
"We're standing up for consumers and advertisers to demand more from our industry — more transparency, more relevancy, more engagement. Our mobile-originated marketing platform uses deterministic insights to target and reach the right audiences, while measuring lift and impact. Join us on our mission to deliver an innovative, new approach to digital marketing."

T-Mobile US.

Richard Agnew is Group Editor at TelcoTitans.