DT's FM partner incurred one-off costs in 2020.
CEO confident that DT contract will be "moving towards breakeven" in 2022.
ISS shedding subsidiaries as part of new OneISS strategy.
Former DT procurement chief joins ISS as head of German division.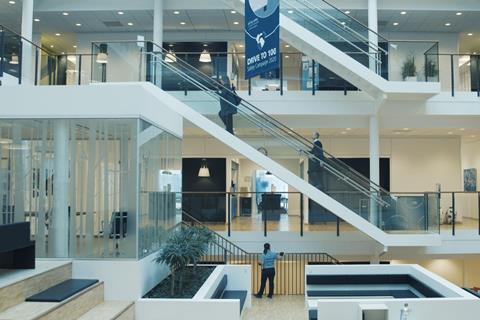 ISS Group, Deutsche Telekom's (DT) facilities management (FM) partner, again flagged ongoing "operational challenges" in its pivotal contract with the Group, while at the same time highlighting DT's positive impact on revenue growth.
Indeed, the DT contract currently represents something of a double-edged sword for ISS. On the one hand, delayed IT migration led to a "material cost overrun" on DT and affected ISS's operating margin. On the other hand, the first full year of providing FM services to DT had a 0.1-percentage-point net impact on ISS Group organic growth in 2020. The DT contract was launched on 1 July 2019.
In its results for the year to 31 December 2020, the Denmark-based group said sales dropped by 6.5% to DKK 69.8bn (€9.4bn), blaming operational setbacks related to coronavirus from the second half of March 2020. Although a COVID-19-led pickup in deep cleaning and disinfection work at clients' premises helped drive growth in some areas, activity related to food services was significantly reduced.
While ISS saw revenue growth in Germany, its operating margin was impacted by the DT contract, among others. ISS previously said it expected to incur one-off costs partly owing to write-downs and provisions "related to delayed mobilisation and operational challenges" on the contract (Deutsche Telekomwatch, #100).
It has now confirmed that 2020 restructuring and one-off costs amounted to DKK 3.5bn in total. Of this amount, DKK 2.3bn in one-off costs "were incurred predominantly in Germany, the UK, and Denmark"; while a further DKK 1.2bn in restructuring costs "related predominantly to Germany, France, Spain, and the UK".
Breakeven in sight
Commenting on the DT contract during an analyst conference call, Jacob Aarup-Andersen, ISS's Chief Executive (CEO), said measures are in place to rectify the ongoing problems. "We have a dedicated structure and action plan in place, and we are executing on that on track", he said.
Elaborating further, Aarup-Andersen said 2020 was a "tough year financially in terms of that contract as we've also been restructuring it". He insisted that ISS now has a "very clear execution plan with very, very stringent milestones and a lot of resources allocated to deliver on it. We see a significant improvement in 2021. And as we exit 2021, we expect that we enter 2022 with the contract moving towards breakeven".
The CEO also pointed out that the journey does not end once breakeven point has been reached. "Deutsche Telekom is a great partnership," he enthused. "It's a great client. It's a complex contract, but also a great lighthouse contract for us in terms of innovation and complexity. And the plans that we are working on do not stop [on] 31 December 2021. The plan is to continue to drive profitability improvement on Deutsche Telekom".
Also worth noting is that ISS appointed a former DT executive to head up its subsidiary in Germany. Eva Wimmers, who served as Chief Procurement Officer at DT from October 2011 to June 2016 (Deutsche Telekomwatch, #53), took on the role of CEO at ISS Deutschland with effect from 1 March 2021.
Pressing reset
As previously indicated, ISS presented a refreshed strategy in mid-December 2020 under the banner of OneISS, including plans to divest subsidiaries in certain countries as well as other business units.
By the end of 2020, it had offloaded seven of a total of 18 country operations to be divested. ISS has said it is targeting total net proceeds of DKK 2bn in 2021 and 2022 from its divestment programme.
In November 2020, it reached an agreement to divest its business in Slovenia. Subsequently, ISS has announced plans to sell off its main subsidiaries in the Czech Republic, Hungary, Romania, and Slovakia; and agreed to sell Swiss subsidiary ISS Kanal Services AG to London-based private equity firm KLAR Partners.
In February 2021, ISS also announced it has started negotiations on the possible termination of its "onerous contract" with the Danish Defence.
Despite the ongoing operational challenges with the DT contract, ISS is starting to highlight how its services are already benefiting the German operator. Indeed, it claims that in its first full year of providing FM services, ISS achieved something that the customer "has never experienced before: 0% unplanned downtime". ISS said DT operates 140,000 "technical devices" and 8,500 sites in Germany, including data centres, signal towers, and routers. To monitor this system, ISS set up two Disturbance Management Centres — known in Germany as SMCs. If anything goes wrong within the DT system, a Disturbance Manager is alerted. "The alert could be anything from a door left open at a data centre to storm damage on a signal tower", ISS explained. It said the SMCs received twelve million alerts in 2020, leading to 60,000 service team site visits during the year with an average deployment time of 30 minutes.
ISS — which employs more than 400,000 staff — secured its giant, 10.5-year FM deal with DT back in 2017, as part of the operator's long-running indirect cost reduction push (Deutsche Telekomwatch, #67). Focused on facilities in Germany, it saw ISS supplant Austrian group STRABAG International (the acquirer, in 2008, of DT's former internal services unit DeTe Immobilien), and was said to have been ISS's largest ever contract win. Beyond focusing on internal efficiencies within DT, the relationship also extends into a commercial partnership (Deutsche Telekomwatch, #82). The tie-up, billed as "complementary" to its FM deal, focuses on smart-building services and is behind Deutsche Telekom IoT's IoT Service Button for sending out "one-touch" operational alerts within businesses.

Anne Morris is a freelance journalist, editor and translator. She has been working as a reporter and news analyst for TelcoTitans since 2016.